2019 Polaris 850 Rush Pro-S Review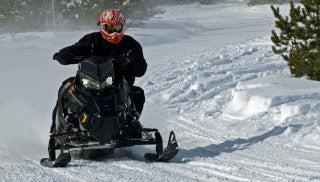 Thanks to the awesome new Patriot engine, the 2019 Polaris 850 Rush Pro-S offers a real reason to upgrade.
Fast Facts
Engine: 840cc 2-stroke Twin
Power: 165 hp (estimated)
L x W x H: 114" x 47" x 46"
Track: 15 x 129
View Full Spec
If you own an older (non-2019) Polaris Rush Pro-S, there hasn't been any compelling "want" to upgrade. The sled changed some from year to year, but not enough to make you give up owning Polaris' top of the line trail runner. The AXYS chassis' rider balanced control with its move forward on the saddle for corner bite or sit back for increased weight transfer during acceleration remains essentially the same, as does its Pro-XC rear suspension design with Active Pitch Control. But the new Patriot engine in the 2019 Polaris 850 Rush Pro-S is a difference maker.
All of those cutesy marketing acronyms aside, the 800 Rush Pro-S – pick a model year – stays atop the Polaris personal trail sport segment because it works and has from the get-go. The Rush smothers those annoying trail stutter bumps thanks to its innovative outside the skid frame engineering. Yes, the latest version of the Pro-XC progressive rate suspension is lighter, stronger and features a completely redesigned crank and pivot as well as repositioned front torque arm to increase travel and better control pitch. So, the 2019 got better with evolutionary changes.
What makes upgrading to the 2019 version is revolutionary change and an all-new Polaris-engineered, Polaris-built 850 Patriot twin. With a bore/stroke of 85mm by 74mm, the new throttle body electronic fuel injected two-stroke actually measures 840cc, a bit less than the 850 implied in its nomenclature and 9cc smaller than Ski-Doo's 850 E-TEC twin. While we know the Ski-Doo 850 delivers a claimed 165 horsepower at 8000 revs, we only know that Polaris smugly implies better acceleration and overall performance than the Ski-Doo Rotax electronic direct injection twin.
Regardless of the competition, Polaris came at its 850 project as a means to boost performance for its proprietary line of deep snow and on-off trail sport sleds. The engine was designed to fit into the AXYS chassis right from the first rendering. Beyond fit and seamless integration with the AXYS platform, the 850 Patriot needed to become the new and unrivalled leader in power-to-weight on snow performance. To that end Polaris engineering drew from a 25-year history of Liberty engine experience. Since this was to be a brand new, start with a blank screen engine design, those engineers were free to experiment with everything from the most effective bore and stroke, to the intake and exhaust systems, to engine cooling and even piston design.
Just because the 850 Patriot would be all new, didn't mean that Polaris engineering had to abandon proven concepts. They kept but updated the electronic injection system with a lighter weight and more efficient throttle body system rather than experiment with a Ski-Doo-like direct injection system. Polaris engine designers feel that its Cleanfire injection still offers benefits in durability and reliability. Tweaking the throttle body and throttle position sensor design seemed more pragmatic for achieving performance goals.
But that doesn't mean the new Patriot comes with old technology. Look at its new 3-stage electronically controlled variable exhaust that better controls exhaust flow and optimizes on-trail performance from drive-away to wide open top end. The new exhaust system integrates into the power packaging as does a power boosting regulator for quicker starting and more juice to feed the more demanding needs of the onboard ECU.
This new engine package came with a four-year warranty during the early season ordering period. That should alleviate consumer anxiety about buying a first-year engine design. Obviously, Polaris is stoked about the Patriot's performance — and its reliability.
Designers revisited a legendary performance piece to get the new 850 Patriot's power to the snow in the 2019 Polaris 850 Rush Pro-S. That piece of Polaris history, the P85 drive clutch, in various forms has taken Polaris sleds from the peak of hillclimb mastery to endurance wins and snocross championships for decades. Fitted with a lightweight TEAM Industries driven, this pairing lets the Patriot twin hurry this 444-lbs performer down any trail with rapid ease.
Interestingly, though, the 2019 Polaris 850 Rush Pro-S should be the action leader in on trail handling, but we noted that the sled's claimed maximum travel is 9.3 inches at the front and 13.6 inches at the rear. Compare that to the similarly powered all-new 850 Indy XC 129 that shows the same front travel as the 850 Rush but claims 16.2 inches of rear travel – 2.6 inches more rear motion! Don't get us wrong, the Rush handles the trail extremely well, but with the advent of this new series of AXYS styled Indys, is it hinting at a Rush demise?
The new Indy features a straight rail rear suspension while the Rush carries over the Pro-XC design that highlights Polaris' rider balanced concept. We can't argue with the claims as this suspension works virtually all trail conditions extremely well, making it a true and equal competitor to Ski-Doo's rMotion design.  Look for Walker Evans shocks, variations of which were offered as "Snow Check" options on the 850 Rush Pro-S.
The first time we rode a Rush, we felt right at home as its riding position and feel behind the handlebar mimicked the Ski-Doo REV of the time. Today's 2019 Polaris 850 Rush Pro-S has its own identity with easy steering and raised handlebar feeding into a pleasant sense of on-trail control. The sled's prowess in corners is legendary. Add the power of the Patriot and throttle control in and off a turn will be almost sensual if not intuitive. The drive system mirrors your throttle thumb with virtual instant response. Should you make a mess of a corner, there's the hydraulic AXYS radial disc brake to bail you out. Hey, Polaris knows we're not perfect and this company has decades of experience with hydraulic braking to keep us under control.
Our 2019 Polaris 850 Rush Pro-S was the black and brown "founder's edition" with a special decal and subtle styling cues. Its AXYS performance saddle continued the theme with brown piping to match the decal details.
As you'd expect with a US$13,199 sled, the test unit came with Polaris Electronic Reverse and electric start (a Snow Check option). You can add other options to include various storage bags, an onboard security system, mirrors. Plus, as a Snow Check sled you were offered a choice of shocks as well as gauge package.
All of those optional things help make the 850 Rush Pro-S more rider-friendly, but they wouldn't be the main reason for upgrading a previous year's Rush Pro-S. Getting that big new Patriot engine is the real reason to upgrade.