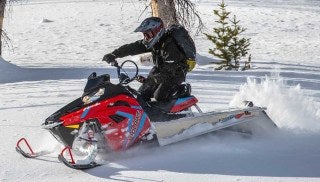 This hill buster from Polaris is built specifically for new riders
Fast Facts
MSRP: $5799
Engine: 544cc Fan, Twin Cylinder
Track: 15x144x1.75" Backcountry
Ski Center Distance: 39"
Not everyone needs an over-the-top snowmobile to go over the top of that next drift. It is possible, after all, to have a bit of fun without deploying an 850cc monster with a 174-inch track. Seeing an opportunity in the market, engineers created the new Polaris RMK EVO, complete with a sensible-shoes engine size and compact ergonomics. Calling it an RMK Lite probably wouldn't have gone over well, so we find the suffix of EVO instead.
Designed to appeal to a wide range of riders, the Polaris RMK EVO is intended to build confidence in new riders, hopefully hooking them to the sport and later trading up to a burlier RMK like a Khaos or Pro. Its suspension is said to be engineered for a stable ride and its adjustable-stance independent front suspension allows the sled to evolve with the rider.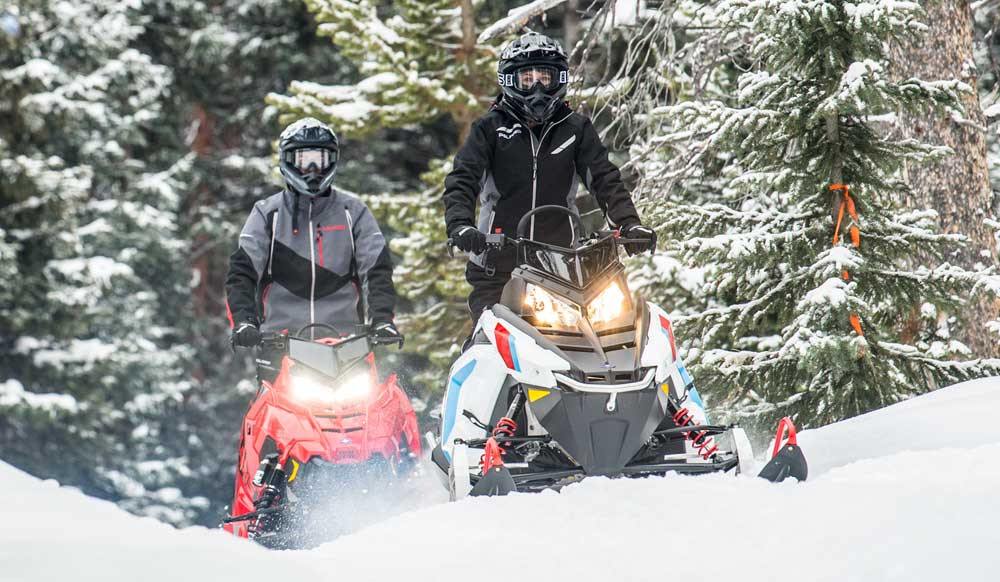 Your author is not a fan of being told what to do, but Polaris' decision to limit the RMK EVO to 50 mph makes a dose of sense, given the sled's intended audience. An accessory kit is available to make additional power as rider skills develop. It's available in a brace of colors, but expect to shell out an extra $400 for the snazzy Indy Red.
Power and Performance
This sled won't rip yer helmet off with its acceleration or top speed. To focus on that, however, is missing the point given that the Polaris RMK EVO is intended for novice mountain riders. A 544cc twin branded as a 550 Fan is carbureted mill that is said to provide smooth and consistent throttle control, with a thumb flipper that's designed for smaller hands. Yes, electric start is available. No, you don't need it.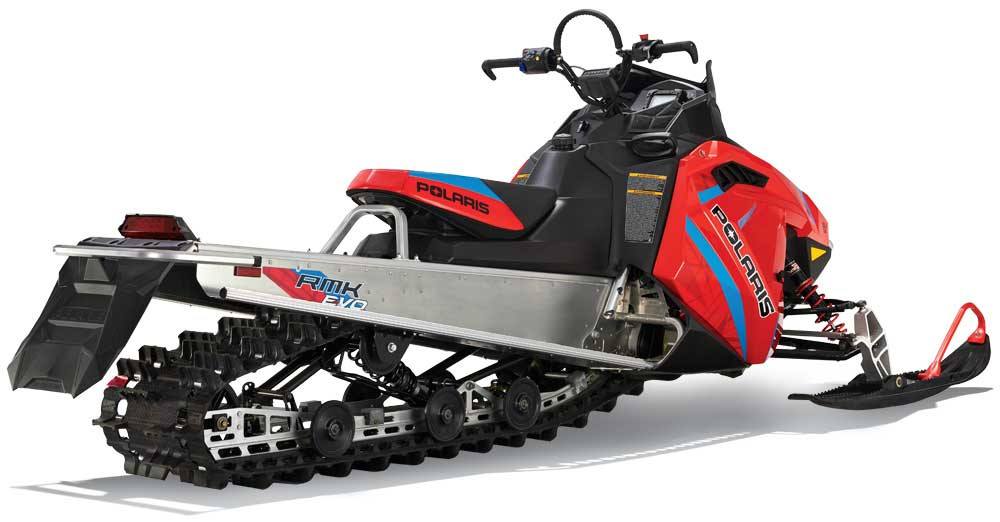 The engine under the composite hood is about as dead simple as a snowmobile engine can get, which is a good thing for its demographic. The 550 fan-cooled twin is a proven mill, bringing just the right amount of power for new riders so they won't scare themselves as they might with an 800cc class rig.
Suspension Kit
Standard on the Polaris RMK EVO is a 144-inch track measuring 15 inches across. Its 1.75-inch paddles put it squarely in the company's Backcountry catalog of track designs. Front suspension travel is about four inches thanks to the RydeFX front shocks. Its rear suspenders share much with the Indy, featuring a good 10 inches of travel. RydeFX does duty as the rear track shock here as well.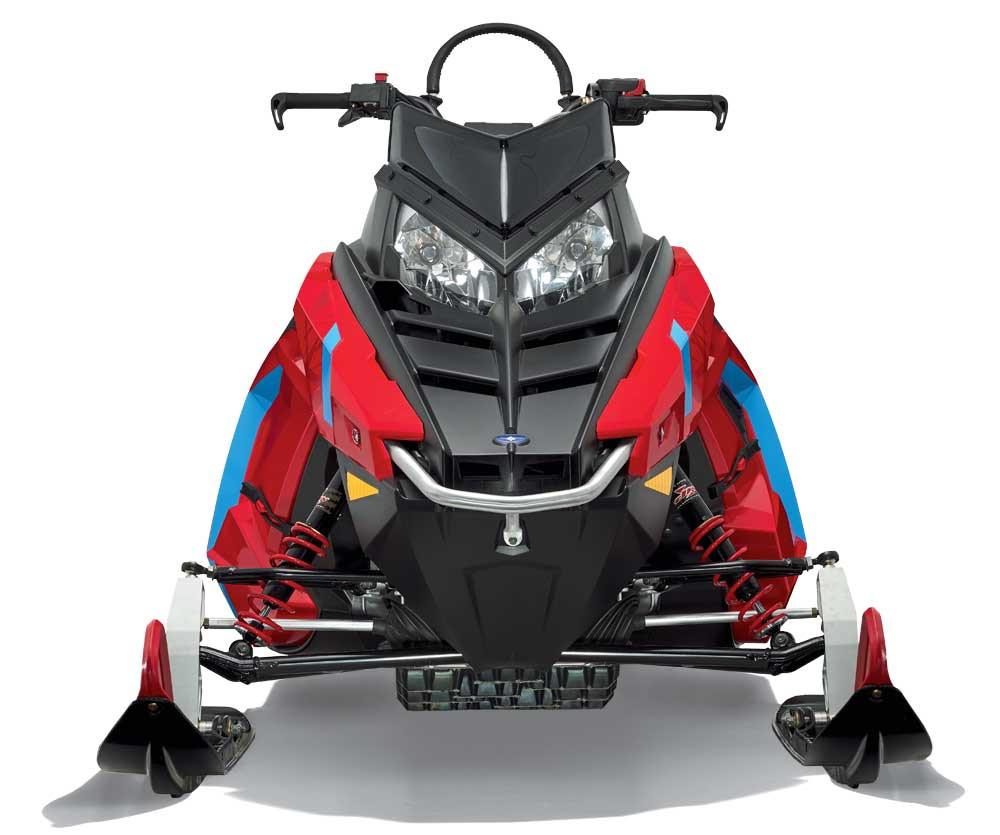 The adjustable-stance independent front suspension allows the sled to evolve with the rider, which is the point of this sled. Those shocks we mentioned are designed and calibrated specifically for the Polaris RMK EVO chassis, meaning they haven't been ripped from another model for this application. The deep keel of those RMK skis offer more control while the wider design provides greater flotation. Both of these characteristics should promote confidence in new riders.
Comfort
Its overall height is a good four inches closer to the snow, meaning new riders are provided a feel of more confident control. This design also results in a lower center of gravity, which enhances stability – an important factor important for people who aren't yet masters of the powder. Having a powerful RMK get away from a first-time rider while climbing a drift bank virtually guarantees it'll be awhile before they get on a sled again.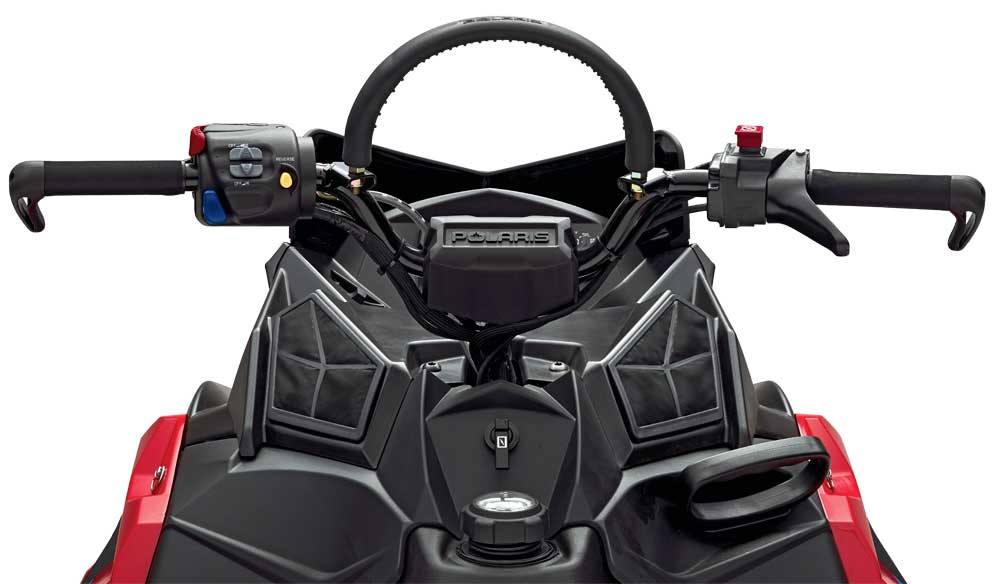 Dry weight is only 420 pounds, so heaving the thing out of a stuck situation shouldn't be too difficult even for smaller people. A 12V accessory port is on board, ready to provide power to that device you've safely tucked away in the optional handlebar bag. Hand and thumb warmers are standard equipment and its seat is of the Indy EVO style. Digital gauges with a tach and speedometer face the rider, as do mountain bars and handlebar hook.
Polaris says this is a single rider sled, so that's the official line with which we will go. Like all sleds based on the RMK design, however, there's a long metal deck behind the single seat. Judge yourself accordingly. Polaris does endorse the use of that space for storage and would be more than happy to siphon funds from your bank account for a Lock-n-Ride bag or rear racking system.