2020 Polaris Snowmobile Lineup Preview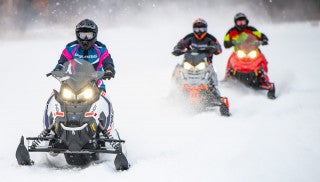 KHAOS, EVO RMK, Adventure and XCs 129 and 137
The 2020 Polaris snowmobile lineup has been unveiled and is highlighted by the new RMK KHAOS mountain sled, along with the affordable EVO RMK, a pair of Adventure-focused Indy models, and a new Timbersled Riot snow bike kit.
2020 Polaris RMK KHAOS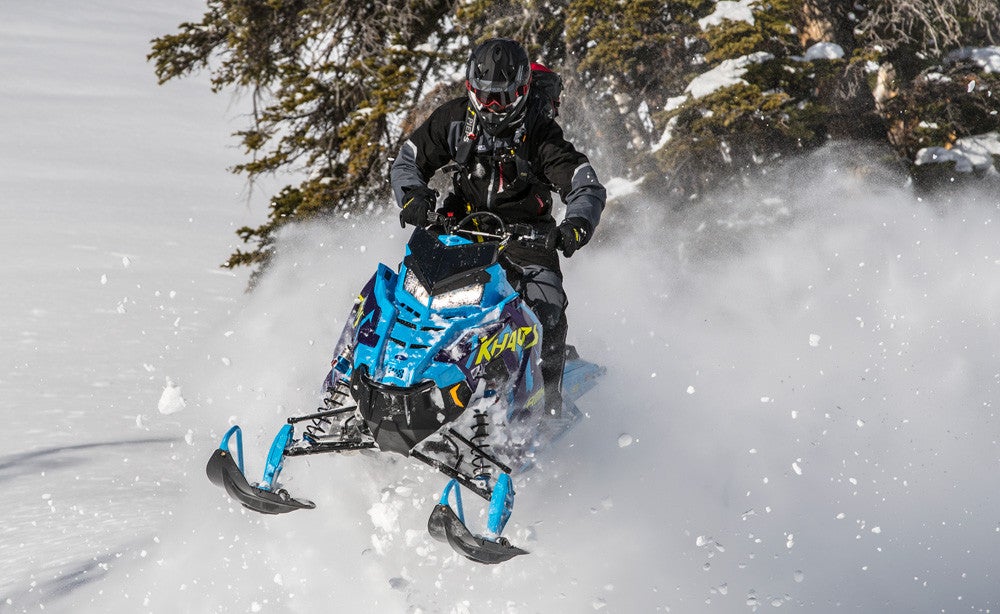 The highlight of the 2020 Polaris lineup is the brand new KHAOS line of ultra-nimble mountain snowmobiles.
Simply put, the KHAOS takes the nimble character of the Pro-RMK 155 and multiplies it several times over. This sled makes it easier to enter a carving situation or a sidehill sweep. Any situation requiring quick, agile actions is right in the KHAOS' wheelhouse.
Here's how we put in in our KHAOS review:
"If your favorite zone is being off-camber and wide-eyed in a steep gully with tightly spaced trees, then the KHAOS is well-designed for this.
"If your zone, is sidehilling across clean mountainsides, then the KHAOS is in its zone.
"If your zone is highmarking, tree running, wrong-foot forward downhill sidehilling, or boondocking, or mogul mashing like a crossover boogie man, or cornice dropping, or blasting through the deepest mush you can stir, then the KHAOS is in its "zone," and in that "zone," or that "zone," or that "zone," or that "zone," or that "zone," or that "zone," or that "zone," or…."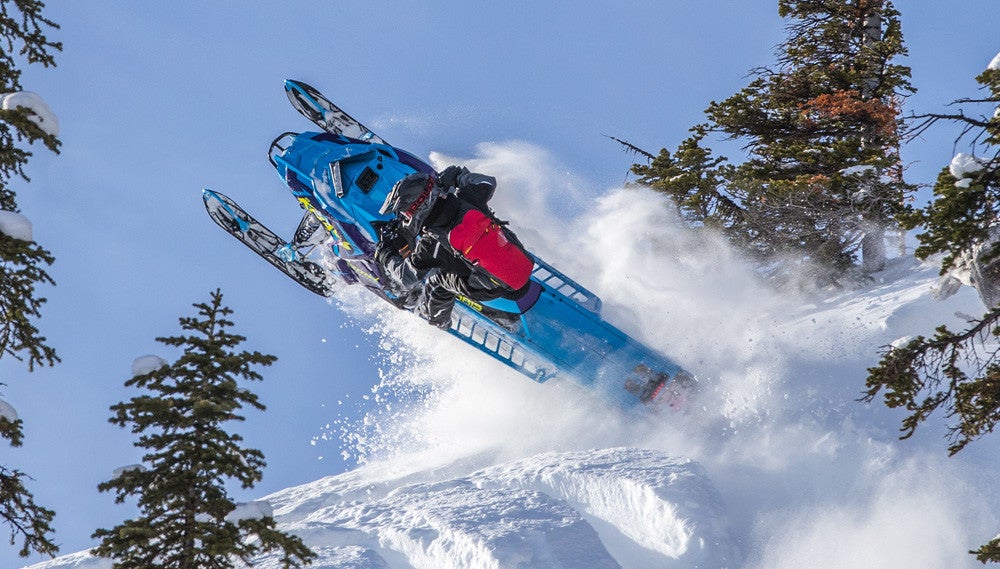 Two different track options are available on the KHAOS – the 2.6" Series 6 track or the chaincase-driven 3.0-inch Series 7 track – both 155 inches long.
Polaris also offers two different engine options for the KHAOS – the 800 Clean Fire Liberty motor or the newer 850 Patriot.
Walker Evans Hi-Lo compression adjustable Velocity shocks are bolted to the two corners and the rear. These are coil-over shocks and use the same lightweight coil over steel springs, with few coils, as the AXYS Pro-RMK.
RMK EVO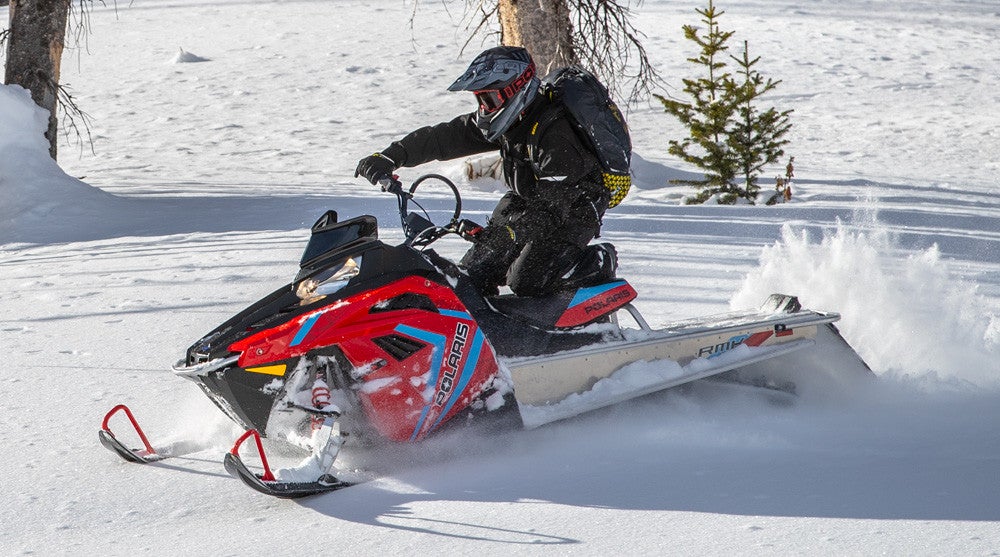 Polaris' introductory-to- snowmobiling snowmobile, the EVO, introduced last season, now has a long-tailed sibling, the 2020 Polaris RMK EVO. The RMK EVO's track is 144 inches long with 1.75-inch lugs. Like the trail EVO, the track is 15 inches wide.  Front suspension is the Pro Ride, and the rear suspension is a stretched Indy. The chassis is the Pro Ride chassis. The RMK EVO is a 550 fan-cooled two stroke motor.
600 Indy Adventure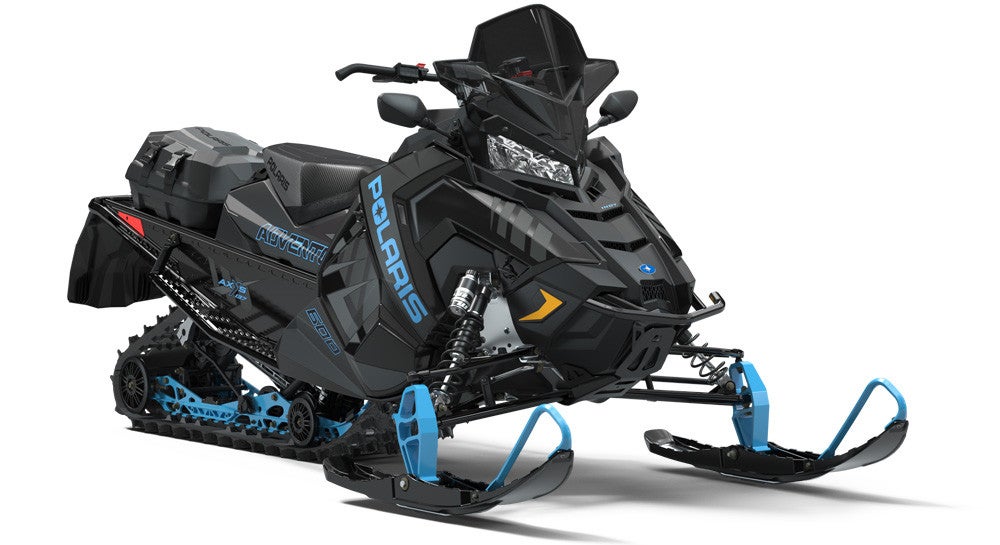 Taking KTM-like backcountry adventure riding to hinder winter-lands, is the all-new 2020 Polaris 600 Indy Adventure 137. This "adventure" and touring sled is designed for both long-distance solo, or two-up riding. It is an adventure sled with premium shocks, hand controls, and both Lexus-like and off-road Jeep-like features.
With Polaris' Lock and Ride system, owners/riders can add a passenger seat, travel cases, hard saddle-bags or a myriad combination of all. All storage cases are water tight and built for rugged rides. The 600 Indy Adventure 137 is built for multi-day (overnight) long-distance performance-minded riding with comfort, aggressiveness and sex-appeal.
Indy 850 XC 137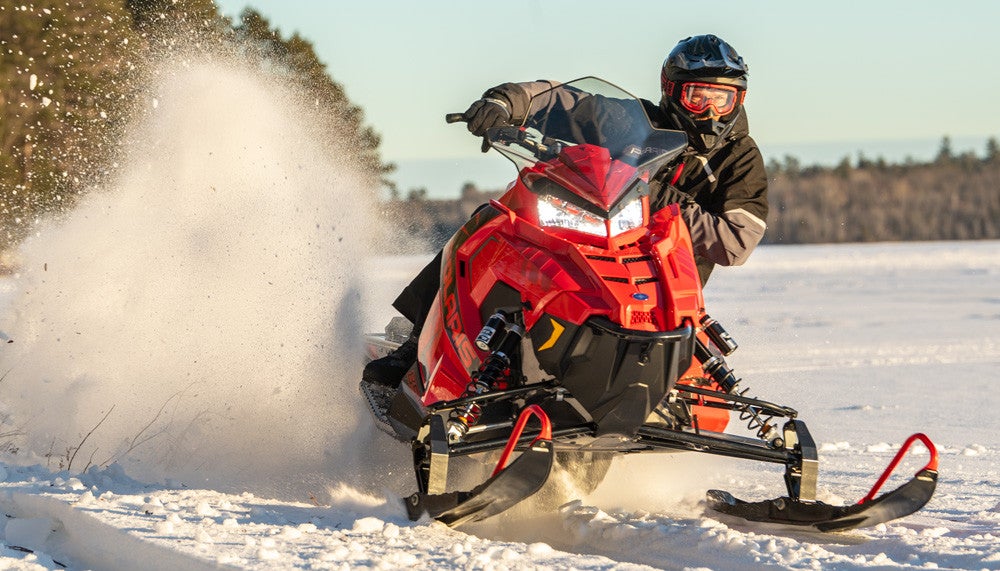 Taking cues from fast-attack trail riding, boondocking, corner blasting, ditch banging and adventure riding, is the 2020 Polaris 850 Indy XC 137.
This new for 2020 Indy blends crossover, adventure, and mogul skipping into one package with 850 Patriot power, Lock and Ride for storage bags, premium high-end Walker Evans compression adjustable piggy back shocks for back saving mogul smacking; full interactive GPS- and Bluetooth-equipped instrument pod, and three track choices – Ripper, Cobra or Storm. The built-to-order 850 XC 137 is a dream trail sled. Like the KHAOS, it is designed to hit all the trail "zones," be it for a short burn or an overnight haul.
For the two 137s mentioned above, these come with Polaris new Pro-CC 137 rear suspension, which is mid-length long travel rear suspension that like the IGX (but not), in that it likes to run fast and hard, while being in control at delivering a plush ride. With premium Walker Evans two-inch diameter tube shocks, the shocks managing oil flow with its large volume, which in turn gives the 137 suspension, racer like carving and control, without the harsh ride hits. The Pro-CC is a coupled rear suspension.
Lest you forget, the 2020 Indy XC 137 has a shorter sibling, the Indy 850 XC 129. These two Indy 850 XCs are identical in every way, except the 129 uses an eight-inch shorter track, hence, 129.
Timbersled Riot
Polaris' Timbersled division has developed a new snow bike kit that is meant to be fun and playful, that is to be "dirt bike like." The Riot is snow bike kit that is meant to deliver a "freeride" experience.  The Riot is designed to handle low-snow or hard pack snow conditions, as well as powder. Where the ARO is more of a powder hound, the Riot is at home in the low-snow zone, as well as the two-foot deep zone.
Designers who engineer and build snow bike kits must work with a vehicle designed for dirt single track operation – on two wheels. There are compromises taking a motorcycle from its dirt zone to the snow zone. The Riot is designed to lessen these compromises by engineering-in the dirt bike's dirt-bike zone-riding (allowing the dirt bike to be what it is, as far as control and handling), while at the same time, whacking the snow-filled mountainsides as a "snow bike." We are told the Riot will be such a "riot."
For more information on these 2020 snowmobiles and snowbike kits, go to your Polaris dealer, or stay tuned to this website.
The Dealers
Polaris is giving to its dealers, Spring-buy Snow Check Select power. Dealers can now order through the same program as customers, its complete inventory, right down to color and graphics, for its season-long inventory. This way dealers, through almost just-in-time inventory control, can order exactly what they need for its in-season sales.