2017 Ski-Doo Renegade Backcountry X 800R Review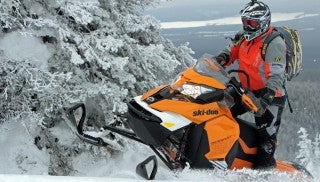 Crossing from trail to powder and back
Since the Mountain Team for Snowmobile.com first began evaluating and testing deep-powder specific crossover snowmobiles, we relegated crossover snowmobiles as early 1990s mountain snowmobiles, with better suspensions, motors and tracks. This all changed years ago when we first rode Ski-Doo's Renegade Backcountry X. This led to an attraction to the "shorties" with powder tracks. Others that we fondly defend are Polaris' Switchback Assault with Series 4 track, Arctic Cat's XF 8000 High Country Limited with 2.5-inch PowerClaw track, and second-cousin to the XF, Yamaha's Viper X-TX with 2.25-inch PowerClaw track.
Fast Facts
Engine: 799.5cc 2-stroke
Power: 150+ @7900 rpm
Track: 16 x 146 x 1.6 Cobra FlexEdge
MSRP: $12,949
View Full Spec
Ski-Doo's 2017 Renegade Backcountry X, if we lived in the flatlands, would be one giddy-up pony we would have in our garage. No doubt about it.
However, 2017 Renegade Backcountry X returns pretty much as it was in 2016; it is not on the new Gen 4 REV chassis with 850 power. We figure that will all change for the 2018 season, but for now, it is somewhat of an orphan. Still, in its current guise this snowmobile will deliver dump truck loads of fun and crossover pleasure. But just know, though it is high-tech and powerful with its 800 R E-Tec motor, it is in catch up mode as compared to the MXZ 850.
Let's pull the hood and side panels off and poke around.
On Ski-Doo's webpage for the Renegade Backcountry X, this appears, "Is the Renegade Backcountry X a Summit mountain sled or an MXZ trail sled? It's both, with advanced features for the rider who wants the best performance carving up nasty trails or backcountry powder."
That is what makes a deep-powder crossover, like the Renegade Backcountry X 800, so appealing to the masses.
The Renegade Backcountry X is built on Ski-Doo's XM chassis, the same chassis that Ski-Doo built its Summits on, until the new Gen-IV REV chassis appeared. No matter what, the XM is deep-powder specific.
The front suspension is the RAS-2 riding on HPG Plus R shocks; front end travel is 8.3 inches. The sway bar equipped RAS-2 rides on the Pilot DS 2 ski, the same ski used on the Summit line. Ski stance width is an adjustable 38.4 or 40.1 inches.
Out under the tunnel is the tMotion rear skid with HPG Plus as the center rail shock, along with a KYB Pro 36 EA working the strokes as the rear rail shock. The tMotion rear suspension travels up and down 9.4 inches. This is the same tMotion the Summit line relies on.
Track length stretches out 146 inches with a 16-inch width. This is the same length as the XM RS Freeride. These two sleds share much in common.
Two tracks are available for the Renegade Backcountry X, the 1.6-inch Cobra FlexEdge or the deep-powder PowderMax FlexEdge with two-inch lugs. Being both tracks are "FlexEdge" tracks, the outer edges are non-reinforced. This makes the tracks' edge pliable to work with the tMotion rear suspension in rolling into a hillside.
The 2.0 FlexEdge PowderMax track, our preferred track, will allow the passionate crossover rider to hit the trails, rails, ditches and swamp witches with style while taking on Michigan's Upper Peninsula New Year's Day powder. The Cobra track dials back powder riding; lugs that 1.6 inches do not have the shovel height to bite large volumes of snow. However, the Cobra track makes trail riding along the St. Lawrence Seaway what it is all about when searching out the best trailside eatery with maple pie.
Being the two tracks serve different purposes, the Backcountry X is properly geared for use. If using the 1.6 lug height Cobra track, the small sprocket has 21 teeth, whereas the large sprocket has 45. The 2.0 Powder Max FlexEdge track is driven by a small sprocket with 23 teeth and a large sprocket with 51 teeth; this is what mountain riders called "geared down." Both tracks are driven by an eight-tooth track driver.
Powering the Renegade Backcountry X is the 800R E-Tec two-stroke twin cylinder motor with liquid cooling and electronic direct fuel injection. Bore and stroke is 82 mm by 75.7 mm, giving an actual displacement of 799.5 cc. In Ski-Doo's history, this is one its finest motors coming from the Austrian-based Rotax factory. Sure the new 850 motor has the snowmobiling-public's attention, we get that, but don't walk away from the Backcountry X with this fine 800R powerplant.
Managing the motor's power and throwing it down to the track for forward momentum is a TRA VII drive clutch and a QRS driven clutch; engagement speed is 3800 RPM. These are dependable clutches with wide and easy adjustments.
The XM-based 2017 Renegade Backcountry X has XM Summit features from 2015 and 2016 where the toe wells are open and pushed father forward, due to the side panels being opened up at the toe well area. This opened up and moved forward toe well area gives the rider "room to roam" in Ski-Doo speak, to advance his body closer toward the engine, and nearer the steering post and directly above the track drivers. This is what gives the Backcountry X its powder playing finesse.
There are some matters to discuss here. Being the Backcountry X is a crossover snowmobile, and with the optional Powder Max track it is a true 50/50 snowmobile. With the Cobra track, we surmise the Backcountry X to be about 65% trail, and 35% powder. Armed with this, you can determine how to equip your Backcountry X. Now, we hope that by the time you are reading this, you have your Backcountry X purchased, as this orange and black wonder crossover snowmobile was a Spring-buy snowmobile only. Perhaps some dealers opted for a few more inventory models, which allow some late come-and-get-it buyers to purchase one, but be aware of the two track choices.
Riding and driving the Ski-Doo Renegade Backcountry X is giggly fun. Its ability to stay locked-down on the trails is unreal; that's what Renegades do, stay planted. But, when taken off trail, within marginally deep powder, it becomes an all different snowmobile. We found its limitations, its car-like handlebar swing, due to its laydown or horizontal post, its wind/brush guard handlebar hand protectors, made wild and somewhat extreme boondocking, ergonomically challenging. But, when we dialed back our Summit mode, and called on our Backcountry X Renegade mode, we found the orange and black crosser to be pleasant, compliant and delightsome in the Quaking Aspen hillsides outside West Yellowstone, MT. When riding the Renegade Backcountry X 800 as the crossover sled it is, then it becomes the crossover snowmobile it is meant to be.
The above is key when purchasing a crossover snowmobile, such as this fine product. Crossover snowmobiles, being in the mid-140s in chassis length, give a smooth ride, being that they chase over moguls better than snowmobile's of shorter-length, while delivering some deep-powder capabilities. This 2017 Backcountry X has rear under-seat storage, but with its longer tunnel, Ski-Doo has other tunnel-mounted storage bags that make the Backcountry X a long-haul single-rider snowmobile. This is a versatile snowmobile.
Admittedly, we have a soft spot in our heart for this XM chassis crossover. Its motor is strong and props up the vehicle's crossover performance. If you did purchase a 2017 Renegade Backcountry X 800R, don't hide it away because it is not powered by the new 850 in the Gen 4 REV chassis. Ride it because you can. Ride it because we would. Ride it, because it is a well thought-out crossover.