2017 Ski-Doo Summit SP Review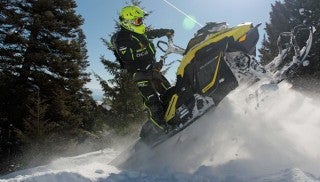 Where function, agility, muscle and beauty meet
Is Ski-Doo making its in-season mountain muscle snowmobiles a spring-buy snowmobile in disguise?
Fast Facts
Engine Type:Horizontal In-line
Cylinders:2
Engine Stroke:2-Stroke
Valve Configuration:Reed Valve
Displacement:849 / 51.9
Starter:Pull
Turbocharged:No
View Full Spec
To us the Ski-Doo Summit SP is the true darling in the GEN-4 REV Summit fleet. True, much hoopla was given to the Spring-buy "X," but for all intents and purposes, it is the SP we gravitate to. Not that the X is lacking, for it is worthy of all its accolades, but the SP is a kid who comes off the bench all Rudy-like with its own style and it gets its work done. What is the SP? Basically an X that is readily available in-season, the SP 850 is 97% X. Most differences lie in runningboard material and shock package.
So we dive into the exploits of Ski-Doo's other Summit, the SP 850. But, before we do, we must say how we love the sound of "850." Beyond the motor – eight-five-oh –  we like how it rolls off the tongue – "eight-fifty."
Anyway, back to reality.
When we rode the SP and X 850 Summits in British Columbia and on the peaks near West Yellowstone, MT, we did not notice any performance difference between the two. In years past, when we muscled an XP X or an XM X and then jumped to the SP model, the differences between the two were quickly noticed, most notably in the handlebars where the SP's bars made it feel left-handed in a right-handed speed writing contest. But for the Gen-4 Summits, the gap between the X and SP is narrow. Given the two, for us, we'd throw a leg over the SP first, because its purchase price is less and – in our opinion – rolls out virtually the same performance. Sometimes, having an X-rated, LE-rated, or whatever super-hottie-rated snowmobile brings little return on investment when slapping a mountain's face. Rider ability and skill greatly influence the face whacking. Spring-buy snowmobiles have some creature- and bling-advantages, but not much, if any, performance advantages. The SP Summit from Ski-Doo is an 850 Gen-4 that is brawny, muscular, agile, nimble, and dang good-looking. It is an in-season 850 Gen-4 Summit that will make any in-season purchaser proud.
Differences Defined
The stamped-out grid-style runningboards are narrower than last's years XM Summit SP, as well as the lower side panels being cinched in two inches. The SP's footwells, like the X, are forward 2.6 inches from last year and are more open and spacious. The runningboards have a flatter angle, more than the other OEM's mountain snowmobiles, which reduces rider fatigue at the knees, ankles and thighs. The foot boards are 0.75 in. higher, from ground level, than the 2016 Summit SP.
The Summit X and Summit SP share similar KYB-sourced high pressure gas shocks. The X features HPG Plus and the SP gets HPG that are also aluminum but not rebuildable. Ski-Doo claims, in an early media video, the cost to rebuild or to replace the KYB brand shocks is about the same. Since these HPG shocks are coil-over shocks, preload, rebound and dampening are in your control, within a certain boundary. We found the SP's shocks to be highly capable shocks at managing mogul hit, quick trail chops, sidehill cuts and powder carves.
Runningboard platform holes on the SP are not as wide as the Summit's X boards and the X's boards are extruded whereas the SP's are stamped. Extrusion is a process where material, in this case, aluminum, is pushed through a die with a desired cross-section pattern. This manufacturing process gives the builder the ability to create complex cross-sections and to work materials that are brittle; it also forms parts with an excellent surface finish.
With the SP, the boards are stamped, which is a process of placing a flat sheet metal into a stamping press where a tool and die forms the metal into a net shape. Stamping is usually done on cold metal sheets.
For the SP buyer, we don't believe this is at a deal breaker. The SP's runningboards are strong and its snow-dump holes, though not as wide as on the Summit X, are sufficient at dropping snow and ice. Oh, there will be times when you'll notice snow and ice build-up, and when you do, stomp hard and push the frozen water down. For us this is a minor difference between the two models.
The handlebar, post, and handlebar controls between the two are identical. The difference being, the SP's post is painted, the X's retains the brushed aluminum look for that minimalist appearance. No function difference at all.
Function, Brawn and Tech
The Gen-4 REV Summit X Rotax 850 twin cylinder two-stroke builds 165 horsepower; 10 more than the 800R E-TEC. The 850 has 106.6 lb-ft of torque, 19% more than the 800R E-TEC. Achieving this peak horsepower and torque comes when 7900 RPM hits the clock. A new heat exchanger system keeps the narrow motor cool and prevents snow thaw from occurring at the tunnel's end, thus creating an ice build-up on the runningboards. This prevents the vehicle from gaining weight.
The SP's track is a PowderMax FlexEdge track, but it is a lighter 2.5-inch or three-inch paddle track from last year. For 2017, it is known as PowderMax Light. Track and chassis lengths for the 850 Summit SP are either 154 or 165.
The 850R has a smart RAVE system, called eRAVE, which is three-times faster and more intelligent than the 800R's RAVE system
A fuel-boost injection system, part of the 850's electronic fuel injection system, is an additional fuel injection system that fogs the throttle bodies with additional atomized fuel to spike the motor much faster than throwing fuel through the throttles bodies alone. The fuel-boost injection system, a bottle above the throttle bodies, is tied to engine RPM and throttle position.
The primary pDrive clutch has clicker adjustments, friction free dual rollers that transfer engine torque rather than relying on traditional sliding buttons. The oversize rollers with needle bearings, wide flyweights and a shaft-on-shaft design reduces friction and inertia and being lighter than the 800R E-TEC's drive clutch, requires less motor effort to spin. Overall, the pDrive is 3.7 pounds lighter than the clutch on the 800R Summit.
Narrow Equals Big Moves
The 850 Summit SP has body side panels, as well as hugely-open and narrow running boards (as mentioned earlier), and an open tunnel cap that all give the GEN-4 REV Summit SP its deep snow maneuvering and sidehilling capabilities. Ski-Doo calls this "Powerdynamic." The narrow body, beveled tunnel, tank, seat and handlebar controls are compact. Ski-Doo pulled in the REV Summit SP's body by four inches, two inches on each side, and moved the front toe hold forward, rather opened it more toward the engine, by 2.6 inches. The lower side panels were elevated up half of an inch to minimize the pan's surface from dragging the snow.
The SP also has "Powerpack," which defines how the 850 motor is fully central to the chassis' front end; side-to-side weight distribution is 50/50. Components hang from the chassis and motor of equal weight distribution to assure equal weight sits over each ski.
The steering post is a laydown post, or horizontal post, and is slightly pushed forward more than the XM's (unknown as to how much). Steering post block is 7.5 inches tall.
Ski-Doo's Summit SP quickly responds to driver input with intense finesse; it is light, powerful, narrow, agile, and effortless. The 2017 Summit SP will make better riders out of good riders, and older riders young riders again.
Ski-Doo challenged itself, and has the best REV Summit SP to date. Riding the 850 Summit SP is not hard work; but if you are old-school, you may make it hard, when it ought not to be. Simply, the 850 Summit SP is a hard working and playful powder hound where powder time is play time.
Ski-Doo did make its in-season mountain muscle snowmobile a Spring-buy snowmobile in disguise. We feel you would agree with us that if you threw a leg over and spent some time on the SP; you'd feel it is the true darling GEN-4 REV Summit 850.
Update: 850 Summit X
Team Mountain Snowmobile.com spent a day, May 07, 2016, with Ride Rasmussen Style, Bret Rasmussen, on some 2016 Summit Xs and a lone Gen-4 Summit X 850 165. Snow conditions for the Tony Grove area near Logan, Utah, was muddy at the trail head, wet sloppy "goomba" at mid-point up mountain, and wet sticky snow, albeit it deep, up top.
The 850 Summit X 165 came to us in fine fashion, better than we knew in British Columbia at its introduction ride and at a week's long evaluation on the mountains near West Yellowstone, MT, in late February to early March.
Rasmussen installed one of his designed lower handlebars on the GEN-4 Summit which made us more confident as we tackled the slopes in Ride Rasmussen Style fashion. We understand why low handlebars are essential when dialing in proper body position to negotiate the wrong-foot forward maneuvers Rasmussen promotes. If you are a rider going for the upper reaches in rider ability, you'll need one of these bars; if not, then stock bars and post are fine.
Also, when hopping over from one runningboard to the other, we felt the seat on the GEN-4 is too tall. Again, when in the Professor's classroom, you'll notice this. But in most cases stock is good enough and the Summit mountain seat is fine. The 2017 GEN-4 Summit we rode with Rasmussen did not have a lower seat, though we wished it did; but we did work with it. We are learning most mountain seats, if not all, are too tall for assertive runningboard, wrong-foot-forward and hop-over moves. 90% of mountain riders will not know this, perhaps, but we did in the Rasmussen classroom.
Overall, though we are adding this tidbit to this Summit 850 SP article, the aforementioned is true for this model, if you are planning on going all out as a Rasmussen intern, as the SP shares the same handlebars and mountain seat as the X-package Summit 850.
Lastly, the 850's motor, clutching, handling were all oh-my-goodness-gracious-Jiminy-Christmas-blah-blah-blah awesome. The 850 with its fuel injection, boost assist and pDrive make a day's work, easy work. To that end, the Summit 850's track is phenomenal.
The "Schooled" Professor, as he is known, told me, as we sat in a restaurant, I needed to avoid working so hard on the GEN-4, as it does not need that much muscle input. Rasmussen caught me pulling some steep sidehill cuts while dog-paddling along with the outside leg – way too much paddling. He said, "Mountain riding should not be that difficult; it doesn't require that much work and effort, especially on the GEN-4." He noticed I was out of breath on one long, long sidehill cut, "Let the GEN-4's agility and nimbleness work for you."
Is that all it takes to get a passing grade, Professor? I can do that… GEN-4 style.
2017 Ski-Doo Summit SP 850 E-TEC Specs
Engine
Rotax 849cc, liquid-cooled two-cylinder 2-stroke; Rotax "ETEC" electronic direct injection with power boosters
Horsepower
165 @ 7900 rpm (claimed)
Drive
Ski-Doo/Rotax pDrive with QRS; engagement @ 3600 rpm
Front Suspension
RAS-3 double A-arm with HPG aluminum bodied gas shocks; up to 8.4 inches of travel; Pilot DS 2 (with 2.5-inch lug track), Pilot DS 3 (with 3.0 lug track)
Rear Suspension
rMotion parallel slide rail with aluminum body HPG shocks; up to 9.4-inches of travel
Length
134.7 in (155 track); 140.0 in (165 track)
Width
41.6 in
Height
54.3 in
Ski Stance
35.2 in
Track
16 x 154 x 2.25 or 16 x 165 x 3.0 PowderMax FlexEdge
Brake
Brembo hydraulic racing brake system with braided stainless steel line
Weight
440 lbs (Claimed for 155); 447 lbs (Claimed for 165)
Fuel Capacity
9.5 US Gal (91 octane fuel)
Features
Standard: Generation 4 REV platform; RAS3 suspension; compact digital gauge with LCD screen; push button mechanical reverse; aluminum handlebar with J-hooks and grab strap; ergonomic step-side panels and "open" toehold Optional: electric start windshields, bags, added fuel tank, mirrors
MSRP
US$12,349 (155); US$13,499 (165)