2016 Ski-Doo Summit SP T3 Review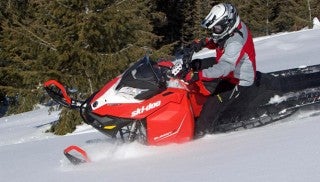 Ski-Doo delivers near X T3 fun and features with this in-season mountain slayer
Fast Facts
Engine Type:Horizontal In-line
Cylinders:2
Engine Stroke:2-Stroke
Valve Configuration:Reed Valve
Displacement:799.5 / 48.8
Starter:Pull
Turbocharged:No
View Full Spec
Recently, Ford announced for model year 2016 it will build a new F-150 model, the "Limited." This new trim package will be more luxurious than the company's current top-of-the-line F-150, the "Platinum." Ford said 44 percent of its pickup sales come from customers who purchase premium-equipped F-150s – a fully loaded XLT Lariat, King Ranch and the aforementioned Platinum. The point is does luxury make the truck work harder? Does it improve its towing and hauling? For basic work, no it does not; an XL or XLT will get the job done. But, we consumers like our (here comes the clichés) toys, bling, bells-n-whistles, goodies, and creature comforts.
With that, the snowmobile manufacturers produce premium mountain sleds: Arctic Cat M8000 Limited, Ski-Doo XM Summit X T3, Yamaha M-TX LE, and Polaris Pro-RMK. These four OEMs also produce top-flight not-quite-so-premium mountain snowmobiles that are considered in-season non-Spring-buy models. These include Yamaha M-TX SE, Arctic Cat M8000 Sno Pro, Polaris SKS, and Ski-Doo XM Summit SP T3.
Demand drives supply. The OEMs would not produce premium mountain snowmobiles if customer demand were shallow. The four sled builders know customers are willing to crank out $13,000 or more for an ego-lifting mountain snowmobile, when in fact a lesser-priced non-premium mountain snowmobile will deliver everything the customer needs. Microeconomics 101 is carried out on the mountains. Here we focus on Ski-Doo's XM Summit SP T3.
This sled is what we consider a premium mid-level mountain sled. It might not be an "X" T3, but it's smartly loaded to punish mountain and ravine. Ski-Doo did not forget there are a few of us who watch our money, but still desire to boondock through the wintry steep-n-deep months with power, confidence and the tools to turn any day into a grand day out on the mountain.
COMPARISON: Read our review of the 2016 Polaris 800 SKS 155
The Summit SP T3 comes standard, ready to rock the mountains, with a 154-inch track, but for extra cost, customers can purchase a Summit SP T3 as a 163 or 174, of course, with US$400.00 and US$900.00 added to the snowmobile's retail price (depending on how much over cost a dealer wants to sell you the Summit SP T3). Track for the SP T3 is the same as the Summit X T3, the PowderMax FlexEdge. Nice.
Drive clutch is the TRA VII and the driven clutch is the QRS – same as the Summit X T3; these are properly calibrated for elevations above 5,000 feet and up to 8,000 feet.
Motor is the 800R E-Tec that produces approximately 164 horsepower, which is sea level rated horsepower. You guessed it; this is the same motor that comes with the Summit X T3. Just to remind again, a two-stroke motor loses about three-percent of its horsepower for every 1000 feet gain in elevation. Given that, a motor that is high in sea-level horsepower has an efficient and smart electronic fuel injection system and exhaust valves, like the 800R E-Tec, combats thin-air woes. Also, the less weight the motor has to carry, the better off it is.
Speaking of weight, at 464 pounds, the T3-equipped Summit SP 154 is seven pounds heavier than the X T3, which is not a big burden. It carries that same seven-pound penalty at 163 and 174 tracks lengths as well.
COMPARISON: Read our review of the 2016 Ski-Doo Summit X T3 154
Let's do a quick OEM compare of the 150-ish track sleds. Polaris' SKS 155 comes in at 443-pounds dry (options and track will vary the weight), and Arctic Cat's 153 M8000 Sno Pro at… Well, Cat's website does not state such, but we surmise it is near that of the SP T3. In guesstimate- estimate-, approximate-speak, the SKS comes in 20-ish pounds lighter. We report this as "FYI" as you do your in-season shopping. But, balance is crucial on how a mountain snowmobile manages its weight, be it light or not-quite-so-light. We find the SP T3 very light through the bars; simply, it feels and acts light. The Ski-Doo 174 feels feathery, or light like a cloud. Arm pump and fade is non-existent.
Back to the SP and X comparisons. Front and rear suspension shocks are different. The Summit SP T3 has HPG at all points, whereas the Summit X T3 has HPG Plus, which is lighter than the standard HPG. At the track, the SP T3 also uses ice-scratchers to cool the hyfax and help the track flip snow up onto the radiator coolers.
The SP T3 Summit comes with Ski-Doo's lightweight XM Summit seat, multi-function instrument pod, and Rotax Electronic Revers (RER). It does not, though, come assembled with the X-package lightweight and oh-so comfortable aluminum handlebars.
At the nose, Ski-Doo's strong and lightweight RAS-2 front suspension and Pilot DS 3 skis help give the SP T3 its flickable and floatable nature. For vitals and storage, the XM Summit SP T3 comes equipped with a flat (peer-up) instrument pod and glove box. Below the seat are aggressive and open runningboards. At the hands in easy reach are minimalist toggle switches to setup heat and light. The SP's ski stance is an adjustable 35.7 inches to 37.4 inches.
Let's get real here, the XM Summit SP T3 is, oh let's take a guess, 95 percent XM Summit X T3. So, Snowmobile.com's western bred and made Rocky Mountain powder hounds would not hide our heads if we rode an SP T3.
COMPARISON: Read our review of the 2016 Yamaha Viper M-TX 162 LE + Video
Let's get to riding impressions. The XM Summit SP T3 behaves just like the X T3, but with these discernments. The X-package T3's handlebars fit better in the hands than the SP's. The X's curve and how it feels as the bars rotate in a counter-steer approach, seems to, in our opinion, keep the body more aligned and squared-up when attacking a sidehill and laying down a side cut. On the other hand, the SP's shocks seem to deliver a softer ride when hitting the chops. But, this can be dialed up with pre-load settings on the SP, and for the X taken down though the HPG Plus' adjustments.
The 154 feels right, the 163 comes across as a bit unpredictable as it likes to tail walk in certain conditions, and the 174 never lets go of a mountain side; it is a glued down sweetheart.
The Pilot DS 3 skis are well designed to hold lines when making cuts across a slope. The runningboards dump snow and keep the foot area clean. The toeholds are spacious and open at the panel's edge for heel kick out. We appreciate that.
The SP's narrow XM profile allows the Summit to elevator down mountainsides with ease. The narrow profile at the front suspension well (think of a pickup's wheel well) prevents the SP Summit from pushing out when cutting a line across a 30-degree slope. If you watch any of Bret Rasmussen's "Schooled" videos ("The Professor"), you'll understand why tucked in panels, in tandem with a cinched-in front suspension and runningboards, are crucial to boondocking. Mountain riding is all about the skinny and no width.
There it is. The SP Summit T3 is, in our opinion, a home run, take-it-to-the-bank mountain snowmobile. If you missed Ski-Doo's Spring-buy program, we think the SP T3 will ease your pain.
| | | |
| --- | --- | --- |
| | 2016 Ski-Doo Summit SP with T3 Package (154-inch track) | 2016 Ski-Doo Summit X T3 800R E-TEC |
| Engine | Rotax 799.5cc, liquid-cooled two-cylinder 2-stroke; Rotax "ETEC" electronic direct injection | Rotax 799.5cc, liquid-cooled two-cylinder 2-stroke; Rotax "ETEC" electronic direct injection |
| Horsepower | 160-plus (claimed) | 160-plus |
| Drive | Ski-Doo/Rotax TRA VII with QRS; engagement @ 3800 rpm | Ski-Doo/Rotax TRA VII with QRS; engagement @ 3800 rpm |
| Front Suspension | RAS2 double A-arm with HPG aluminum bodied gas shocks; up to 8.0 inches of travel | RAS2 double A-arm with HPG Plus aluminum bodied rebuildable gas shocks; up to 8.0 inches of travel |
| Rear Suspension | tMotion parallel slide rail with aluminum body HPG shocks; up to 15-inches of travel (154-inch track) | tMotion parallel slide rail with aluminum body HPG Plus shocks; up to 15-inches of travel |
| Length | 131.0 in | 131.3 in |
| Height | 53.0 in | 53.0 in |
| Width | 42.6 to 44.3 in | 42.6 to 44.3 in |
| Ski Stance | 35.7 or 37.4 in | 35.7 or 37.4 in |
| Track | 16 x 154 x 3.0 PowderMax FlexEdge | 16 x 154 x 3.0 PowderMax FlexEdge |
| Weight | 464 (claimed) | 457 (claimed) |
| Brake | Brembo hydraulic brake system with braided stainless steel line | Brembo hydraulic brake system with braided stainless steel line |
| Features | REV-XM platform; gauge with LCD screen; REV-XM lightweight seat with rear storage capacity; push button mechanical reverse; optional electric start; 8.0-inch riser block; aluminum handlebar with J-hooks and grab strap | REV-XM platform; gauge with LCD screen; REV-XM lightweight seat with rear storage capacity; push button mechanical reverse; optional electric start; 5.1-inch riser block; aluminum handlebar with J-hooks and grab strap |
| Fuel Capacity | 10.6 US Gal (91 octane) | 10.6 US Gal (91 octane) |
| MSRP | $12,749 | $13,199 |