2019 Ski-Doo Grand Touring Limited 900 ACE Turbo Review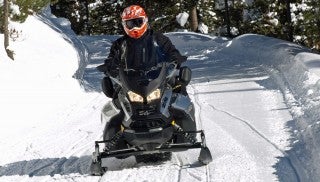 The 2019 Ski-Doo Grand Touring Limited 900 ACE Turbo features a new engine and wide new GEN4 platform.
Fast Facts
Engine Type:Horizontal In-line
Cylinders:3
Engine Stroke:4-Stroke
Valve Configuration:DOHC
Displacement:899 / 54.9
Starter:Electric
Turbocharged:Yes
View Full Spec
The 2019 Ski-Doo Grand Touring Limited 900 ACE Turbo is the latest touring flagship from Ski-Doo. No sled maker nails the "grand touring" segment of the sport as well as Ski-Doo. Is it because Ski-Doo engineers have immediate access to Quebec's super trailway right outside the company's development shop? Is it because the company started the recreational aspect of the industry in 1959 and has decades of experience in building sleds? Is it because Ski-Doo helped underwrite the original SnoPlan program of the 1970s that led to today's interconnected system of North American snowmobile trails?
Figure the answer is all of the above, plus an inside understanding of the "wants" of Quebec's serious safari riders. After all, with Quebec as its home base, Ski-Doo is witness to two-up ridership that packs up for high mileage weekends like the Clark Griswold family of "Vacation" fame. A 300-mile day speeding along a super trailway for an overnight destination to destination run is common for such riders.
What these riders need tends to be a working combination of the Griswold's Wagon Queen Family Truckster and top line snowmobile technology with room for two, storage, comfort, power and reliability.
The top of the line 2019 Ski-Doo Grand Touring Limited 900 ACE Turbo offers all of that plus handlebar-controlled air suspension adjust on the fly versatility, heated seating, wind-scorning protection and top-notch ergonomics evolved from decades of experience that stretches back to the 1969 Nordic series of two-up cruisers. This 2019 Grand Touring leap frogs ahead of that humble Ski-Doo offering in all manner.
Our test sled came with the all-new Rotax-built 900 ACE Turbo four-stroke and a claimed 150-something horsepower at full boost. It is one of three engine options available that also include the normally aspirated 900 ACE of about 90 horsepower and the all-new 600R second generation E-TEC two-stroke twin with about 125 horses at 8100 revs.
At this year's test session Ski-Doo brought along three sleds with the new Turbo ACE triple – Renegade X-RS, Renegade Enduro and the Grand Touring Limited, which shares many attributes of the Enduro, but for two instead of one. Frankly, all three Turbo models underwhelmed us. They seemed inconsistent in power delivery, which tended to be all "on" or "off." When they were on you could feel the potential, but the delivery seemed unsettled. The ACE Turbo is unlike the Yamaha turbo that is much more car-like and vastly easier to drive. The ACE Turbo comes alive and spikes hard with the throttle lever pegged from midrange on up. It has ski-lifting acceleration, but we found that unnerving at times in corners as the sled becomes a "point and shoot" snow missile. You need to get the sled settled on the turn exit, point it down the straight and shoot full throttle ahead with enough ski weight to steer.
We had expected the Grand Touring to be the least excitable of the three as we figured it would be balanced in favor of quick touring rather than all-out speed as with an X-RS. Not so much. In fairness, the ACE Turbo is new, and we like to think that with a year's worth of sorting the engineers will get its power delivery more civilized to match the touring parameters of this model.
Ski-Doo does well by the Grand Touring in all other aspects. It has a relatively quick-acting, handlebar accessed air ride rear suspension system. This air ride system has become an accepted technology for Ski-Doo's premium touring sleds such as the GT and also the Enduro. While Yamaha and Arctic Cat's electronically controlled interactive systems are much quicker responding, we think that the GT works better with the air ride set up as it better sets for the weight of the passenger load and has more adjustments to react to terrain changes. The Air Ride system features a handlebar control that sets the rMotion's rearmost air shock. An aluminum-bodied HPG controls center shock action on the set-up's 10.6 inches of available travel. The RAS3 front suspension is a double-A-arm arrangement that uses HPG coil assisted shocks on 8.7 inches of travel.
The Grand Touring's ride remains one of the best available for two-up cruising and requires a minimum of tinkering to achieve settled handling for a winter weekend of high mile point-to-point riding.
As you'd expect the GT's ergonomics rate among the best with the addition of Ski-Doo's nifty Forward Adjustable Riser that allows you to set the handlebar height and throw to suit any riding style. For storage the GT carries a voluminous rear-mounted weather-resistant cargo box that accommodates up to 62 liters of capacity. For comfort the sled faces winter with a 28 inches tall and wind-deflecting windshield. Both rider and passenger benefit from a heated seat, with the passenger enjoying heated hand grips and a backrest for the elevated rear cushion.
On trail grip comes from a second generation 137-inch by 15-inch Silent Track that helps minimize track noise thanks to the track's inner design. It works as an integral component of Ski-Doo's Silentdrive system that includes a special geometrically patterned drive shaft and drivers. The pairing noticeably cuts down on track noise as well as reducing vibration at the driver's feet.
We probably test rode the GT more than any other sled during our week-long evaluations. We were trying to take in as much seat of the pants information on how the new ACE Turbo works and how we could maximize our enjoyment of it. Of the three ACE Turbo powered models Ski-Doo had on hand for evaluation, the GT was the most enjoyable, but it wouldn't be our first choice for power in this model. If we had to spec out a 2019 Grand Touring Limited for ourselves, we'd go with the new 600cc E-TEC twin, even if it gives us 25-or so less horsepower.
We couldn't ever find a best setting for the turbo, even though it offers three electronically monitored settings from normal, to sport to thrifty ECO. The standard "normal" setting offered us the most pleasing option. It works in conjunction with Ski-Doo's "fly by wire" intelligent throttle that has the throttle pull of air. You can even flip the lever around for finger control in lieu of regular thumb activation. All of these features work great on BRP's Sea-Doo line of ACE-powered personal watercraft and are simply okay on sleds.
Because the Ski-Doo models we test rode were pre-production units (if not flat out prototypes), we have to guess that the new ACE Turbo power systems were not fully sorted. We hope that's the case, because we couldn't help noticing that all three of the units suffered issues with the mechanical reverse system. One would clash going into gear. Another would not engage at all and another slipped. On one occasion when we pointed this out to the mechanics, they knew exactly the problem because they hadn't checked and adjusted the linkage before we went out riding. Once the linkage was set properly the problem went away. Again, not uncommon signs of a pre-production "test" unit.
As for on trail ride and handling, we learned that the GT carries on the traditions of two-up, long distance Ski-Doo models brought forward from the original 1969 Nordic 371. We respect this Grand Touring Limited's new wide-ride GEN4 platform for its generous and spacious two-up platform as well as its adherence to Ski-Doo's traditional touring features, but we are reserved about the ACE Turbo.