2018 Yamaha Snowmobiles Unveiled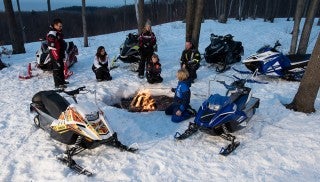 Celebrating 50 years with turbocharged success and family-friendly SnoScoot
As Yamaha celebrates its 50th anniversary in snowmobiling with the release of the 2018 Yamaha snowmobiles, it closes model year 2017 on a successful note. Its 2017 turbocharged Sidewinder models generated dealership traffic not seen in years. Snowmobilers bought that high-performance model to such an extent that Yamaha marketers know the brand regained much of its high-performance credibility.
According to unofficial reports, in various regions the 2017 Yamaha Sidewinder outsold its milder Viper counterpart as much as four-to-one! That strongly suggests that the high-performance turbo-powered Sidewinder appealed to more than Yamaha riders. Rejoice turbo addicts, the Yamaha Sidewinder continues in all its 200-plus horsepower glory for 2018.
While the Sidewinder steps up to lead the 2018 performance charge, the Apex, the world's only four-cylinder high-performance snowmobile enters its final season. Fret not, the Apex makes a grand departure as it heads off to the snowmobile sledding hall of fame. The 2018 50th anniversary edition debuts a uniquely Yamaha front suspension upgrade, the Yamaha Reactive Suspension System (YRSS), which incorporates all the shock action from both shocks into one.
Like many Yamaha snowmobile innovations introduced in recent years, YRSS comes from a previous but proven Yamaha engineering heritage first developed in 1991 to enhance side-to-side roll in automobiles, primarily high performance ones. What the snowmobile reactive suspension system does is to replace two high pressure piggyback-style gas canister shocks with one central but larger and more reactive canister that can control side-to-side roll for flatter cornering. Essentially the single damping canister filters oil flow between the shocks via a control module that senses speed of movement, the direction and amount of energy at each ski to effectively balance the sled in corners, and offer more compliant bump action and reduce ski lift. Yamaha notes that YRSS through its improved tracking over rough terrain and improved bump isolation reduces darting on trails. In essence the YRSS does exactly what most riders try to do when leaning out and cornering aggressively. YRSS gets the sled to hunker down lean and low for faster turn in and quicker exit. The front suspension load balances the sled and effectively lowers the center of gravity much like a well-tuned race car. Balance and grip mean speed, which the Apex has!
These limited quantity 50th anniversary Apex models feature a unique red, black and white graphic on the early season buy Apex LE and Apex X-TX LE. The Apex LE is the only Apex model available with YRSS for 2018. It will also come standard with Yamaha's performance damper.
Yamaha continues to offer its heritage line of Yamaha-built models with minor updates, mostly in cosmetic and available options. The Vector, Venture and Phazer continue to be available.
The partnership models built by Arctic Cat, the Viper and Sidewinders, lead the parade with models designed for aggressive trail sport, big bump off-trail riding, back country adventure and for 2018 more serious deep powder play.
Look for major expansion of the Sidewinder turbo in the M-TX packaging among the new 2018 Yamaha snowmobiles. In 2017 Yamaha brought out three powder sleds – the Sidewinder M-TX SE 162, a Viper M-TX SE 162 and Viper M-TX SE 153. Step back! Yamaha bolsters its powder presence with more turbo versions. While you might say, "Yeah, but they're heavy!" Hold on. That 200-plus horsepower Sidewinder loses virtually none of its ponies at high elevation as the turbo packs air and fuel into the engine, unlike its normally aspirated competition that loses power. Do the math and reconfigure power-to-weight ratios at elevation. Yes, at sea level the lighter sled may have the better ratio, but as you climb and its power drops off so does its power to weight advantage. At 10,000-plus feet elevations that lighter weight 800 may have the effective horsepower of a 600, where the turbocharged Sidewinder retains virtually all its 200 horses. Do the math.
Because Yamaha did the math, you'll see a platoon of new Sidewinder mountain models that include M-TX LE limited-edition versions with everything from a 153 x 3.0-inch track to a 162 x 3.0-inch powder track. These early buy models offer the Powerclaw track, new Fox Float QS3 front shocks and special QS3 with a "climb" lock out to prevent overly aggressive weight transfer. There will be standard SE models available for purchase during the season, these sleds have Float 3 front shocks, a 1.5 center gas shock and Float 3 on the rear suspension arm.
Expect a full complement of Viper models in the 600 class of sleds, but enjoy the power choice Yamaha makes for serious powder running.
While Yamaha expands its mountain line up with more turbocharged models, the company seeks to celebrate its 50th anniversary season by reintroducing an old name – SnoScoot! Say, what?
Don't underestimate Yamaha's thinking. Yes, the company is fully aware that the deep snows of the West and near deep snow marketplace in lake effect areas of the East and Midwest are where the industry makes its money – now! But what about the future? Yamaha looks to that future by peeking back over its 50 years of past performance.
What does Yamaha see? A need for a smaller, more affordable sled that brings back the traits of the sleds that brought many current snowmobilers into the fold in the first place. These sleds should be easy to ride, but with enough power to make them trail-friendly.
What Yamaha found in its and snowmobiling's past was the tendency to evolve with innovation that brought more power that begot a need for more suspension and new technologies. Sleds got faster, heavier and pricier. Increased power caused a growth in vehicle size and weight.
Yamaha decided to re-introduce the SnoScoot name in an attempt to bring lightweight, low cost fun back to the family of snowmobiling. Be advised that the 2018 SnoScoot is a snowmobile unlike the 1988 original, which was okay on hard-packed trails but not good off trail.
The reincarnation of the SnoScoot brings modern four-stroke technology in the form of a 200cc Yamaha single cylinder that produces 9.1 hp at 5400 revs. Since the sled is supposed to be rider-friendly, Yamaha made a major effort to keep everything simple and low maintenance. You'll find the engine features transistorized electric ignition, easy-pull recoil start, an efficient and easy-to-pull Mikuni butterfly carb, and a virtually maintenance-free drive system that uses a rubber belt final drive.
At the SnoScoot unveiling, Yamaha invited the assembled snowmobile journalists to thrash about in a "snocross" type competition. None of the competitors represented the target audience of "transitional" riders graduating up from a Kitty Cat or SRX 120. Still, the SnoScoot proved beyond a doubt that it is a real, honest to goodness, trail-ready snowmobile capable of surviving rough riding. The SnoScoot appears to be capable of maintaining a consistent trail speed average of 30-ish miles per hour.
The aluminum chassis proved rugged and the adjustable suspensions offer nearly five inches of travel front and rear. There's a steel twin tube emulsion shock at the rear that should be quite adequate. Spinning around the suspension rails is a new downsized Cobra track measuring about 93 inches in length and approximately 10 inches in width with a one-inch lug profile.
This little Yamaha is fully certified by the SSCC and compliant with all existing safety and emissions standards.
Just as the Sidewinder brought old and new customers to Yamaha dealerships this past season, Yamaha expects its 2018 SnoScoot "opens the door to an untapped customer base drawing new clientele into dealerships who are interested and open to motor-sports at a more conservative level."