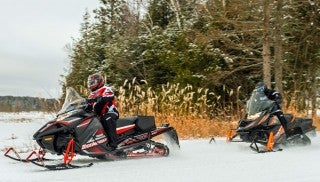 How to make a statement about your Yamaha snowmobile
We're not saying that true Yamaha enthusiasts downplayed their ride, but until this year's Sidewinder series, you had to manufacture your own Yamaha Pride. For 2017 Yamaha provides the pride – all 180-plus turbocharged horsepower. Meaning you can fly your Yamaha colors without insult from your riding buddies.
Even if you don't ride a Sidewinder, it creates a cachet and performance credibility that Yamaha has been missing in recent years. The Apex is unique with its 150-something four-cylinder power and electric power steering. And the Viper did bring sports sled handling to the modern Yamaha line up. Still, none of those models strikes the fear of being shown up on the trail by your non-Yamaha peers. The Sidewinder does. Only a Thundercat or Arctic Cat rider with a 2017 9000 series Cat will dare challenge the Sidewinder.
Yamaha's Sidewinder gives all Yamaha riders a new sense of pride in Yamaha ownership. After all, you could have had a Sidewinder, but you've decided to stay with your current Yamaha and add a few pure Yamaha touches to it for the coming season. To help you show off your Yamaha Pride, Yamaha's accessories and parts department offers gear for you and your sled as well as Yamaha stickers and decals for your shop, garage, sled hauler and pickup truck.
If you did buy into the Sidewinder program, you'll find Sidewinder-specific items. The Sidewinder Pro Front Grab Bar (US$189.99) provides added protection and stylish customization. This race-inspired grab bar gives the front profile of your new Sidewinder an aggressive look. Fabricated of aluminum the grab bar minimizes front end weight and its powder-coated finish provides long term style. The kit includes all mounting hardware.
While the grab bar makes your sled a standout, the 2017 Yamaha Sidewinder Jacket by FXR (US$299.95) will make you stand out. Created for Yamaha by top-rated FXR Factory Racing, the Sidewinder Jackets brings FXR styling, features and renowned wear-ability to the Yamaha Sidewinder rider. The shell is a durable nylon/polyester blend with a Reissa laminate for waterproofing and breathability for active snowmobiling. The lining, which includes an easy-access inside zipper pocket, is a moisture-wicking, quick-dry material. You'll find an easy-to-manipulate YKK front zipper, a cold-stop multi placket magnetic/snap front closure system and an inner chin placket.
This garment is fitted with the exclusive FXR Radial Dry Vent System with one-way zippers and mesh inserts as well as a Thermal-Flex comfortable, removable zip-out liner. Both the collar and cuffs are fitted with easily adjustable hook-and-loop closures to seal out cold and snow. For safety the Sidewinder Jacket includes reflective 3M Scotchlite trim.
You can top off your personalized Sidewinder look with a brand new Altitude Carbon Fiber helmet. Pricing for this helmet begins at US$250. Made for Yamaha by 509, the helmet satisfies the need for protection with its innovative dual-density, interlocking EPS foam liner to provide top crash protection in the event of an accident.
Equipped with FIDLOCK magnetic buckle technology, you get easy, one-hand opening. This patented fastener technology found in this unique 509 helmet offers virtually automatic closure and allows the fasteners to be opened with just one hand – even when wearing gloves. The fasteners are also highly reliable, robust and secure.
This Fidlock concept uses slide-able neodymium magnets combined with stable mechanical locking. The result is an important feature of Fidlock fasteners: two different procedures are used to open and close the fastener. When the fastener is closed, the magnets move towards each other due to magnetic pull and, once they connect, the magnets are automatically securely locked together by the mechanical locking functionality. When the fastener is opened, the polarity of the magnets is reversed by sliding them apart, for example by turning the fastener. This means that the magnets repel each other, supporting the opening procedure.
509's  Altitude helmet series is equipped with all the latest comfort and security features and also take into consideration the needs of the user such as a fitting for GoPro Action cams. The highlight of this helmet series is the Altitude Carbon Fiber Snow Helmet. This snowmobile helmet is made from strong carbon fibers to combine safety and comfort with lightweight construction and an ideal fit. The high standards that 509 has set in comfort and safety can be seen in every aspect of this helmet, right down to the unique helmet buckle. The Yamaha version of this innovative snowmobile helmet is fitted with a Fidlock buckle designed especially for high loads and offers top performance for extreme snowmobilers.
One thing that many traditional snowmobilers tend to forget is the need to keep their sled battery topped off with a good charge. This is particularly important with four-stroke powered models. Unlike wheeled powersports vehicles like motorcycles, snowmobiles cannot be bump started. You need to keep your sled battery charged or carry a jump starting device. You can carry a set of jumper cables, or you could opt for the Micro Start XP-1 PPS (personal power supply).
Offered by Yamaha's parts and accessories group, the Micro Start XP-1 PPS is said to be the world's smallest jump starter and personal power supply. This diminutive device can fit in your pocket, but is powerful enough to jump start cars, trucks, motorcycles, ATVs, Side-by-Sides, snowmobiles, boats, and personal watercraft. It also charges and powers many electronic devices such as laptops, cell phones, Bluetooth devices, GPS units, MP3 players, cameras and more.
The Micro Start XP-1 measures 6″ long x 2-7/8″ wide x 1″ tall and weighs just 14 oz. It has three on-board power ports:
19V for laptops
12v standard output for all 12V accessories
and a USB 5v output
It also features a lighted battery capacity indicator, as well as built-in over-charge and over-discharge protection for long battery life. There's a built-in high-power LED flashlight with two pre-programmed flash patterns, including an S.O.S. pattern. Retailing at Yamaha's online store for US$159.99, the Micro-Start XP-1 Kit includes a slim leather carrying case, detachable mini jumper clamps, and a home charger.
When at home, you can maintain your sled's battery charge by simply hooking it up to the Battery Tender Waterproof 800 (US$57.49). This is a very compact full-featured battery charger that makes it a convenient device to keep your Yamaha's battery fully charged.
This compact 800 battery charger incorporates highly efficient electronic technology and includes a completely encapsulated interior protected from shock, vibration, and moisture. Tough, affordable, and strong, this innovative charger is no larger than a standard computer mouse. The Battery Tender charger will constantly monitor, charge, and then maintain your battery.
Of course, in addition to this sampling, Yamaha offers a complete selection of racks, touring bags, various windshield options and innovative apparel for the entire Yamaha family. To view more Yamaha Pride products, visit www.shopyamaha.com.