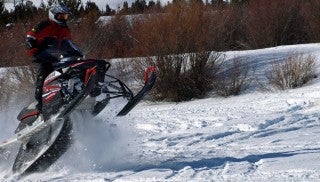 What's up with the Yamaha – Arctic Cat partnership?
As conspiracies go, we shouldn't be reading too much into what Yamaha tells us about its recent consolidation of snowmobile operations into a North American "global" unit. But, we can't help it. Maybe it's because this writer has been around too long and witnessed how big companies exited the sled business. Not that we're saying Yamaha is leaving the sled biz. We don't believe that.
As a naïve youthful snowmobile journalist, we sat in a springtime meeting of Chaparral dealers hosted by the parent company, Armco Steel, a major and supposedly well-healed conglomerate. Dealers were assured that Chaparral would be one of the surviving brands going forward into the next decade. After all, hadn't Chaparral engineers and marketers just introduced its innovative liquid-cooled SX model at a major snowmobile publications' review? Didn't that sled perform extremely well and generate much editorial excitement? It did.
Chaparral had arrived. That's what the corporate executives told its dealers. Then a few months later those same executives informed the dealer network that "big daddy" steel company was pulling the plug on Chaparral – innovative, exciting new liquid-cooled sled or not. There would be some effort by a few key Chaparral marketing executives to keep the brand afloat, but they didn't have the capital to make it work. Good-bye Chaparral.
Another major brand, international agri-giant Massey-Ferguson, had manufactured boxy sleds for a few years before cutting a deal with Minnesota-based Scorpion to build a series of Massey-branded Scorpion models. These Scorpion-built sleds carried Massey-inspired names but except for a few details such as straight handlebars rather than the "buckhorn" bars favored by Scorpion, these were easily seen as Scorpions. The engines and clutches were the same as used by Scorpion, including a new liquid-cooled twin that came from Scorpion's acquisition of the Brut sled brand.
This move by Massey and Scorpion looked as though it might work long term. Of course, there was a major oil crisis happening at the time and the economic outlook for snowmobile sales was taking a hit. Scorpion could add production numbers at its Crosby, Minn., manufacturing facility and keep people employed. Massey-Ferguson could keep its snowbelt dealers supplied with product. Seemed like a plan until Massey-Ferguson, which at best had been a bit player in the snowmobile market, decided it didn't need snowmobiles at all and pulled the plug on its sled brand. Not much longer after that, Scorpion ran into troubles of its own, was acquired by Arctic Cat and then disappeared as a brand with Cat's bankruptcy. There were some attempts to revive the brand years later, but this was before crowd-funding and the efforts failed to generate serious consumer interest and, especially, investor interest.
There are many stories from those early years of snowmobiling where sled brands appeared to be solid and marketable but eventually faded out of the picture. Kawasaki took over Sno-Jet, which had used Yamaha power and was produced briefly by Arctic Cat in Thief River Falls, Minn. While John Deere would strike a deal to use some Kawasaki engines near the end of its snowmobile days, that partnership didn't keep either company from exiting the sled business. Suzuki, another famous Japanese motorcycle brand, made snowmobiles for a time, but Suzuki found a better way to make money in the snowmobile business by dropping its own sled brand and replacing Kawasaki as the engine of choice for Arctic Cat.
Even some of today's existing brands had their problems. Polaris faced trauma when parent company Textron wanted out of snowmobiling and looked to shed it and some other companies in its portfolio. The difference was that Polaris' executive leadership managed to pull in investors, went private and saved the brand, allowing it to grow into its current US$4.7-billion international footprint.
Arctic Cat remains the only snowmobile company to ever manage a comeback after being forced into bankruptcy. The former #1 selling snowmobile brand managed a comeback thanks to its loyal customers, dealers and investors. Even Ski-Doo suffered some drama on its way to becoming the current Number One sales leader as part of the BRP group of motor toys.
Through the decades of various troubles, Yamaha managed to evade all that turmoil since its first appearance nearly 50 years ago (1968). Like the other brands – Arctic Cat, Ski-Doo and Polaris – Yamaha was once the Number One selling brand, taking the leadership role when Cat defaulted and before Polaris surged with its Indy line. Since the mid-1990s Yamaha's market share in the sled business has barely risen past 13% in a market that sells less than 170,000 units annually. Its market share dropped to 7% in the mid-2000s.
According to the International Snowmobile Manufacturers Association based in Haslett, Mich., last year the snowmobile industry sold 126,972 sleds. Just over 56,000 units (45%) were sold in the US, with another 44,431 (35%) more sold in Canada. That leaves 26,535 units sold outside North America, mostly in Scandinavia and Russia.
It's this North American market of 100,000-plus annual sled sales where Yamaha is now focusing its effort. That plays into the recent announcement that effective July 1st Yamaha will base its global snowmobile business in a Toronto-based North American Snowmobile Division. Still, we wonder about this consolidation. What impact does the fact that Yamaha sells engines to Arctic Cat and Arctic Cat builds a series of Yamaha-branded sleds have on the move? We understand that Yamaha has stated that sleds are an important sales tool for its snowbelt dealers, who would have only wheeled or water products to retail in the winter. With sales of Yamaha's "heritage" models at a low level, can the Cat-built sleds sustain a solid business model?
Some factors that we can't quite grasp are simply; will Yamaha make a grab for more market share with a new series of Yamaha sleds? Will more Cat-built, Yamaha-brand models carry the brand into the future? After all, Yamaha's specialty is as an engine company. That 998cc turbocharged four-stroke triple definitely created some excitement, but for whom – Cat or Yamaha, or both? Is Yamaha prepared to replace its aging Apex with a new all-Yamaha model, or is that being left to the Yamaha/Arctic Cat alliance?
The conspiracy cynic in us has to wonder, based on past experiences that we outlined, if Yamaha might be finessing a strategic exit as a full-time player in the snowmobile market. There are other scenarios to which we can ascribe. While we don't see Yamaha acquiring Arctic Cat, as many thought might happen when word of the partnership first went public, we could see Yamaha replacing Suzuki as Cat's engine supplier and Cat building a limited number of Yamaha branded sleds for Yamaha's North American dealers to sell. This seems a likely scenario since it has been suggested that Yamaha will bring more snowmobile engineers to North America and that more attention will be paid to Yamaha partners. Namely Arctic Cat? In that view would Yamaha buy into Arctic Cat as Suzuki did and have Yamaha personnel on the Arctic Cat board of directors?
What works here for both companies? Or, does it matter? Yamaha says it wants sleds for its snowbelt dealers to sell. Cat needs a four-stroke engine supplier, which had been Suzuki who also supplies a fan-cooled two-stroke, an 800cc two-stroke performance twin and the 1056cc four-stroke twin. Cat builds its own 600cc two-stroke twin and, for the past few years, has been rumored to be working up an 800cc to 850cc twin. In addition, Cat borrowed the Kymco-built 700cc four-stroke twin used in the Wildcat Trail side-by-side to power its new series of 3000 sled models. As an engine alternative, Yamaha seems a logical choice as Cat doesn't have to develop a costly four-stroke.
As an engine partnership the pairing of Cat and Yamaha appears to work. Bringing more Yamaha engineers to North America could simply be to oversee and assist development of jointly produced Cat/Yamaha models. Outside of the sled connection we can't envision any side-by-side wheeled partnering. Of course, Yamaha might be able to bring its 998 to a new line of Arctic Cat Prowlers or ATVs. Who knows?
Who are we to dispute what Yamaha relayed in its most recent announcement, which stated: "The Yamaha North American Snowmobile Division is busily preparing for the arrival of the first Sidewinder Series of snowmobiles, the most powerful snowmobiles ever released! In addition, the upcoming 2017 season will also welcome Yamaha's 50th anniversary for the 2018 model year. It promises to be an exciting season!"
We agree with that.