2016 Polaris 800 SKS 155 Long Term Review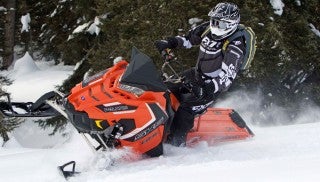 An overachiever that should be an RMK Pro
It is time to deliver our evaluation reports on two snowmobiles we have fallen in love with, the 2016 Yamaha Viper M-TX LE 153 and Polaris SKS Pro 800 155.
Though we left them out of our 800-class shootout of the Ski-Doo Summit SP 163, Polaris AXYS Pro-RMK 163, and Arctic Cat M8000 Limited 162, the Viper and SKS were on the same mountainsides. While it would've been unfair to pit those two against the 160 hp plus long 800s, these two deep-powder players deserve to be the focus of their own stories. First we'll explore the SKS and get to the Yamaha in our next wrap-up session.
2016 Polaris AXYS SKS Pro 155
This is an overlooked and overachieving snowmobile. First we report, Polaris' Series 6 2.6-inch paddle track is phenomenal. We believe the Series 6 2.6-inch track is a better track than the Series 7 three-inch paddle track bolted to our 163 AXYS RMK Pro; overall better at managing the chassis in most snow conditions. We've heard from some Series 7 owners, the lugs on the Series 7 three-inch are not favorable – too soft – for fluffy powder and seem to fold. This means it doesn't move snow like the 2.6 and causes the snowmobile to trench.
The SKS, unlike the RMK we have, has a heat exchanger in front of and slightly above the track drivers and bogie wheels on the slide rails. The AXYS RMK Pro does not have a front heat exchanger and relies on ice-scratchers to flip snow up onto the hyfax to lubricate the rails and provide snow for the track to spit up to the tunnel's underside to provide cooling. Motor coolant is transmitted through a thin channel inside the tunnel. The SKS uses both motor-cooling methods, front heat exchanger and tunnel coolant channels.
With the front heat exchanger and bogie wheels, the SKS' 800cc motor always runs cool. Furthermore, the SKS is not prone to have its scratchers bent or torn off because someone forgot to lift the scratchers prior to throwing the snowmobile into reverse; simple to understand, the SKS has no scratchers.
Plus, the AXYS SKS Pro, like all SKS models, uses a chaincase system to transfer power to the track drivers. Our tested AXYS RMK Pro 163 also had a chaincase as it came equipped with a three-inch paddle track; no Low-Inertia Quick Drive belt drive system.
The SKS Pro we ordered came equipped with the same shock package as our RMK Pro, Walker Evans piggyback reservoir shocks, and it had the same tunnel and handlebar storage bags.
Needless to say, the SKS Pro is my preference over the AXYS RMK Pro. Because its 2.6-inch Series 6 track is so stellar, it seemed to handle the steep-and-deep better. Even with its shorter chassis – 155 versus 163 – it lifted and remained on a flat plane better than the 163 in most conditions. The 163 AXYS RMK Pro was better in ridiculous deep snow due to track length and flotation, but this was a short window of operation.
Here are some of our test riders' impressions:
Jake Allred
The new SKS Pro is a solid addition to the Polaris mountain line up. The SKS in the AXYS chassis is light and nimble; it has solid power that is consistent all the way through its RPM powerband; however, it does not hit as hard as the other two OEMs 800s. The SKS has a series 6.1 2.6-inch track, which is suitable in most conditions. Overall the SKS is a great mountain sled.
Kevin Allred
Polaris brought back the Snow King Special (SKS) for 2016 – a popular Polaris sled from the past when long track snowmobiles were in their infancy. With a host of vibrant color combinations, the 2016 SKS definitely caught my eye last spring in West Yellowstone at the 2016 photo shoot. But beyond the good looks on the new AXYS chassis, this mountain snowmobile is a real performer. Our 800cc SKS with the 155-inch 2.6 track is by no means a scaled-back version of the RMK PRO chassis; though it lacks some of the high-tech lightweight items on the AXYS RMK Pro – but you would have to remind yourself of the differences. I have total confidence in the Polaris AXYS chassis when it comes to backcountry handling. The 2.6 track performed excellently; it is a superb all-around track. Power from the new CFI 800 is great, though I would like to put it up against last year's motor to see the difference. All-in-all, what a great snowmobile.
Roger Raymond
When it comes to multipurpose bang for buck, it's hard to beat this gem. Many inherent mountain sled weaknesses have been resolved on this potent crossover. With the increased bogie wheels to save the hyfax and additional heat exchangers to prevent overheating, you don't have to stress about logging miles on the trails; it is adept to trail and deep-powder. This can be highly desirable when sharing with friends or less experienced family members. The suspension is plenty adjustable for different riding styles and conditions. Most importantly, you will not believe where that 155 2.6-inch track will go. I felt comfortable following some of the longer 800s into the trees for some boondocking. Don't mistake, this powder hound is more than a trail machine. It has legendary Pro handling with increased versatility and a slightly more manageable price tag. This is definitely a winning combination.
Mark Radford
I felt the handlebars were too tall for me. The Series 6 track worked very well. I felt the SKS was a bit underpowered, but I feel that for most stock snowmobiles, as I bolt a turbocharger on my snowmobile. Overall, a very impressive stock snowmobile.
Wrap Up
The SKS Pro from our perspective is the Pro we find sassy, aggressive and sweet in nature; this is the Pro we pushed the hardest as it wants to prove its worth, when compared to brother Pro-RMK 163. We've learned the Series 6 2.6-inch paddle track from Polaris is the track to have for most conditions. Next year, we'd like to ride a 163 Pro-RMK with Series 6 paddle track, as it will have the Quick Drive Low-Inertia belt drive system. As a 155, the SKS Pro did not fall behind the 163 Pro-RMK, due to its superb track. Wherever 163 Pro-RMK went, so did the SKS Pro 155. It seemed all was even.
2016 Polaris 800 SKS 155 Specs
Engine
Polaris Cleanfire two-stroke high-performance 795cc; bore/stroke of 85mm/70mm; two-cylinder, liquid-cooled; Cleanfire electronic fuel injection system; dry sump lubrication
Horsepower
155+
Drive
Chaincase drive with Polaris P85 driver and TEAM LWT driven
Front Suspension
AXYS RMK adjustable A-arm; Walker Evans piggyback shocks; up to 9-in of travel; Gripper skis
Rear Suspension
Polaris parallel slide rail RMK Coil-Over; Walker piggyback gas shocks; up to 16-inches of travel
Length
131.0 in
Height
49.125 in
Width
46.5 in
Ski Stance
Adjustable 39-40-41-inches
Track
15 x 155 x 2.4 Series 5.1
Brake
Polaris AXYS RMK LWT hydraulic disc brake
Weight
443 pounds (Claimed)
Fuel Capacity
11.5 US Gal
Features
Optional storage bags, windshields
MSRP
US$13,999