2017 Yamaha Viper B-TX 153 Review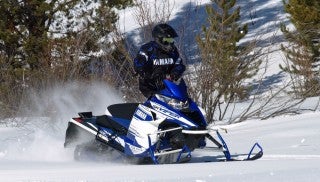 High ridge runner doubles as a versatile flatland ride for all conditions
Admittedly we had a few reservations about churning through our flatlandesque test trail with this extra-long tracked Yamaha SR Viper B-TX LE, which appeared to be more M-TX than R-TX. We've specifically established our own test ride and review protocols when in the West Yellowstone area during the annual snowmobile introductions and they didn't seem to neatly fit this new 2017 Viper BTX LE with its 153-inch long track.
Fast Facts
Engine: Yamaha Genesis 998cc
Power: 135 hp+
Track: 15 x 153 x 2.25 Camoplast PowerClaw
MSRP: US$13,999/C$16,299
View Full Spec
We're certain that even our test riders get bored with our route choice as it's pretty much a "same trail different day" experience. But, after having conducted new sled evaluations for a few decades now, it seems to be a fair way of judging one sled against its competition. We have a section of semi-gnarly tight trails splitting a forest of green that provides insight into cornering and how a sled delivers power and braking. Then there is a wide open throttle run across a lake. Drop offs and ridges for going airborne allow us both personal bravery and the opportunity to indulge each sled's suspension set up for big air banging. Wide sweeping turns, switchbacks, stutter bumps and mean moguls encompass our test route. It all factors into how we view each sled. Of course, ride, handling, ergonomics and styling count, too.
In the case of Yamaha's Viper BTX, we started out doubting the sled's trail readiness but came away pleasantly surprised and approving. Right away the Yamaha's 1049cc four-stroke triple scores plus-points. With its latest iteration of electronic fuel injection and easily modulated power flow, the BTX comes across as pure modern Yamaha, even if it's wrapped up inside a longish tracked Arctic Cat body. While we look for the Cat brand in virtually all Vipers, after all they are essentially Yamaha-engine Cats, we found the BTX to be a bit different and unique within the Yamaha/Arctic Cat partnership. This sled is decidedly more Yamaha even it does pound the trails with a semblance of Arctic Cat's deep powder pieces.
Frankly we found the Viper BTX performing well above expectations. If you'll note, there are few – if any – serious powder Cats with the Yamaha 1049cc triple. Cat prefers its own home-built 600cc CTEC2 two-stroke for powering its low rent ridge runners. Horsepower at around 130-something is about the same for either the Cat twin or the Yamaha triple. Weight is an issue and the CTEC2 wins with its two-stroke heritage and lack of a third cylinder.
Now this is where we found our thinking a bit suspect. The BTX is not a lightweight powder player. The Cat 600 CTEC2 wins that battle. This Yamaha services a uniquely Yamaha customer that wants the look and "feel" of a powder play sled but with the reliable and durable reputation that Yamaha owns. The BTX offers nice-to-have features for a more sophisticated rider with a powertrain that uses consistently broad torque delivered through Yamaha YVXC clutches. It is this ample and wide power the BTX rider counts on to get through changing off-trail snow conditions and keep that 15-inch wide by 153-inch long track churning forward.
On first look, we were cautious of this sled. It would take a lot to muscle it – or any long tracked, four-stroke mountain-styled sled – out of a backwoods hole. As we rode the BTX, we discovered that would be an unlikely scenario as the sled seemed to float along in ungroomed off-trail areas. Granted, we didn't seek out tall mountains, but high country ridge running showcased the BTX in a good light as its underpinnings work as expected. After all, this sled does have the fundamentals of an Arctic Cat M-series with its mountain type independent front suspension. The LE version we test rode came with the 40-inch ski stance with Fox Float shocks for on-trail stability combined with Yamaha's own Mountain ski, which our mountain test crew has raved about! Stability, flotation and adequate suspension travel combine to build rider confidence.
Still, though, we suspect that the serious BTX buyer won't be a serious, full time deep powder runner. For areas where snowfall can range from light to heavy and grooming efforts may prove infrequent, the BTX will be a great choice. It has the look and some of the features of a serious powder player — mountain strap, wide skis for flotation, a must-have vertical steering post for stand up riding and a contoured profile mountain seat.
The Yamaha Viper BTX 153 is more than a mountain pretender. It is an exceptionally versatile off-trail snowmobile that would be perfect for riders who frequent "lake effect snow" country on both sides of the borders of the Great Lakes. It's also a great sled for areas like the trails and backcountry of South Dakota's Black Hills or the high plains of the Rockies. This sled gives you a controlled wide stance for handling groomed trails combined with a long 153-inch track suspension that smooths out a trail. You will find on groomed trails that the BTX may take more effort to turn and that it may want to overpower its skis at times. That goes away when you leave modern smooth and well-groomed trails. The track and wide stance skis become very rider friendly. This sled will excel when powering down unplowed fire roads or breaking trail for a group. The Sidewinder versions of the BTX will do it all quicker and faster, but the Viper BTX is a smooth off trail charmer in its own right.
The Viper BTX blends the friendly and known advantages of the Genesis 1049cc high performance triple with a proven mountain-oriented SRV aluminum chassis design. There are enough powder pieces to satisfy the occasional deep snow rider, but the Viper BTX is truly at home pushing off-trail snows and traversing routes through high volume snow areas or running along the upper ridges of the backcountry.
The 2017 Yamaha Viper BTX 153 acquits itself well on daily touring runs, but it is better suited to not so deep powder play and off-trail travel. Yes, we were pleasantly surprised and underestimated this long tracked sled for its overall versatility. For Yamaha brand conscious snowmobilers, the Viper BTX is a good bet.