2018 Polaris 600 Switchback XCR Review + Video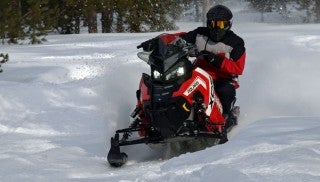 Our favorite XCR in the Polaris lineup
Fifteen inches of extra track and seven inches longer in overall sled length make a major character difference between the 2018 Polaris 600 Switchback XCR and last year's 600 Rush XCR, or the 2018 version for that matter. Oh, yes, there's also a matter of an extra US$300 premium for the 600 Switchback XCR.
Fast Facts
Engine: Polaris Liberty 599cc two-stroke twin
Power: 115+ horsepower
Track: 15 x 136 x 1.35 Cobra
MSRP: US$12,299/C$14,099
That extra few hundred bucks proves quite a value when looking at the big picture of the Switchback XCR versus the Rush XCR. If you are quick reacting and like a rapid turn into the corners, you'll probably approve of the Rush's shorter 121-inch track length that allows for that slightly more rapid handling response. Of course, the longer 136-inch tracked Switchback XCR will plant more securely as its 1.35-inch lugs hook more than an extra foot of track to the snow for exiting the corners. To us the Switchback XCR adds more positive control for high speed performance cruising. That's what these XCR models are all about – high performance.
Polaris engineering did a masterful job combining the best features of its standard trail tuned Pro-S and big bump tuned Pro-X. The end result: the XCR maintains the lower on-trail ride height and smoothness of the Pro-S with the rough-and-ready off-trail demeanor of the Pro-X. Then Polaris' engineers got serious!
The Switchback XCR, officially, at least, according to Polaris marketing-speak is designed "… for extreme performance riders that need to dominate tough terrain at high speeds." It's also spec'd with race-ready components such as heavy-duty, reinforced rail beams and the same side-vented racing brake seen on the 2017 Rush XCR.
As veteran riders with decades of experience, but with an appreciation for the fact that most of the ride-review sleds presented at the annual test session are either limited pilot build or straight out prototypes worth many times their ultimate in-season retail price, we tend to take it easier than the factory riders. Fortunately for us, Polaris assigned riders to travel with us for photo purposes and to answer questions that might arise as we rode their models. These guys didn't baby their mounts and showed us in no uncertain terms the XCR's capabilities, which are impressive.
Since our review unit was a "mere" 600, we weren't expecting to see too much great action at West Yellowstone's 6,000-plus feet of elevation. Wrong-O! The Polaris riders, not apt to face many consequences if they ding up a prototype in the search for making a great photo opportunity, wrung out the 600 Switchback XCR like – well, how's that saying go, "drive it like you stole it!" That mere Polaris-built 600cc semi-direct fuel injected two-stroke, which we know has great performance at sea level, proved it also fares well when high plains drifting.
Some of the wheelie action we captured relates directly to Polaris' rider-balanced belief and engineering philosophy built into the XCR. Because of it, the XCR makes for an exceptionally fun sled to ride. Slipping forward on the performance seat plants the Pro-Steer skis for entry into the turn. Off the exit and into the straight, you can slip back, relieve ski pressure and power on.
Making this possible is Polaris' balanced design that has your hands moved forward 4.5 inches, your knees positioned 4.5 inches more forward than on previous Polaris designs and your feet set 2.0 inches ahead. Of course, the seat has been integrated forward as well to improve rider balance and to maximize the Pro-XC suspension's action. While this is the same basic concept that was introduced on the original Rush, today's Pro-XC design features a redesigned crank and pivot to work with a front torque arm that has evolved rearward to better control the sled's pitch and increase overall suspension travel to 13.6 inches.
Some key components have been lightened through use of more rugged materials like chromoly or forged aluminum. Reinforcement have been added to wear areas like the rails for extended durability.
You'll find a premium Walker Evans shock package highlights all 2018 XCR models, including our review 600 Switchback XCR. The shock package fitted to the AXYS front suspension features shocks with a high/low compression adjustability and an external "piggyback" reservoir to minimize overheating and fade. Polaris chose a 2.0-inch Walker Evans compression adjustable piggyback shock as the rear suspension's front track shock. An externally mounted Walker Evans hi-lo speed piggyback-style compression shock satisfies quick tuning requirements as the Pro-XC rear shock.
Meant to be ridden hard, the Switchback XCR features an atypical brake setup. The use of hydraulic braking for a high-performance sled may be fairly standard fare, but there's an expectation that XCR riders will max out the AXYS Radial brake and make it run hot, which can lead to brake fade. To keep it cooled, Polaris provides a vent on the brake side of the hood. Allowing for the otherwise especially clean look and finish of this sled, that obtrusive black vent mounted above the starboard XCR logo looks painfully out of place. The handlebar-mounted lever engages easily and modulating the brake for high speed running results in consistent, reliable performance.
That may be the key takeaway with the 2018 600 Switchback XCR: consistent, reliable performance. Its Polaris Cleanfire 599cc twin may be the smaller engine option for this model, but it performs extremely well at sea level. If you want more pop, opt in for the 800cc XCR. Based on our years of experience with Polaris Cleanfire 600 on Midwestern trails, we don't feel the need for that much excessive speed. The Polaris "6" won't have the pure off the line acceleration as the 800, but it will controllably push the XCR to most riders' limits.
Although the 600 Switchback XCR may be a semi-race-ready performance sled, it can be nicely civilized with an assortment of add-on gear to complement your needs. The standard windshield works fine for us, but there are many options from minimal to maximum. We found the standard windscreen works well in combination with the wind deflecting foils integrated into the cowling and side panels.
You can add the Polaris Interactive Display, which is a 4.3-inch high resolution, full color, LCD digital display that offers incredible amounts of information from basic sled performance like speed, revs and temperature to diagnostics & maintenance warnings, air temperature, time of day in 12 or 24-hour clock format and even Bluetooth functionality and GPS/Mapping Capability.
Or, you can simply add storage options like add-on handlebar bags or places to stow extra gear for a long ride. Virtually all the XCR accessories were developed along with the AXYS chassis so fitment would be seamless.
Of course, all that's justification for purchase, convincing yourself that the sled is a versatile smooth riding on/off-trail sled. Go with your gut. Don't make excuses. The 2018 Polaris 600 Switchback XCR is a first-class fun-to-ride performance sled that you'll enjoy from the first snowfall to the last. You won't regret owning one, so treat yourself.