2018 Yamaha Sidewinder M-TX Review + Video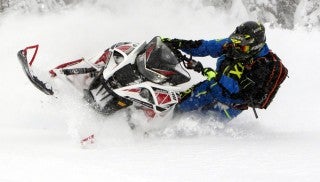 Yamaha turns up the heat and boost for mountain wrecking
It only seemed right to us to discuss Yamaha's mountain supersled, the M-TX in its Sidewinder badge, after we reviewed Arctic Cat's King Cat. The 2018 Yamaha Sidewinder M-TX, specifically the LE 162, and Arctic Cat's King Cat (only as a 162) are twin brothers separated at birth who happen to be, almost, genetically identical. But, each manufacturer pushes its turbocharged supersled to be different.
Fast Facts
Engine: 998cc turbocharged four-stroke triple
Power: 180+ horsepower
Track: 15 x 162 x 3.0 Power Claw
MSRP: US$16,799 / C$19,499
Yamaha has three M-TX configurations, the Power Surge Spring-buy premium, the LE, and two in-season models, the SE and standard M-TX. These three models come in two track lengths, 162 and 153. The 162 LE is Yamaha's 50th Anniversary model wrapped in red, white and black. The Power Surge 153 M-TX LE is not captured in these exclusive Yamaha anniversary colors.
Just so you know, the Spring-buy only King Cat from Arctic Cat is a 162 only, no 153 King Cat is available, and is equal in configuration and suspension components to the 162 LE 50th from Yamaha. There are differences that we'll point out between the LE M-TX 162 and King Cat 162.
The 162 M-TX SE has a similar cousin from Arctic Cat, the M9000 Sno Pro 162, which is similar, if not identical, in shock and suspension configuration. The M9000 Sno Pro 162 from Arctic Cat does not come in the shorter length 153 like the M-TX SE does.
The LE and SE model, be it a 162 or 153, spin the three-inch PowerClaw paddle track. The standard M-TX, both the 162 and 153, also spin a PowerClaw track, but its lug height is 2.6 inches.
When it comes to colors, all three model configurations have snappy eye-appeal. In fact, the 162 standard M-TX in blue and gray, and the all-black 153 standard M-TX are gorgeous for being the budget Sidewinder M-TXs. The 162 SE comes in gray with lime accents that is a popular color combination which, like Yamaha, the other snowmobile manufacturers are using for this model year.
Let's dive in and give some thumbs up and thumbs down rider information before we finish the technical schooling.
Last year, model year 2017, we first rode the Sidewinder M-TX LE and SE and were quite surprised at how well they felt through the handlebars. For being 600-plus pounds, the Sidewinder M-TX is fairly balanced from side-to-side and from nose-to-tail. In fact, not since the Apex MTX has a big four-stroke from Yamaha felt so good. For 2018, we give credit to the improved ProClimb chassis, now Ascender chassis from Arctic Cat which Yamaha purchases. This chassis, which Yamaha calls SR, is improved from the chassis the SR Viper M-TX used.  Too that we add, the Viper and Sidewinder are huge improvements over the Nytro. Oh, we made the Nytro work for us, we learned it and mustered through its quirks, but honestly, we are glad it is gone; the Nytro really was not an improvement over the Apex. We'll stop here on yesteryear talk. In closing these thoughts, the SR Viper M-TX for model year 2018 is a non-starter. The Viper line is almost gone from Yamaha's treasure trove, M-TX, X-TX and R-TX; what remains though is the 2018 SR Viper L-TX LE 50th with the non-turbocharged 1049cc Genesis motor the Viper's have utilized. We feel there remains a purpose for a trail or crossover SR Viper with the 1049 three cylinder four-stroke motor.
The 2018 Sidewinder M-TX SE and LE on which we've spent ample time are fun to ride when boost is let loose and the PowerClaw track unleashes its claws. For 2018, the Sidewinder M-TX has a new dropped and rolled chaincase, which means in turn, a new tunnel. This overall means the chaincase is now located to allow clearance for new, and more efficient, eight-tooth extrovert track drivers.
But, we must state, that when chasing the lighter two-stroke powered mountain snowmobiles through thick trees, and deep-snow filled gullies and ravines filled with scrub oak, rocks and sapling trees, the Sidewinder M-TX and its weight will challenge the most fit, aggressive and skilled rider. Can the chase be done? Yes, but as we wrote about the King Cat (same applies here), the skilled rider – one who understands lines, terrain drop, changing snow conditions as slopes face the sun or not – can push on by looking ahead and adjusting accordingly.
The Yamaha Mountain Ski seems to handle the big motor's weight better than Cat's mountain ski under the King Cat. We feel Cat should purchase from Yamaha its Mountain Ski.
The motor is gentle in the trees and lumbers along quite well. The Sidewinder M-TX can be held in a steady-state throttle through the trees. And when throttle pulses are needed for that quick pop around a tree, the motor responds very well. When dropping the RPM after a full-throttle assault, the Sidewinder M-TX does not drop an anchor, it free wheels rather well like a two-stroke snowmobile.
The Sidewinder's narrow chassis, smooth lines across the side panels and under the belly pan, and its narrow-in runningboards, give the M-TX the slip it needs to boondock. Add to, its dropped and rolled chaincase, and eight-tooth drivers that the Viper M-TX did not have, give this heavy four-stroke snowmobile an advantage.
Sidewinder M-TX owners need understand one fact; this snowmobile is heavy as compared to its two-stroke-powered counterparts. But, 2018 Yamaha Sidewinder M-TX owners can rejoice, because the beauty of a turbocharged four-stroke, such as the Sidewinder's three cylinder 998 with 12 pounds-per-square-inch max boost, is that its actual 200- to 205-horsepower (some claim 210) is dialed in all day at all elevations. And that makes the Sidewinder M-TX LE, SE and standard an awful mad snowmobile when busting the steep-and-deep, because its power-to-weight bests its two-stroke competitors as the air thins when elevations rise.
To remind, a gasoline-powered motor, be it electronic fuel injected or carburetor-based, and one without the benefit of a turbocharger or supercharger, loses approximately 3-3.5% of its horsepower for every 1000 feet gained in elevation. Thus, a 160-sea-level horsepower motor, at 8,000 feet, will be down 38-39%. Therefore, that 160 is really 122 and possibly slightly less.
If that two-stroke snowmobile, fully loaded with fuel and oil is 520 pounds, then add in 122 horsepower, that gives a power-to-weight figure of 4.26 pounds being carried by one horsepower. Add in a 200-pound rider with 35 pounds of riding equipment, thus each horsepower must carry (520+200+35=755) 6.18 pounds.
For the Sidewinder's 205 horsepower, let's add in 620 pounds for the snowmobile's ready-to-ride weight, then plug in the rider's weight and her/his equipment (620+200+35=855) computes out a power-to-weight figure of 4.17, where one horsepower must carry 4.17 pounds.
Cut out the rider's weight, then 205 horsepower moves 620 pounds for a figure of 3.02, where one horsepower carries 3.02 pounds. These figures will vary depending on the Sidewinder M-TX's track length, track lug height and shock package, and rider weight as well.  But the point here is, the Sidewinder M-TX LE, SE and standard, are mountain dominating snowmobiles, and eclipse their two-stroke non-boosted counterparts, as Yamaha claims.
Some differences we noted we would discuss: All 2018 Yamaha Sidewinder M-TX models come with Yamaha's own drive and driven clutch. Arctic Cat relies on Team clutches, where Yamaha uses its own specific and designed-for turbo application, "YSRC High Performance Clutch System." This is where, a Yamaha Sidewinder M-TX feels different than a King Cat or M9000 Sno Pro. Yamaha has its Sidewinder M-TX shift fast and hard from mid-range up to top RPM. The Cat's hit hard out of the hole and build smooth RPM. The Sidewinder M-TX moves out from a start at a smooth linear rate then unleashes its hard-hit attitude at mid-range.
The LE's shocks on the front suspension and on front rail on the rear suspension, is the FOX Float QS3 (Quick Switch 3), where drivers can set from three settings: soft, medium and hard. The rear rail shock on the rear suspension is the Fox Float 3 QSL (Quick Switch Lockout 3), where soft, partial lock and (almost) full lockout can be set. Full lockout keeps the nose down as the rear skid resists floating up into the tunnel. This is the same shock package on the Arctic Cat King Cat. We assume most riders will set their LE in position 2 for QSL3 and move to position 3 when a long hard pull stares the rider down.
The SE relies on Fox Float 3 shocks at each ski spindle and on the rear rail on the rear suspension. The center, or front rail shock on the rear suspension is a monotube aluminum high pressure (HP) gas shock, 1.5. This is equal to to the Arctic Cat M9000 Sno Pro 162.
The standard Sidewinder M-TX 162 has at all points, monotube aluminum high pressure (HP) gas shock, 1.5. These are coil-over spring shocks. The 153 Standard is slightly different where it has monotube aluminum high pressure (HP) gas shock, 1.5, on the front spindles and center rail, but a Fox Float 3 at the rear rail. This may be a misprint on Yamaha's information page, as we do not understand why the shorter standard M-TX would have a more aggressive shock. We did not ride a standard 2018 M-TX 153 this past winter to confirm this shock difference. But, we'll give Yamaha the benefit of the doubt. Arctic Cat does not have a M9000 SE that is similar to the M-TX Standard.
The Sidewinder M-TX, regardless of model, has its own hood that is not shared with Arctic Cat. The Sidewinder M-TX is truly distinctive in this way; on the snow, one can easily differentiate between the Sidewinder M-TX and King Cat/M9000 Sno Pro. Which do we like the best? Yes. Both. We are glad the two turbocharged separated-at-birth twins look different and behave somewhat different through their respective clutches.
The Sidewinder M-TX, LE, SE and standard are delightsome and reliable mountain snowmobiles. With Yamaha's reputation for building strong durable motors and clutches, Sidewinder M-TX owners can own and ride their mountain snowmobile for many years; it is truly a high horsepower supersled that is turn-key, ready to go for years to come. If the weight bothers you, just know, its 200-plus horsepower carries its weight very well, but in the slow turns and pin-and-wiggle moves in the thick brush and trees, the Sidewinder's weight can be, and will be, challenging to the rider. However, knowing turbocharged boost levels out the playing field, the Sidewinder M-TX will deliver "wow" on the mountains.