2019 Yamaha Sidewinder SRX LE Review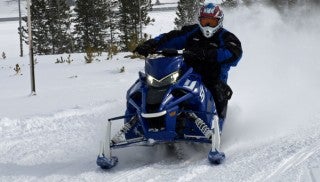 Make no mistake – the 2019 Yamaha Sidewinder SRX LE is about getting from A to B in the quickest manner possible.
Fast Facts
MSRP - US$17,599/C$20,499
Engine - 998cc three-cylinder turbo
Horsepower - 200+
Track - 15 x 137 x 1.0 Camso Ripsaw
View Full Spec
Let there be no doubt; the 2019 Yamaha Sidewinder SRX LE is meant to be the fastest sled on winter terrain. Like previous "serious" SRX models of the past, this 2019 version will use speed, power and dedicated "speed" engineering to make it all-quick, all-fast, all-conquering.
The only other purely stock sled we can imagine keeping pace with the SRX will be Arctic Cat's turbo-powered Thundercat, a partnership Cat-logoed doppelganger powered by the same Yamaha Genesis turbo. We can't envision any current two-stroke 850s challenging the SRX power. Beyond power, Yamaha created new go-fast trickery to help the SRX slip through the air more smoothly.
Yamaha has positioned its SRX power sled for "…undisputed performance from the frozen lake to the groomed trail." The entire SRX concept centers on a lake racer focus where top speed and acceleration reign supreme. There is nothing subtle in the sled's positioning. It is intended to be fast and powerful and outfitted with features for fast cornering on groomed trails.
The base customer will have the money to afford this singular purpose speed sled that carries a US$17,599 price tag – more than $20,000 in Canada! He will have the "want" to be the fastest and a distaste for losing. This is not your owner of a vanilla Camry, but the guy who would pop for a 700-horsepower Dodge Hellcat.
Up to now, Yamaha has been a bit discrete with its Sidewinder turbo sleds, not making a big deal of how powerful they are. That changes now as Yamaha needs to fight for every scrap of market share it can scrounge up.
As the company seeks to right its fortunes and move out of fourth place in the market, Yamaha executives decided to confront its – the industry's – woes. Namely overbuilding of models, which leaves dealers with an overage of sleds, and realigning product for today's downsized sled industry. While there may come a time when the industry rebounds to sales of 200,000 annual sales or so, the reality is that today's sales hover at the low 100,000 or so mark. Yamaha's Arctic Cat partnership works for manufacturing and allows sharing sled technologies with Yamaha supplying engine base points. This keeps Yamaha viable and helps Cat avoid digging deep to produce its own dedicated snowmobile four-stroke. At this point Yamaha supplies the 998cc four-stroke triple in turbo format to the sled side and a normally aspirated version to the 4-wheeler side.
But, what Yamaha seeks is a "driver" to differentiate its sled line from all others. What better way than to resurrect the SRX name?
A handsome and potent iteration it is, too. Starting with a 137-inch track platform from an RTX, the 2019 Yamaha Sidewinder SRX LE gets lowered for a noticeably effective countenance. Lowering the ride height begins with dual rate front and center springing. Although the preload is lower, the end stroke rate has the same final force. The bold white springs stand out against the SRX' bright Yamaha blue color palette.
As the top of the line Yamaha for 2019, the SRX gets the Fox Zero iQS interactive pushbutton shock package. The system works flawlessly allowing you to set one of three positions via a handlebar control. In 0.2 tenths of a second the system reacts, changing to a new setting for both front suspension shocks and the rear suspension shock.
Helping to get the power to the snow, the 2019 Yamaha Sidewinder SRX LE rear suspension reflects all-new calibration with low preload torsion springing to maintain lower ride height. The softer, more progressive initial spring rates ramp up deeper in the stroke to resist harsh bottoming.
Lowered ride height and "trick" dual rate shocking work for handling and lowering the vehicle, but it's the Genesis turbo that packs the punch. To get more of it, Yamaha recalibrated its YSRC primary and roller secondary clutches with a new helix for durable, cooler operation. With more than 200 horsepower on tap, the system has to both deliver smoothly and quickly, meaning that massive torque must be transferred efficiently to minimize belt wear. Yamaha designed the primary to shift aggressively while working a coordinated secondary that can offer additional ratio via oversized sheaves to add top end.
When you look at the sled's specifications, you'll note that the SRX track is a low-profile 15-inch wide by 137-inch long Camso Ripsaw sporting a one-inch lug height. This low-profile two-ply track reflects speed tuning where, the thinking goes, a lower lug profile yields less wind resistance at high speed while the fully clipped track reduces friction to provide maximum top speed performance. Yamaha notes "…the low lug reduces weight and stress on the track for improved durability and performance at sustained high speeds."
Of course, serious lake racing types aren't going to accept the 2019 Yamaha Sidewinder SRX LE as is. They'll stud up that track, tweak the suspension and drive settings – anything for a fraction of a second gain in elapsed time or tenth of a mile per hour in top end. But the starting point of a limited edition SRX LE puts go-fastest riders in the power hunt.
Fortunately, the SRX LE comes complete with all the nice-to-have-features you expect. There's a dual setting heated seat. A purposeful light and rigid SRV chassis with proven front suspension geometry.
Additions for model year 2019 include the ergonomic upgrades of a "Stealth" left hand control module for the iQS control, heat control, mode selections and such. The new brake lever is more easily reached and the throttle flipper has been given a makeover, too.
Everything on the 2019 Yamaha Sidewinder SRX LE works well and is ergonomically positioned for rider enhancement. There's even a new, larger easy to access semi-rigid tunnel bag that comes standard and offers actual storage for this high-performance lake racer.
Make no mistake, the new 2019 Yamaha Sidewinder SRX LE is not about stowing a water bottle or spare mittens. It's about getting from A to B in the quickest manner possible. For serious Yamaha go-fastest riders, the only competition to the SRX will come from manufacturing partner Arctic Cat's Yamaha-turbocharged ZR 9000 Thundercat.