2011 Youth Snowmobile Options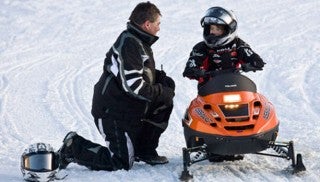 Rebuilding snowmobiling's core by introducing kids to sleds early and often
The past few winters, my neighbor's kids — a boy and a girl — would buzz around their yard for hours on a matched pair of Ski-Doo Mini-Z kid-sized snowmobiles. The older youthful snowmobiler proudly told how she'd jump over snowbanks alongside the driveway and, as she would say, get "big air!"
Fast Facts
Engine Type:Single-Cylinder
Cylinders:1
Engine Stroke:4-Stroke
Valve Configuration:OHV
Displacement:121 / 7.4
Starter:Pull
Turbocharged:No
View Full Spec
Like hundreds of young snowmobilers, these two winter enthusiasts will recall snowmobiling with a personal fondness that comes from enjoying the sport up-close and personal at an early age. That was one reason for the advent of the original Kitty Cat mini-snowmobile that served as an introduction for many of today's adult riders. Get the kids early and keep them enthused about the sport by offering sleds that could carry them from youth to adults, and if you could do it by keeping them on the same brand, all the better.
This has been a strategy invoked by Honda as that company started kids out on mini-Honda dirt bikes and helped them evolve up the power ladder to full blown dirt or street motorcycles as loyal Honda owners. Arctic Cat grasped the concept for snowmobiling as did Polaris and Ski-Doo. Due to the sluggish economy though for 2011 there are two mini-sled brands left from which to choose — Arctic Cat's Sno Pro 120 and Polaris' 120 Assault. For this season Ski-Doo discontinued production of the Mini Z due to the limited demand.
As the neighbor kids learned, these remaining mini-sleds are true snowmobiles, though they won't break trail in much over a few inches of snow with a hard base. Still, they come with a rubber track and a parent-friendly engine that can be tuned back to limit speed. While similar in concept there are differences between the two remaining models.
Arctic Cat Sno Pro 120
The leader of the mini-sled set, Arctic Cat produced its Kitty Cat for years, even backing a racing series, which actually led some riders to the big leagues. This "little league" of snowmobile racing even had a championship run during Eagle River World's Championship Derby races.
Replacing the Kitty Cat is the job of Arctic Cat's Sno Pro 120, which is powered by a 120cc four-stroke engine. Thrifty with fuel, the single cylinder fan-cooled engine can be governed to a top speed of 8 miles per hour. There's a removable key to prevent the littlest snowmobiler from running off when the parent isn't watching.
The front and rear suspensions offer minimal travel, but are fully functional. The front-end design emulates the Arctic Wishbone Suspension found on full-sized Arctic Cats. The rear suspension features a parallel slide rail system.
The 2011 Sno Pro 120 differs from the older and popular Kitty Cat in some ways. The engine is now a four-stroke, whereas the older version housed a sometimes-finicky two-cycle single. The original Kitty Cat shared a style more akin to the then-popular Arctic Cat Panther. The new Sno Pro 120 gives the young Cat fan a sled styled in Cat green with a low, aggressive profile that blends in with the new series of F models and snocross racers.
The Sno Pro 120 features front and rear bumpers, a wise move that protects the little sled from riders who are learning their way around the snow trails. The headlight is constantly on for safety and so parents can quickly check whether the sled is running. There's also a high-visibility orange safety flag to help track the sled and rider. The handlebar is padded and the rider can store extra mitts in a rear storage compartment.
Style like the big-guy sleds, the littlest Arctic Cat offers serious value to today's youthful riders and helps builds Arctic Cat loyalty.
Polaris 120 Assault
Polaris keeps pace with Arctic Cat in offering a youth "starter sled" that bears a resemblance in style and name to a popular sport sled. The 2011 Polaris 120 Assault carries the name of one of the newest and most aggressive adult models.
Like the Arctic Cat mini, the Polaris mini sled is no toy. It comes with a 121cc four-stroke single that is both thrifty with its half-gallon of fuel via a BV18 carburetor and strong enough to pull a youngster to upper single digits in speed. The engine drives through what Polaris designates its P-40 drive.
For safety the engine uses a tether that attaches to the rider's wrist or jacket and will stop the motor immediately if the tether comes loose. If the rider should get curious and want to peer under the hood, the engine will stop right away.
The mini Assault carries Polaris' "Orange Madness" styling and scaled down Assault graphics to give young riders the idea that they too are serious Polaris snowmobilers.
The sled uses working suspensions with its own downsized independent front trailing arm suspension and mini Indy slide rail rear suspension. The front end offers up to three inches of travel that are controlled via steel monotube type shocks. The rear suspension will work over seven inches of sprung travel as its Tri-Star 10-inch wide by 69-inch long track grabs the snow.
The skis are made of a composite material for long life and long-term durability. Look for on-sled storage and a blacked out racy windshield.
Both the Polaris and Arctic Cat mini sleds are designed to last long enough to be handed down from sibling to sibling, welcoming young riders into the sport.
The 120 Assault can be outfitted with hand and thumb warmers, handlebar hooks and even an accessory fuel gauge.
Goodwin Mini Performance Kit
If your snowmobiler finds that base performance from the 120cc four-stroke single doesn't provide enough thrills, you can contact Goodwin Performance about its special performance upgrades.
The Goodwin kits were developed specifically for the Ski-Doo Mini Z, Polaris XCR120 and Arctic Cat Sno Pro 120. Said to be easy to install, the kits include a gear, hub, chain and carburetor modification. The kit lists for about US $120.
RC Snowmobiles
If downsized kid snowmobiles don't satisfy you or your progeny, look into radio-controlled sleds offered by Interactive Toy. The Ski-Doo radio-controlled model measures 17-inches in length and comes with a high torque "drive-tred" that will propel the unit over snow, grass or carpet. The unit retails for just under US$90 and can be found at various RC enthusiast outlets.
The RC sled features working front and rear suspensions, headlight and rear brake light. The unit works on a single 9-volt and eight AA batteries. Weighing 10 pounds the RC sled is designed for ages eight and older.
| | | |
| --- | --- | --- |
| | 2011 Arctic Cat SnoPro 120 | 2011 Polaris 120 Assault |
| Engine | Arctic Cat 123cc, single cylinder 4-stroke; fan-cooled; single—B-18 carb | Polaris 121cc single cylinder 4-stroke; air-cooled; single BV-18 carb |
| Drive | Centrifugal clutch | Polaris P-40 drive |
| Front Suspension | AWS double wishbone A-Arms; hydraulic shocks; 3.0-in travel | Polaris Indy-style trailing arm — 3.0-in maximum travel; Steel mono-tube shocks |
| Rear Suspension | Parallel slide rail; 4.5-inches of travel; torsion spring damping | Polaris Mini-Indy slide rail; 7-inches of travel |
| Length | 74.0 in | 75.0 in |
| Width | 35.0 in | 34.0 in |
| Height | NA | 31.0 in |
| Ski Stance | 31.0 in | 30.0 in |
| Track | 10 x 68 x 0.5 Shockwave | 10 x 69 x 0.79 Tri-Star |
| Weight | NA | 145 lbs (claimed) |
| Brake | Adjustable band | Mechanical drum |
| Features | Mechanical gas gauge; tether switch | Matte black windshield; Orange Madness color & graphics |
| Fuel Tank | 0.5 US Gal. | 0.5 US Gal. |
| Price | US$2,599.00 | US$2,499.00 |