2014 Arctic Cat XF 8000 High Country Review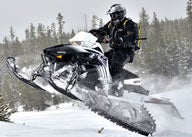 A crossover schooled in powder country
I like the name, "High Country." That is where I'm from.
Fast Facts
Engine Type:Horizontal In-line
Cylinders:2
Engine Stroke:2-Stroke
Valve Configuration:Reed Valve
Displacement:794 / 48.4
Starter:Pull
Turbocharged:No
View Full Spec
Arctic Cat has a plethora of crossover snowmobiles, including two 800cc class variants. One is the XF Cross Country built on Cat's ProCross chassis, which is a 50/50 trail and mountain snowmobile. There is one XF Cross Country 8000 model, the Sno Pro.
The other crossover variant is the XF High Country 8000, which is built on the ProClimb chassis. This, according to our experience, is a 60/40-ratio crossover snowmobile – 60% mountain and 40% trail, in our opinion. It comes in two different suits, the Sno Pro and the premium Limited.
We recently chronicled the 2014 Arctic Cat XF Cross Country 7000 with its new C-Tec 7000 motor, which is Yamaha's 1049cc three-cylinder electronic fuel-injected four-stroker.
The High Country featured here is different from the XF Cross Country 7000 in that the High Country Sno Pro and Sno Pro Limited rely on the Arctic Cat-designed and Suzuki-built 794cc batteryless electronic fuel injected two-stroke twin. The big difference between the two crossover snowmobiles from Cat country is chassis and motor.
Westerners like me think somewhat differently than flatlanders when it comes to snowmobiling. Though we are alike in our love for the sport, we mountain riders tolerate trails – they are a means to an end. Yet, there are times when we must cut our frustrations loose on the trails; these are the times when the crossover line appeals to us.
As deep powder crossover snowmobiles come to market, I find myself riding them as often as a mountain snowmobile. I am attracted to its more-than-crossover appeal. Other snowmobiles that hit my happy button are Polaris' Switchback Assault with Series 4.0 RMK track, and two from Ski-Doo, its Renegade Backcountry X and its deep-powder Freeride 146, which is much like a Summit X.
When walking up to an XF High Country 8000 Sno Pro and Limited, you may be fooled into believing it is an M. Its distinct ProClimb seat, telescoping handlebars, two-piece tunnel and cockpit speak M. But missing from the hood is the big "M," and in its place in a large uppercase font "XF."
Powering the XF High Country 8000 is the 8000-series two-stroke twin cylinder motor displacing 794cc. This motor uses a battery-less electronic fuel-injection (EFI) system with 46mm dual throttle bodies. Horsepower is rated at approximately 163. The motor has a lightweight crankshaft, Cat's own electronic exhaust valves labeled APV (Arctic Power Valves), and a single exhaust pipe with temperature reading system. To change direction from forward to back, Cat fits a lightweight push button non-mechanical reverse system.
The High Country's drive clutch is the Arctic rpm-sensing six-post clutch, while the driven clutch is the 10.75-inch diameter Arctic roller cam. These clutches with the crossover jackshaft, chaincase and the radial master hydraulic brake with drilled-out lightweight disc make up the Arctic Drive System (ADS).
Suspending the front end is the sway bar equipped Arctic Race Suspension (ARS) with FOX Float 3 shocks. Its ski is the ProCross, which is suitable for both trail and mountain; however, it's too narrow for my liking. I like a wide ski with a deep keel that floats the nose. Though Cat says the High Country comes equipped with a mountain ski, I do not support this position.
Front suspension travel is 10.0 inches – one more inch than the M8000 Sno Pro. Ski stance for the XF High Country 8000 Sno Pro is adjustable from 42 to 43 inches.
Out back, the XF High Country 8000 rides on Cat's FasTrack rear suspension with a tri-hub rear axle system. The drops, junks and whoops are handled via a FOX Float 2 on the rear arm, and an Arctic Cat internal floating piston (IFP) front arm shock. Travel for the rear suspension is 14.5 inches. Rotating around the 141-inch rear suspension is 15-inch Power Claw track that has 2.25-inch lugs. Pitch for the Power Claw is three inches. The High Country 8000 comes only in a 141-inch track length.
This track is sufficient for trail and limited deep-powder use. But, like all 60/40 crossover snowmobiles, when I drift to steep-n-deep country it's a challenge to the crossover's engineering. Have I stuck the High Country 8000 Sno Pro into a mountainside where momentum ceased? Of course. I don't expect the XF High Country 8000 Sno Pro to be an M8000 Sno Pro, but I sure stick it into the same conditions.
For either standing or riding in the seated position, the High Country 8000 Sno Pro and Limited utilize a vertical steering system with a telescoping handlebar; the exact system used on the M8000 Sno Pro. Drop the bars and the High Country becomes a full-on trail snowmobile – almost.
Like the M8000 Sno Pro, the XF High Country 8000 Sno Pro and Limited have a lightweight mountain seat mounted to a two-piece tunnel. This mountain seat is taller and shorter than the standard XF Cross Country seat, which gives the rider a smaller surface area to maneuver a leg and foot when standing to attack a mountainside or a spooky ravine.
On the trail, the High Country is screwed down to the trail. The ARS with lower A-arms that have a 30-degree spindle keep the nose square and flat. We can lift the inside ski when smoking a tight right or left turn, but the nose will drop to its center plane when throttle is reduced and weight transfer rolls forward. It is more secured on the trail than the M.
Its vertical steering, unlike the horizontal steering on the XF Cross Country, is more mountain-specific. On the other hand, horizontal steering on the XF Cross Country allows the rider to swing the bars down (steering wheel like) rather than back forth (motocross motorcycle like). The horizontal bars are made more for seated riding.
Arctic Cat makes full use of its two chassis, the ProCross and ProClimb. Through these two chassis, Cat builds two crossover snowmobiles that appeal to riders with different tastes. Some may say this is overkill, some may say market-smart. The XF Cross Country is a 50/50 trail and mountain mix crosser. The XF High Country 8000 Sno Pro and Limited are more mountain specific than trail, but handle the trails with a nasty attitude. I believe the XF High Country Sno Pro and Limited are more closely related, to the M8000 HCR (Hill Climb Racer) than to the XF Cross Country 8000 Sno Pro.
The XF High Country 8000 Sno Pro and Limited will deliver miles of smooth trail riding. For those of you who desire more deep powder playing than trail, it will give its all. But understand, if you want to be a deep powder and mountain-honking player, you will be limited by the High Country's track length (141) and its lug height (2.25). Yet, for a 60/40 crossover, it is a sweet deal. For me, I have no problem smoking out a day's worth of fun on it.
2014 Arctic Cat XF 8000 High Country
Engine
Arctic/Suzuki 794cc, two-stroke, liquid-cooled, twin; 46mm throttle body injector electronic fuel injection
Horsepower
155-plus
Drive
Arctic 6 post rpm-sensing drive with 10.75-in Arctic roller cam driven
Front Suspension
Arctic Race Suspension (ARS) twin A-arm suspension; Fox Float 3 shocks; 10.0-inches of travel
Rear Suspension
Arctic FasTrack parallel rail slide with Tri-Hub rear axle assembly; Arctic internal floating piston shock on front arm and Fox Float 2 shock; up to 14.5-inches of travel
Length
125.0 in
Width
48.0 in
Ski Stance
Adjustable 42.0 – 43.0 in.
Track
15 x 141 x 2.25 PowerClaw
Weight
NA
Fuel Capacity
12.0 US Gal
Features
Standard: digital/analog tach & speedometer; Electric gas gauge; clock; push button reverse; dual halogen headlight
Optional: key start; storage bags; rack; tank pads; optional windshield sizes
MSRP
$12,899