2015 Arctic Cat ZR 7000 RR Review + Video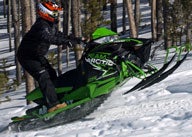 Yamaha power in an Arctic Cat race platform breeds a unique Cat
The only thing close to Arctic Cat's new-for-2015 ZR 7000 RR in performance and make-up will be Cat's own 600cc two-stroke ZR 6000 Race Replica or Ski-Doo's MXZ X 1200 4-Tec. In the world of high-performance one-liter four-stroke racer-type sleds, the Cat wins.
Fast Facts
Engine Type:Horizontal In-line
Cylinders:3
Engine Stroke:4-Stroke
Valve Configuration:DOHC
Displacement:1049 / 64
Starter:Electric
Turbocharged:No
View Full Spec
Okay, we may have aced out the new Yamaha Viper R-TX Limited Edition, a virtual corporate copy of the 7000 RR. Clutching will be Yamaha and not Arctic Cat. Plus the Yamaha uses different Fox shocks and prices out a few hundred dollars less. Even with the corporate cousins close, we go for the Cat in this instance.
Between the two-stroke 6000 RR and the Yamaha-powered four-stroke 7000 RR, we'll admit ambivalence. We still like our two-strokes and Arctic Cat engineers did a truly nice job creating its own 600cc twin. When you look at the specifications of the 6000 and 7000 Race Replica models, you'll see virtually the same sled except for drivetrain. Arctic Cat helps you a little bit as it claims 125 horsepower at 8300 rpm for its 600cc C-TEC2 two-stroke, about 10 horsepower less than the stated claim for the 1049cc Yamaha triple. Big deal? We're not sure.
There will be a weight difference and the two-stroke will have a lighter feel over the skis. But the Yamaha's more consistent and earlier arriving torque characteristics may negate those two-stroke advantages, so it's a toss-up once again.
When it comes to price, the ZR 6000 RR's MSRP of US$12,749 versus the US$14,329 of the four-stroke RR could be a deal breaker. Honestly, we doubt that will be the case. The choice between the 6000 and the 7000 most likely comes down to whether you want a two-stroke or a four-stroke Cat. It'll be that basic!
COMPARISON: Read our review of the 2015 Arctic Cat ZR 6000 RR + Video
We like the idea of the ZR 6000 RR, but we'd probably go with the ZR 7000 RR. For the times when a slightly lighter weight model might be nice to have, the long term benefits of the Yamaha-powered Cat outweigh them. Let's face it; Arctic Cat has come up with a winner by going with the Yamaha triple. Cat engineers got it to fit nicely into the ProCross chassis and it works extremely well. It sits low enough and back enough to offer above average neutral handling. We say neutral, because whenever we've ridden a Yamaha-powered Cat, we've been able to consistently influence the handling by our own body shifting – front to rear or side to side; standing or sitting.
Was the ProCross chassis designed to accommodate the Yamaha triple? Not originally, as the four-stroke option available to Cat when this chassis was developed was the one-liter Suzuki twin and not the wider Yamaha. With the partnership arrangement, Cat engineers had to retro fit the triple. You'll note that some side bracing around the clutch area is different than what you find on the two-stroke chassis. Cat's engineers also had to deal with an engine that was designed with an exhaust system that exited directly under the seat and out the rear of the Yamaha models it powered. The Cat chassis required quite a clever fitting of a large canister muffler side-mounted on the right front, where the exhaust could dump back of the right ski. Plus, Arctic Cat tuning experts then had to integrate this "crate" motor with its own version of electronic fuel injection and then introduce this base powerplant to Cat's proprietary drive clutch system. This was not a simple buy an engine and then slap it into a pre-existing chassis. Arctic Cat managed to get it done and for 2015 one of the fruits of that labor is a rather nifty performer, the ZR 7000 RR.
We had mentioned that only Cat has such an animal, although Ski-Doo tries. The Ski-Doo MXZ X 1200 4-TEC weighs in at 500-plus pounds and is powered by an engine somewhat similar to the Yamaha triple. The Rotax engine is also a triple, is more than 100cc larger in displacement and has a claimed 130 hp rating at 7750 revs. On paper the MXZ X 1200 4-TEC would appear to be a worthy challenger. On the trails the Arctic Cat ZR 7000 RR sets that claim straight. The RR is meant to be a mean trail racer whereas the Ski-Doo is more of a tricked out, comfort-first sport racer. The 'Doo has the right pedigree with the latest RAS2 front suspension and very slick rMotion rear suspension with high pressure gas shocks all around. Even so, we give the nod, a big nod, to the Yamaha-powered Cat.
Cat has really managed this race-like thing extremely well with its tall spindle Arctic Race Suspension (ARS), which we feel is one of the best designs on the snow, but being pushed hard by the new Ski-Doo RAS2 and Polaris' AXYS design. That ARS gives the RR models a bit of serious dirt bike feel to them. You can bang the big bumps, hit an uneven berm and feel confident that the sled will land properly. That's all a result of the balance race engineering built into this chassis and an extension of setting up the sled with the right pieces. Those right pieces will be virtually the same for either the 6000 or 7000 RR versions.
COMPARISON: Read our review of the 2015 Yamaha SR Viper R-TX LE
Up front the ARS provides 10 inches of travel, modulated by a set of premium Fox Float X Evol air shocks. The front suspension design plays a major role in the sled's trail performance as the tall spindles offer torsional rigidity, a must have for smooth over moguls riding. Add in a sway bar and you have a front end that fights to keep the skis planted for maximum control.
Although Cat's competitors have come out with trick new rear suspension designs, the RR's slide-action rear setup works. You easily can load and unload the suspension to give you ski bite for secure cornering and rearward transfer action to get lift for hitting big bumps and rising off the berms. You'll be rewarded with up to 13.5 inches of travel from this parallel rail slide-action suspension with its adjustable torsion springs, coupling blocks and Fox Zero Pro piggyback style front and rear arm shocks. Maybe not the latest design, but the ZR 7000 RR rear works extremely well.
Obvious differences between the 6000 and 7000 versions of Cat's 2015 Race Replica models include the standard electric start on the 7000's Yamaha four-stroke. With the four-stroke unable to utilize Cat's electronic reverse, you'll find a simple push-button mechanical reverse on it.
COMPARISON: Read our review of the 2015 Ski-Doo MXZ TNT ACE 900 + Video
With the focus on performance and race-type handling, the RR models, whether two-stroke or four-stroke, spin aggressive 129-inch Ripsaw tracks with a 1.25-inch chopped lug profile for traction. The windshields are low, racer height designs, but taller options are available. To keep tabs on your trail racer, Cat engineers fitted the sled with the latest digital gauge that offers two operator-configurable displays for speed, rpm, clock, odometer, hours, coolant temperature, exhaust temperature, intake air temperature, voltage and fuel level.
While there are strong similarities between the two-stroke 600cc RR and the Yamaha-powered 7000 RR, the basic separating point is whether you are a two-stroke or four-stroke rider. Cat has done a masterful job in taking a stout performing four-stoke, embedding it into a two-stroke oriented chassis and creating a terrific hardcore trail racer designed to take a pounding. Although we have strong history with two-stroke sleds, we would take the ZR 7000 RR over its two-stroke counterparts. We like the torque in the rough stuff and how Cat has managed to transition the Yamaha power so it feels as quick and responsive as a two-stroke. We are not giving up a thing with this Yamaha-powered Race Replica, but are gaining proven reliability, strong low end and midrange and improved fuel economy. Based on these characteristics, we can easily justify paying more for the ZR 7000 RR, because we believe that the Yamaha-powered ZR 7000 RR will cost us less in the long run.
2015 Arctic Cat ZR 7000 RR
2015 Arctic Cat ZR 6000 RR
Engine
Yamaha 1049cc, liquid-cooled, 7000 C-TEC4; 4-stroke triple; 3x41mm throttle body electronic fuel injection; 3-into-1 side exit exhaust
Arctic Cat 599cc, liquid-cooled, 2-stroke 6000 C-TEC2 twin; dual stage electronic fuel injection
Horsepower
135 (claimed)
125 (claimed)
Drive
Arctic Cat 6-post rpm sensing drive with 10.75-inch diameter Arctic roller cam driven
Arctic Cat 6-post rpm sensing drive with 10.75-inch diameter Arctic roller cam driven
Front Suspension
Arctic Race Suspension (ARS) with Fox Float X Evol shocks; compression and rebound adjustability; sway bar; 10-in maximum travel
Arctic Race Suspension (ARS) with Fox Float X Evol shocks; compression and rebound adjustability; sway bar; 10-in maximum travel
Rear Suspension
Arctic Cat parallel rail "slide-action" suspension with tri-hub rear axle system; adjustable torsion springs; coupling blocks; Fox Zero Pro piggyback style front and rear arm shocks with adjustable damping; up to 13.5-inches of travel
Arctic Cat parallel rail "slide-action" suspension with tri-hub rear axle system; adjustable torsion springs; coupling blocks; Fox Zero Pro piggyback style front and rear arm shocks; up to 13.5-inches of travel
Length
121.0 in
121.0 in
Width
47.75 in
47.75 in
Ski Stance
Adjustable 42 to 43 inches with dual sag 6-inch width trail ski
Adjustable 42 to 43 inches with dual skag 6-inch width trail ski
Track
15x129x1.25 Ripsaw track
15x129x1.25 Ripsaw track
Weight
N/A
N/A
Brake
Hydraulic race-type radial master cylinder with lightweight disc
Hydraulic race-type radial master cylinder with lightweight disc
Features
Standard: Push button mechanical reverse; electric start; deluxe multi-function digital gauge; accessory outlet; belt bag; race-height windshield
Optional: 2-up seat; additional gear and storage bag options; front sport bumper; mirrors; windshield options; premium shocks; heated seat
Standard: Push button electronic reverse; deluxe multi-function digital gauge; accessory outlet; belt bag; race-style low windshield
Optional: 2-up seat; additional gear and storage bag options; electric start; front sport bumper; mirrors; windshield options
Fuel Capacity
9.9 US Gal
11.7 US Gal (87 octane)
MSRP
$14,329
$12,749