2015 Ski-Doo MXZ TNT ACE 900 Review + Video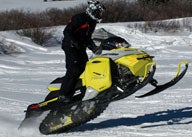 Its ditch-banger styling belies its modest reality
Ski-Doo's 2015 MXZ TNT 900 ACE has all the right pieces. And they all work quite well. Just not together in this supposed performance sled.
We admit it. We just don't "get" the MXZ TNT 900 ACE. The 90-horsepower engine works very well with the updated eDrive 2 clutching setup. There's very smooth drive off at 2200 revs with a steady pull up to the triple's 7250 rpm maximum engine speed. It's all quite pleasant. Then you can toss in the electronic gimmickry of three power modes – base, sport and eco. You'll most likely vacillate between the standard and sport modes. The eco mode severely limits overall performance, dumbing down acceleration and top speed in favor of achieving fuel economy – upwards of a claimed 23 miles per gallon.
While we prefer the standard operation mode, which is programmed to take you smoothly to top end, there are many who like the Sport setting better. In that mode the engine effectively holds shifts longer, which we view as being somewhat erratic. Is it any quicker overall? Possibly, but not enough to get excited about. It does seem to help hold power better for accelerating out of a corner. But, really, this is a 90-horse engine after all and you just aren't going to get the tug of a Ski-Doo 800 E-TEC two-stroke twin. Or, even the response of the 600 E-TEC, which gives you about 30 more horsepower than the ACE.
The 2015 MXZ TNT 900 ACE represents the second season with the Advanced Combustion Efficiency design 900cc four-stroke triple. It's a very nice motor. It features excellent credentials with what Ski-Doo terms as Intelligent Throttle Control, or more commonly referred to as fly-by-wire throttle. You get an incredibly light feel at your throttle thumb. Or, throttle finger if you opt to spin the throttle assembly around and operate the throttle lever with your fingers. Ski-Doo promotes the idea that this benefits riders whose thumbs may tire from engaging the throttle. We'd buy that, if it weren't for the simple fact that throttle pull on this sled is minimal. It's got to have the lightest pull in snowmobile history.
COMPARISON: Read our review of the 2014 Ski-Doo GSX LE ACE 900 + Video
From an engineering cleverness standpoint, we give Ski-Doo a top grade of A+. This engine runs smoothly from idle to full ramp up. It's very quiet. It has double overhead cams to ensure efficient exhaust valve and intake via a computer programmed 46mm throttle body. Ski-Doo takes full advantage of modern digital and electronic computer programming to give this engine a full range of operation from the "eco"-nomical settings to higher performance Sport mode.
As we said, we feel that the 2015 MXZ TNT 900 ACE has all the right pieces. What we don't get is why you'd want this particular engine package in a sled that is supposed to be a high-performance runner. Compared to a 600 E-TEC engined TNT, the TNT 900 ACE lacks urgency. It'll get you underway well enough and run up to traffic ticket speeds, but scintillating it ain't!
The 900 ACE's performance reminds us of the one-liter Suzuki four-stoke twin Arctic Cat passed off as its performance "600." Once Cat came out with its own direct-injection 600cc two-stroke and dropped Yamaha's Genesis triple into the tall spindle chassis, all pretensions about the Suzuki four-stroke twin as a high performance trail power source ended.
You see we take Ski-Doo at its word. According to Ski-Doo the MXZ concept is to provide "… radical and incredibly responsive rough trail machines that combine race-bred suspensions with cutting-edge design."
When you look at the chassis and suspension pieces installed on this MXZ TNT model, you see an attempt to give you a true trail performance hot rod. Front and rear suspension packages specify performance gas shocks. The front end is the latest new-for-2015 RAS2, which impressed us mightily for its grip and steady contact, especially in chewed up corners. The rMotion rear suspension works well as it sets a standard for supple trail action over stutter bumps or heading into big whoops. The TNT's base platform is the newest aluminum REV-XS design. And for on-trail grip these models all spin a 120-inch Ripsaw track with 1.25-inch lug profile. Whoa-power comes from an Italian-sourced Brembo hydraulic disc brake system. The performance pieces are here.
Unfortunately, and here's where we just don't get the TNT 900 ACE, while performance pieces are here, the performance isn't. In the true sense of Ski-Doo's definition of the MXZ series, the TNT with 600 E-TEC hits the right notes.
COMPARISON: Read our review of the 2014 Yamaha Phazer RTX
However, if you are to compare this 90 hp Ski-Doo trail model to, say, Yamaha's Phazer RTX with its 500cc four-stroke, you've got something. The Yamaha at 80 horsepower won't have the overall performance of this Ski-Doo. But, in our estimation, it's not that far removed from it!
When it comes to the low to moderate power four-stroke classification, Ski-Doo has cleverly bracketed the Phazer RTX between its MXZ Sport 600 ACE (60 hp) and this TNT 900 ACE. But, still, none of those sleds are what we'd call incredibly responsive rough trail sleds.
So, who's going to buy this TNT 900 ACE? Not us for certain. We don't see it as a viable rental sled either. The MXZ 600 ACE will fill that bill. Perhaps the MXZ TNT 900 ACE is aimed at the AARP-aged rider who wants his sled to say "youthful and sporty." But on the inside this rider knows that his aggressive, all-out speed days are in the past and he harbors an appreciation for a quiet, moderately quick, smooth running machine that's as easy on fuel as it is on the body. Perhaps the MXZ TNT 900 ACE says that – whereas the Ski-Doo GSX 900 ACE, with which he'd be happier, says old, slow and settled in.
COMPARISON: Read our review of the 2014 Polaris 600 Indy & 600 Indy SP
There are things to like about this sled if you can get past its lack of straight-line performance. The suspensions of the TNT models make them topflight, but only the two-stroke versions will push them hard enough to appreciate. The onboard seating and handlebar ergonomics of the REV XS chassis are excellent, but have been surpassed by Polaris' all-new AXYS platform.
Features that stand out in a dealer showroom have long been a Ski-Doo hallmark. The TNT 900 ACE follows in that tradition. It looks good, feels good to sit on, and to the unknowing, the promise of a 900cc engine suggests very strong performance versus an 800. The knowledgeable and experienced rider won't be lulled into accepting this 900 as being faster or quicker than the 800 ETEC. Ski-Doo's two-stroke direct injection twins are about as good as the breed gets in modern performance snowmobiling. Admittedly, the new breed of Rotax-engineered advanced combustion four-strokes is equally good for their intended niche. That niche puts more of a premium on sedate motives like gimmicky throttle set ups, multi-mode power settings, enhanced fuel economy and smooth quiet performance. All of those attributes make the 900 ACE an ideal power package for a personal watercraft, like the new Sea-Doo Spark. Those owners are the "set it and forget it" breed of powersport riders. Snowmobilers tend to be more and want to be more interactive, more involved in establishing how the sled works for them. Otherwise, why fit the TNT 900 ACE with an rMotion or RAS2 suspension?
While we don't get the essence of the MXZ TNT 900 ACE, a good number of riders do. They like the sled for the very reasons we don't. They want a moderately powered smooth, quiet, reliable and durable snowmobile that looks aggressive but isn't. For us, we'd spend the extra $500 or so that it takes to get the MXZ TNT 600 E-TEC version. We really like the Ski-Doo MXZ TNT series. It's one of our all time favorite models – just not with the 900 ACE. In this case why not simply age gracefully and accept the GSX 900 ACE as the better AARP alternative?
2015 Ski-Doo MXZ TNT 900 ACE Specs
Engine
Rotax 899cc, liquid-cooled three-cylinder 4-stroke; Advanced Combustion Efficiency engine with EFI 46mm throttle body; double overhead cam; dry sump
Horsepower
90 (claimed)
Drive
Ski-Doo/Rotax eDrive2 with QRS
Brake
Brembo hydraulic brake system with braided stainless steel line
Front Suspension
NEW RAS2 double A-arm with HPG Plus aluminum bodied rebuildable gas shocks; up to 9.0 inches of travel
Rear Suspension
rMotion parallel slide rail with aluminum body HPG Plus shocks; up to 15.5-inches of travel
Length
114.4 in
Width
47.9 in
Height
47.6 in
Ski Stance
42.4 in
Track
15 x 120 x 1.25 RipSaw
Weight
485 lbs
Fuel Capacity
10.6 US Gal (Regular Fuel)
Features
Analog gauge with display; REV-XP X narrowed seat with 1.3-gallon rear storage capacity; push button mechanical reverse; electric start, three engine performance modes; learning key; reversible throttle flipper for thumb or finger operation
MSRP
US$10,449