2016 Arctic Cat M8000 Limited Review + Video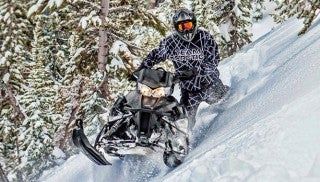 The most improved mountain snowmobile of the year
By now you've read all the electric news about Polaris' AXYS RMK Pro and siblings SKS and RMK Assault. But, there is spoiler in the backcountry, and that is Arctic Cat's improved M8000, be it the base model SE, Sno Pro, Limited or HCR. The M8000 models we rode in January and February are some of the sweetest mountain snowmobiles we have gripped.
This past season, the 2015 M8000 Sno Pro 162 with three-inch PowerClaw paddle track impressed us. When we returned it to Arctic Cat on March 22, we patted the tough boy Cat, blinked back a tear or two and sent it on its way; we don't know if we can forgive product technician Todd Tupper for taking it. After we sent a note to Cat's media relations manager, he wrote back, "Better things for next season!!" How right he is.
The 2016 M8000 Limited is the mountain snowmobile we knew Arctic Cat was capable of building. Surely it looks like the 2015 (and 2014, and 2013 and so on), but the 2016 is a much more flat climbing, tree picking, side hilling, go here, go there boondocking son-of-a-gun than the 2015.
In fantastically deep and somewhat sticky snow near Black Canyon, Island Park, Idaho, we spent a hard day with Arctic Cat's M8000 development crew causing havoc. The front suspension's tipped back and curved in spindles and new mountain ski, sealed shut all our complaints about the M8000's diving and its niggling desire to float the front end. In a 36-inch ski stance, the M8000 Limited is a product of agile and nimble.
For the past three years, Arctic Cat's M line engineers have often asked our opinion about the Ms; we always returned direct and honest feedback. Then last year, a design team member, Todd Tupper, called and asked us for our M8000 wish list. We wrote these down, which included results and comments from our mountain snowmobile shootouts and long-term evaluation views. Arctic Cat's M line technicians did not lack information from Snowmobile.com – the good, the bad, and the ugly.
Our Wishes Met
The 2016 M8000 Limited has that familiar snarly posture that simmers bad boy attitude. But under the hood, tunnel and belly pan are new underpinnings that make the 2016 M a meaner cat.
Peering at the 2016 M from the front, you'll notice the tall spindles are gone. In its place are shorter spindles that are swept back 10 degrees from the 2015 M spindles. The new forged aluminum spindles' caster angle moved rearward from 17 degrees to 27 degrees. The lighter and shorter spindles are curved inward at mid-point to align with the lower side panels. This keeps the spindles from crashing into a sidehill when a driver cuts a steep sidehill line. The goal here is to steepen the snowmobile's attack angle to a mountainside.
The all-new front Arctic Mountain Suspension (AMS) ski stance is narrowed to give you 34.5 to 38.5 inches. The new 2016 front suspension is approximately 2.5 pounds lighter than the 2015. From our five days testing, we found 36.5-inches optimum. For this coming season we will move the stance in one  and two inches to see if there is a too-narrow point on this sled.
Bolted to the new AMS is a new tapered ski, the ProClimb-7. This ski is engineered to keep its tip up when moving through deep snow, and when setting up wrong foot forward downhill descents followed by a whip to an uphill ascent. Sweeping around a tree blowhole no longer requires giving the handlebars a death grip. The reason it is called a tapered ski is at the tip to behind the hoop, the ski is seven inches wide, after this, the ski narrows to 6.5 inches in width. Also, the ski has a deep keel to improve turning in deep powder. The M8000 Limited does not have a front swaybar; we're good with that, as we want the front end to mash hard into a hillside.
Cat's new AMS relies on Fox Float 3 EVOL shocks to take the slaps. Travel is seven inches.
To meet the font end suspension's new geometry, a redesigned rear suspension with a new and longer rear arm pull rod and revised rail profile delivers consistent track tension when the skid moves through its stroke. These changes, as we learned, improve ride performance in choppy terrain and help keep the M Cat flat when climbing. This rear suspension is known as FLOAT-ACTION.
A high end Fox Float 3 EVOL shock takes the first hit as the front track shock, whereas the rear track shock is extra air-volume Fox Float 3 EVOL R. Rear travel is a lengthy 16.5 inches.
Harnessing horsepower from the Suzuki 800 H.O. motor is a new drive and driven clutch from Team Industries. The drive clutch is the Team Rapid Response and the driven is a Team Boss Rapid Reaction. The Team Rapid Response drive clutch delivers smoother shifting, and is lighter – less rotating mass. The Team Rapid Reaction BOSS driven clutch is lighter than the 2015, and runs cooler. Overall the Team clutch duo keeps belt temperatures down to extend belt life and gives the M a lower engagement speed for smoother launches. We felt the 2015 M8000 engagement hit was tad too aggressive.
Bonus Gifts
A new Borg Warner chain and sprocket assembly that is more durable and reduces stretching comes to the 2016 M8000.
The Limited will come equipped with a three-inch PowerClaw track in either 153 or 162 lengths. The new track is as light as the 2.6-inch PowerClaw. This big three-incher rotates via seven-tooth drivers. At the rear axle, a new easy-to-service tri-hub rear axle helps the big-lug track roll along. This is a phenomenal track. It is more than a track for a single month of deep powder riding. It is a season-long track.
Gone is the telescopic handlebar, which is replaced with a fixed (non-telescoping) and vertical steering post; riser block height is 4.5 inches, but other heights (lower or taller) are available. We saw this coming when we rode the 2015 HCR 8000. We agree with the fixed post. Speaking of the bars, new handlebar heater elements are under the grips and are designed to provide consistent heat temps. According to Cat, some M models experienced circuits that have failed, only heating one half of one grip.
The M8000 Limited 153 or 162 is dressed up with Cat's ProClimb front bumper, goggle holder and tunnel bag. Electric start is an option. Colors for the Limited are a wild neon green or flat black.
With a hard day's work on the snow in mid-January and the end of February, we believe the new M8000 Limited is major upgrade. In a few words: nimble, agile, forgiving, controllable, powerful and effortless. We think the M8000 Limited is the most improved mountain snowmobile for 2016. We've declared this for the past three years as Cat made incremental improvements, but for 2016, the M8000 is stellar. As Arctic Cat sponsored rider and professional hillclimber, David McClure, stated on his Facebook page on March 24, "This snowmobile is legit."
So, as we opened up at the start, the 800-powered AXYS Pro-RMK is a remarkable snowmobile. I'd own one in a heartbeat. But, I too would own a M8000 Limited in the same heartbeat. It's like asking: Coke or Pepsi; Pepsi or Coke?
Test Rider Kevin Allred offers these additional thoughts after test riding the 2016 Cat:
In mid-January, after a technical in-house training session with the Arctic Cat Team, we suited up and headed out on the new 2016 M8000. I was eager to learn what effect the new changes would make on the M8000. Shay Smith and Todd Tupper from Arctic Cat took the lead and I knew we were heading for a ride that would be challenging for man and machine; like a nicer version of "Hunger Games." To help stack the odds in my favor, I selected the black M8000 (which was affectionately named Darth Vader), which was turning a three-inch PowerClaw track. I knew I would need all the traction I could get to keep up with the Arctic Cat boys.
As expected, Smith and Tupper dumped us in an area where we had ample opportunities to test the changes made to the M8000 Limited. I first learned, besides the need for more oxygen, the changes made a huge difference; the front end hugged a sidehill instead of pushing out from the hill.
The new rear skid showed a lot of improvement in riding comfort and allowed the M8000 to lift up on top of the snow. The geometry changes to the front and rear suspensions have been part of an on-going process to the ProClimb chassis introduced in 2012. The 2016 M8000 is a different animal from its birth in 2012.
Important other changes included a switch to the Team Industries' clutches. Arctic Cat explained the company decided to use Team clutches for their durability and extended belt life. Although these add to the M-Cat's price tag, Arctic Cat felt it was worth it to its customers.
For this upcoming snowmobile season, take a good hard look at what Arctic Cat provides. The M8000 Limited has a proven track, premium Team Industries clutching, plus significant new front end and rear suspension changes that will please the most ardent mountain riders.
2016 Arctic Cat M8000 Limited ES 162 Specs
Engine
Suzuki 794cc, two-stroke, liquid-cooled, twin; electronic fuel injection; power valve exhaust with tuned pipe and sensor
Horsepower
160 (claimed)
Drive
TEAM Rapid Response rpm-sensing drive with TEAM Rapid Reaction BOSS driven
Front Suspension
Arctic Mountain Suspension (AMS) twin A-arm suspension; Fox 3 Evol shocks; 7.0-inches of travel; new ProClimb 7 mountain ski
Rear Suspension
Arctic Float-Action parallel rail slide with Tri-Hub rear axle assembly; Fox 3 Evol shock on front arm and Fox 3 Evol R shock on rear track arm; up to 16.5-inches of travel
Length
137.3 in
Width
41.5 to 45.5 in
Ski Stance
Adjustable from 34.5-38.5 in
Track
15 x 162 x 3.0 PowerClaw
Brarke
Hayes radial master cylinder hydraulic with lightweight rotor on driveshaft
Fuel Capacity
11.7 US Gal (91 octane)
Features
Standard: deluxe digital gauge with tach & speedometer; electric gas gauge; clock; reverse; push button reverse; dual halogen headlight; 4.5-inch riser Optional: key start (standard on ES); storage bags; rack; tank pads; optional windshield sizes
MSRP
US $14,799