2016 Arctic Cat M8000 Sno Pro and SE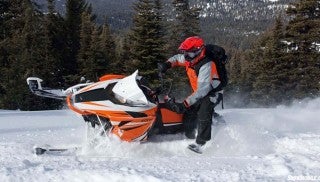 Cat brings impressive new standards to the "base" M 8000 SE and its sporty Sno Pro sibling.
With ground to gain, Arctic Cat refined its M8000 line for 2016. Previously we've reported on the M8000 Limited, a sweet mountain snowmobile that, in our opinion, is the most improved mountain snowmobile for 2016. Immediately behind it, is the M8000 Sno Pro. It is as near an M8000 Limited as one can get without jumping into a time machine and returning to April 2015 to order a Limited on Cat's Spring-buy program.
Also within the M8000 line is a new standard model, the SE, which is more than a beginner's mountain sled. If you are keeping count, Arctic Cat has three models spilling from its M8000 line, the Limited, the Sno Pro and SE, any of which can be had with factory-installed electric start. But we're focusing in on the Sno Pro and SE here.
A question we're often asked is what's the difference between the Limited and Sno Pro. There are differences, but they are subtle. As we wrote about the AXYS SKS (loaded Spring-buy equipped) and the in-season XM Summit SP T3, the M8000 Sno Pro, is 90 to 95 percent Limited, as the SKS and SP T3 are nearly an AXYS RMK Pro and Summit X T3 respectively. When comparing the M8000 SE to the M8000 Sno Pro, these are separated more in differences than the Sno Pro is to the Limited.
Whew, that was a tiny qualitative-research project.
The M8000 Sno Pro comes with or without electric start (ES), either available in three track lengths: 141, 153 and 162. The M8000 SE comes in two track lengths only: 141 and 153. It too can be equipped with electric start, hence the odd name of M8000 SE ES (some alphabet juxtaposition going on here).
COMPARISON: Read our review of the 2016 Ski-Doo Summit SP T3
How do these two M8000s track? The Sno Pro, regardless of length uses the 2.6-inch PowerClaw track, a very good track. We don't state this with an "oh-hum" attitude. The 2.6-inch PowerClaw is a superb track. The M8000 SE on the other hand uses a PowerClaw that is shorter in lug height at 2.25 inches.
Let's talk M8000 Sno Pro 141; a new track length in the M8000 Sno Pro line. This past January and March, we ripped the mountains on the shorty M8000 Sno Pro 141 with the 2.6 PowerClaw. That Cat is so sassy, it should be in detention. With lots of bite from the lugs, the 141 M8000 Sno Pro can take 12 inches of snow and turn it into four. Jack-be-nimble, Jack-be-quick can't match the nimble and the quick the M8000 Sno Pro 141 spits out. Is it fun? Illegal fun. Write me up officer.
As a point of reference (confusion?), Cat's XF 8000 High Country is a 141 ProClimb. These two snowmobiles are identical except that the High Country has the Telescoping handlebars – which are no longer available on the ProClimb Ms – and has a much wider ski stance, 45.5 to 49.5 inches with swaybar. There you go, twins separated by handlebar height and ski stance only.
We give this analysis – the 141 Sno Pro M8000 has some crossover genes, whereas the 141 High Country XF 8000 has some deep powder genes. It's all in how you look it at.
Of the mountain team riders, I must confess, 140-something deep-powder crossover snowmobiles, such as the Pro Ride Polaris Switchback Assault 144 with Series 4 RMK track, the Ski-Doo Renegade Backcountry X, the Yamaha X-TX with PowerClaw track and the Arctic Cat XF 8000 High Country are four snowmobiles that make me happier than a fifth-grade school boy with a crush on seventh-grade hottie named Michelle.
But, back to business.
COMPARISON: Read our review of the 2016 Polaris 800 SKS 155
The SE does not look like a rental company's rental M8000. Its graphics, seat, fixed handlebars, runningboards, skis, front and rear suspension give it the serious mountain snowmobile look, because, guess what, it is a serious mountain snowmobile. Sure its track lugs are shorter and its shocks are not as upper class as the Sno Pro, but all in all, it is a ProClimb M8000. By the way, all M8000s – all models – have the vertical steering post; no laydown or horizontal steering post is built on the M8000. Folks, that's how you properly steer a mountain snowmobile.
The 2016 M8000 Sno Pro and SE use the all-new Arctic Cat Mountain Suspension (AMS) with spindles swept back 10-degrees from the 2015 M8000 spindles. It has new forged aluminum spindles with a rearward caster angle, which, versus 2015, is tilted back from 17 degrees to 27 degrees. These reworked spindles are 2.4 pounds lighter than last year's and are curved inward at mid-point to align with the lower side panels. The inward curve allows the side panels to run flush against a hillside without hindrance – meaning no spindle hang up.
Like the M8000 Limited, both the Sno Pro and SE use Cat's new parabolic ski, the ProClimb-7. This ski is seven inches wide at its tip but tapers to a 6.5-inch wide girth. These two width lengths keep the ski tip up much better than last year's ski. Also, its deep keel improves deep-powder turning and uphill carves.  This ski is wider than last year's and delivers improved front-end flotation. For added info, the AMS has seven-inches of travel, tracks on an adjustable ski stance of 34.5 to 38.5 inches. The SE's shocks are Arctic Cat Gas Internal Floating Piston (IFP) shocks, whereas the Sno Pro uses the more technical Fox Float 3 air shocks.
Complementing the front end AMS is the redesigned FLOAT-ACTION rear suspension, which has a longer rear-arm pull-rod and revised rail profile from last year's rear skid. These changes deliver consistent track tension when the FLOAT-ACTION moves up and down through its stroke. These changes improve ride performance in bumpy terrain and assist in keeping the Sno Pro and SE flat when climbing. Rear travel distance for the FLOAT-ACTION is a lengthy 16.5 inches. Ice-scratchers come standard on the Sno Pro and SE. Like the AMS, the SE relies on IFP shocks, whereas the Sno Pro manages the jitters through Fox Float 3 shocks.
Mated to the trusty and beefy electronic fuel injected two-stroke twin-cylinder Suzuki 800 H.O motor is a new drive and driven clutch pairing from Team Industries. The drive clutch is the Team Rapid Response and the driven is a Team Boss Rapid Reaction. The Team Rapid Response drive clutch delivers smooth shifting while being lighter, meaning less rotating mass. What all this means is a clutch combo that runs cooler than last year's M8000 models. On the chaincase side, a new Borg Warner chain and sprocket assembly delivers more reliability while reducing chain stretch.
As mentioned earlier, a fixed (non-telescoping) vertical steering post that rests on a 4.5-inch riser block replaces the telescopic handlebar. It was first made available on the 2015 HCR 8000. The Sno Pro and SE have the same lightweight mountain seat as the Limited, but minus the extra rear storage bag. Runningboards and windshield are the same as the Limited. The Sno Pro and SE use the same model digital/analog instrument pod that rotates up for downward peeking. Goggle warming box is not standard, but is available as an add-on accessory.
COMPARISON: Read our review of the 2016 Arctic Cat M8000 Limited + Video
Would we at Snowmobile.Com dare to wallop a mountain's nose and ear on a Sno Pro and SE? Heck yes, without hesitation. The SE with its shorter lugged 2.25-inch PowerClaw track is not our first choice, but we could make it work. The 2.6-inch PowerClaw on the Sno Pro is all business and much in align for deep powder play. The 141-inch Sno Pro M8000 is a playful Cat and can deliver some nice crossover action as well.
Lastly, the Sno Pro and SE are mountain snowmobiles designed for different folk, but folk who want to play in the steep-and-deep. The M8000 Sno Pro closely aligns to the M8000 Limited. The M8000 Sno Pro 141 also aligns close to the XF 8000 High Country Sno Pro.
The SE and Sno Pro M8000s are mountain snowmobiles separated by track lug height and shock type, mostly. Regardless, the Sno Pro and SE are M8000s bred and born to be mountain slayers. We like the Sno Pro and SE and compliment Cat on making three M8000 models (Limited, Sno Pro and SE) for the public to purchase.
| | | |
| --- | --- | --- |
| | 2016 Arctic Cat M 8000 SE (141) | 2016 Arctic Cat M 8000 Sno Pro (141) |
| Engine | Suzuki 794cc, two-stroke, liquid-cooled, twin; electronic fuel injection; power valve exhaust with tuned pipe and sensor | Suzuki 794cc, two-stroke, liquid-cooled, twin; electronic fuel injection; power valve exhaust with tuned pipe and sensor |
| Horsepower | 160 (claimed) | 160 (claimed) |
| Drive | TEAM Rapid Response rpm-sensing drive with TEAM Rapid Reaction BOSS driven | TEAM Rapid Response rpm-sensing drive with TEAM Rapid Reaction BOSS driven |
| Front Suspension | Arctic Mountain Suspension (AMS) twin A-arm suspension; Arctic Cat gas IFP shocks; 7.0-inches of travel; new ProClimb 7-inch tapered mountain ski | Arctic Mountain Suspension (AMS) twin A-arm suspension; Fox Float 3 shocks; 7.0-inches of travel; new ProClimb 7 mountain ski |
| Rear Suspension | Arctic Float-Action parallel rail slide with Tri-Hub rear axle assembly; Arctic Cat gas IFP shocks; up to 14.5-inches of travel | Arctic Float-Action parallel rail slide with Tri-Hub rear axle assembly; Arctic Cat IFP shock on front arm and Fox Float 3 shock on rear track arm; up to 14.5-inches of travel |
| Length | 131.0 in | 131.0 in |
| Width | 41.5 to 45.5 in | 41.5 to 45.5 in |
| Ski Stance | Adjustable 34.5 to 38.5 in | Adjustable 34.5 to 38.5 in |
| Track | 15 x 141 x 2.25 PowerClaw | 15 x 141 x 2.6 PowerClaw |
| Brake | Hayes radial master cylinder hydraulic with lightweight rotor on driveshaft | Hayes radial master cylinder hydraulic with lightweight rotor on driveshaft |
| Features | Standard: deluxe digital gauge with tach & speedometer; push button reverse; dual halogen headlight; 4.5-inch riser; ice scratchers Optional: key start (standard on ES); storage bags; rack; tank pads; optional windshield sizes | Standard: deluxe digital gauge with tach & speedometer; gas gauge; clock; push button reverse; dual halogen headlight; 4.5-inch riser Optional: key start (standard on ES); storage bags; rack; tank pads; optional windshield sizes |
| Fuel Capacity | 11.7 US Gal (91 octane) | 11.7 US Gal (91 octane) |
| MSRP | $12,199 | $12,799 |