2016 Arctic Cat XF 6000 CrossTrek Review + Video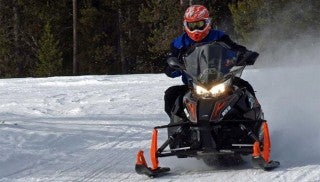 Cat's new adventure model puts performance first
Sit back and enjoy the ride as snowmobiling enjoys more evolution. Check out how the modern trail sled has evolved from short-trackers to crossovers to Arctic Cat's new XF 6000 CrossTrek. In the beginning it was easy enough creating that niche of crossover sleds by simply adding extended tracks to popular short track trail sleds. But those sleds were still more on-trail use than off-trail. Then we welcomed the nearly full-time off-trail backcountry sled with aggressive lug heights and a sampling of deep snow pieces like modified powder skis and mountain straps.
Fast Facts
Engine Type:In-line
Cylinders:2
Engine Stroke:2-Stroke
Valve Configuration:Reed Valve
Displacement:599 / 36.5
Starter:Electric
Turbocharged:No
View Full Spec
With these serious off-trail models aimed at the adventurous rider, sled makers saw a need to slice the niches even thinner by creating a niche for mostly on-trail riders, but riders who would like to venture off-trail when they felt like it. Added to that was the niche for really diehard big berm blasting off-trail riders who wanted power, stiffer suspension setups and increased snow-ability.
Recently we've seen a trend to adventure sleds that blend on-trail flexibility with off-trail capability, but with a serious flavoring of touring comfortability. That includes the new Arctic Cat CrossTour as well as Polaris' Adventure series of Switchback models decked out with a 137-inch track plus side cases and a tall windshield. But that's a little too "luxe" for some riders, so for model year 2016 we're seeing another evolutionary tendency to what we consider – with apologies to Polaris – true adventure sleds, which may be the best definition of on and off-trail versatility for modern sport riders.
For 2016 Arctic Cat and Ski-Doo hit the new niche hard with nicely appointed but impressively versatile crossovers that mimic modern adventure motorcycles in their all-around fun quotient. Arctic Cat and Ski-Doo differ on their definitions, with both companies exhorting their histories in arriving at this new niche. Ski-Doo's Renegade-based Enduro model brings a more sophisticated nature to the adventure concept. The Ski-Doo offers on-the-fly air spring shock adjustability. That's not Cat's style, so as you'd expect, Cat attacks the niche with a sled set for its harder riding clientele. This self-described hardcore ridership expects Arctic Cat snowmobiles to be performance first with blatant sophistication down the list of sled attributes.
COMPARISON: Read our review of the 2016 Ski-Doo Enduro 1200 4TEC + Video
Where the 140-plus inch length track of the CrossTour may be too much, the 2016 CrossTrek with the 137-inch Cobra tracks seems to be a bulls eye hit for this niche of rider. As Arctic Cat also builds selected models for Yamaha under the Viper nameplate, you'd expect a similar version being available for Yamaha riders. The new for 2016 Yamaha Viper S-TX 137 DX is that counterpart – sort of! The base suspensions are similar, but the Viper can only offer one engine choice – the 1049cc Yamaha four-stroke. And the Viper S-TX DX features coil-over gas shocks up front, not the Fox FLOAT 3 spec'd by Cat for the CrossTrek. Plus, you can get a wide variety of power options with the CrossTrek, ranging from Cat's own designed and manufactured 599cc dual stage injection two-stroke twin up to the 177 hp turbocharged Suzuki four-stroke. Oh, yes, you can also get a Yamaha powered version, too.
We suspect that Cat's XF 6000 CrossTrek with its 125 hp Cat-built twin will be a niche favorite for many riders. At the low end of the power range, this CrossTrek gives nothing away to Yamaha's four-stroke drivetrain. Cat rates the Yamaha option at 135 hp, but interestingly Yamaha itself claims a more sedate 130 hp. Add in some extra weight for the additional cylinder and ancillary pieces and you should have two sleds with similar performance. Four-stroke fans will like the low end grunt and midrange, but we two-stroke addicts will thrive on the rev-happy nature built into the Cat two-stroke twin. There's also that slightly lighter steering feel at the nose when pounding off trail.
COMPARISON: Read our review of the 2016 Polaris 800 Switchback Pro-S with Cobra Track + Video
That's what makes the CrossTrek success. It's based on the ProCross performance chassis and comes equipped with the right stuff, like the under-rated Slide-Action rear suspension and totally appreciated ARS tall spindle front suspension. This 137-inch tracked sled begins life as Cat's sportiest on-or off-trail pounder. Taking aim on the perils of ungroomed terrain requires the use of top notch shocks. The CrossTrek has them in the standard Fox FLOAT 3 multi-action aluminum units that control the front end's 10 inches of travel. That Slide-Action works through 13.5 inches and relies on Arctic Cat IFP shocks with a full two-inch diameter shock on the rear suspension arm. You can fine tune the ride and bump absorption via adjustments to the unit's coupling blocks and torsion springs. While the other guys' trick rMotion or AXYS get ample plaudits from media, never forget what works and has been proven to work. That's an Arctic Cat strength, making sleds that work and are consistent in their handling and ride. The CrossTrek is all that.
The XF 6000 CrossTrek may be the entry level for power when compared to its 800cc and turbo-powered siblings, but it's a strong runner at sea level and makes an excellent banger for the rough and rutted trails of Michigan's vast Upper Peninsula or blasting down unplowed and unmaintained forest roads getting back to your cabin in the Land of 10,000 Lakes. One thing that makes the 2016 CrossTrek an improved performer is the full use of TEAM clutching. Cat dropped its own proprietary drive in favor a Cat/TEAM hookup that results in stronger and more durable life via a TEAM Rapid Response drive clutch and TEAM BOSS Rapid Response driven. You can expect improved belt life and lower operating temperatures offered by the new TEAM system.
Daily life with this sled will suit true Arctic Cat aficionados who expect Cat sleds to set and maintain an above average riding pace. Cat owners demand performance and don't care about gimmicks. They expect their off-trail sled to cut throw the powder, control the moguls and carve up the corners. The action of a Cat CrossTrek speaks volumes as it comes with a nearly perfect riding position that allows you to sit to read the trail, react quickly to the terrain and command the action on or off trail. Helping the rider is a firm but supportive performance saddle and, perhaps, the best handlebar set in the business. Of course, the standard electric start, pushbutton electronic reverse, mid-height windshield with mirrors and collapsible side-mounted rear bags are simply gravy. The heart of the CrossTrek is dedicated to performance first. Amenities, second. But they are nice to have. So, too, is the quick response of the race-bred hydraulic brake system.
COMPARISON: Read our review of the 2015 Yamaha Viper S-TX DX
There's a lot to like about the XF 6000 CrossTrek for 2016. Now in its third season, that Cat-built 600cc engine can be found in a growing number of Cat models, a testament to the success Arctic Cat engineering enjoys. Now paired with TEAM clutching, the sled provides improved and more reliable power transfer. Look for this relationship to continue with Cat riders benefitting now and in seasons to come. While there is a solid performance pedigree underlying the CrossTrek, this adventure sled brings along enough nice-to-have features to appeal to your softer, less edgy side.
2016 Arctic Cat XF 6000 CrossTrek Specs
Engine
Arctic Cat 599cc, liquid-cooled, 2-stroke twin; electronic fuel injection; dual stage injection with throttle position sensor; Arctic power valve exhaust
Horsepower/Torque
125 (claimed)
Drive
TEAM Rapid Response rpm sensing drive with TEAM Rapid Reaction BOSS driven
Front Suspension
Arctic Race Suspension (ARS) with Fox Float FLOAT 3 shocks; standard sway bar; 10-in maximum travel
Rear Suspension
Arctic Cat parallel rail "slide-action" suspension with tri-hub rear axle system; adjustable torsion springs; coupling blocks; Arctic Cat internal floating piston gas shocks; up to 13.5-inches of travel
Length
125.75 in.
Width
47.75 in.
Ski Stance
Adjustable 42 to 43 in. with dual skag 6 in. width ProCross ski
Track
15 x 137 x 1.5 Cobra
Weight
NA
Brake
Hydraulic race-type radial master cylinder
Fuel Capacity
11.7 US Gal (91 octane fuel)
Features
Standard: Push button reverse; electric start; deluxe multi-function digital gauge; accessory outlet; belt bag; mirrors; 11-inch midheight windshield; front bumper Optional: 2-up seat; additional gear and storage bag options; windshield options
MSRP
US$12,399