Vintage Review: 1976 Arctic Cat Pantera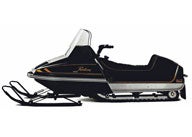 Today's all-new 2015 Pantera proudly wears the history of Arctic Cat's 1976 original "Catillac"
Arctic Cat's new-for-2015 Pantera follows up on a very proud heritage dating back to the 1976 model year. You have to go back 38 years, because that's when Arctic Enterprises, the forerunner to today's Arctic Cat group, held a sneak peek to introduce an all-new luxury sport trail cruiser that would be powered by a new breed of Suzuki snowmobile engines. As Cat's newest concept in sports performance snowmobiling, the 1976 Pantera combined the spunk and handling of Cat's high performance El Tigre series with the personal comfort of Cat's legendary Panther. This announcement was quite the big deal four decades ago.
Rather than make its own series of engines, Arctic Cat contracted with a Japanese engine and snowmobile makerfor a completely new line of snowmobile-specific motors that promised greater fuel efficiency, quieter running and improved overall performance. Sound familiar to the current Arctic Cat/Yamaha arrangement? In 1975 it was a new and daring direction for Cat and to highlight the change, the company created a bold new sport luxury sled that Cat advertising referred to as its "Catillac" on snow.
Under its stylish rounded-off wedgie hood sat an all-new Suzuki-built Spirit twin displacing both 500cc and Kawasaki as Cat's power plant partner. It marked the beginning of a Suzuki-Cat relationship that's endured nearly 40 years and has helped keep Cat at the head of the performance food chain. This new Spirit of '76 came at a time when government regulators were looking to quiet snowmobiling. The new engine did that, but to maintain the power and performance of the previous dual-sparkplug, high performance 440cc Kawaski free-air twins used in the "hottest" Cats, the Cat/Suzuki team concluded that a larger displacement, longer stroked, lower revving twin would best meet the existing sound level standards of the period.
As an air-cooled twin, the engine's free-air heads featured small, round rubber dowels between the fins to quell vibration and excess noise. Engineers also felt that instead of being bolted directly to the bulkhead, suspending the engine in a special cradle would isolate both vibration and further reduce noise. Drive components like the jackshaft-mounted brake and Cat's signature hexagon shaft clutching system were inherited from the El Tigre setup. This provided both the engine's lower position and improved handling by lowering the sled's center of gravity. For cooling purposes, three large forward-facing intake scoops diverted oncoming cold air directly to the engine as well as to the clutch side and the brake side. Although small by comparison to higher performance sleds of the day, a pair of 32mm round slide Mikuni carburetors controlled fuel flow. A high energy capacitive discharge ignition ensured a cleaner, more efficient fuel burn and allowed the Suzuki twin to utilize a single spark plug per cylinder instead of the two Kawasaki had deemed necessary on its 440 twin.
While the Pantera's 30-inch ski stance may seem narrow by today's standards and measures 12-inches less than the 2015 Pantera, it was generous in 1976. Leaf sprung skis with hydraulic shocks for "bump" control were standard. Unlike the current Pantera, which features a 15-inch track width, the 1976 Pantera came standard with a 16-inch wide track that was comprised of three Kevlar reinforced rubber belts held together in a two-thirds cleated pattern. The Pantera's track was said to be 50 percent stronger than Cat's previous rubber-banded tracks. The Pantera track featured a series of cleats with a gripper designed as the "AC" Arctic Cat logo.
This metal-cleated track rotated over Cat's own slide rail design. As the pioneer in slide rail rear suspensions, Cat engineers had evolved it to reflect torsion-spring adjustments for exceptional overall ride comfort.
The 2015 Arctic Cat Pantera provides outdstanding ride quality, something pioneered by the original Pantera. The 1976 version established a high mark in overall rider comfortability. The prime point of the ride may have been the slide rail suspension, but the ride position and seat design were exceptional for the times. By sliding back in to the seat's bun, you could enjoy a cruise over a long lake. But edge up to the mid-mounted fuel tank and you could exorcise your demons by attacking the twisties and bumps as readily as with an El Tigre sports sled. The Pantera loved to be prodded.
No one could mistake the Pantera profile for any other brand. It was a fashion statement with sloping hood, chromed bumpers front and rear, high headlight and ample wind-deflecting windshield. While optional on some basic versions, a fitted out Pantera with its full complement of gauges gave riders instant info about trail speed, engine speed and mileage. One unique feature was the use of dual fuel tanks. The primary and larger tank was just ahead of the rider while a smaller three-plus gallon tank resided in the rear storage area. Total fuel supply was a trip-friendly 10 gallons. Hmm, you suppose that's where today's Arctic Cat Pantera designers got that idea? The 2015 Pantera offers dual fuel tanks as well.
While many other sled brands still went with stamped metal tunnels, Arctic Cat cut sled weight and featured an all-aluminum riveted front bulkhead. The Pantera was fitted with a new style of skis that were more rounded to prevent snow buildup in wet, heavy snow conditions.
Arctic Cat established the Pantera as a lineup leader and even created Pantera-based versions for cross country racing, where it did very well.
When the Pantera first hit the snow and fell into the hands of veteran snowmobile test riders, they were complimentary. One rider noted: "The Pantera rides beautifully, is extremely stable and has steering that is light and precise." Another stated how the Pantera "…rides like a dream. All you have to do is sit back and enjoy it."
Our own personal experience with the original 1976 sled verifies those comments and we can state that the 1976 original Pantera is both memorable and an all-time favorite.
The Arctic Cat "Catillac" realy was a sled ahead of its time. You enjoyed El Tigre like performance with steady and reliable power as well as superior on trail handling and ride — for circa 1976!
The 2015 Pantera is decades advanced, but in its day, the original was quite the ride, helping give loyal Arctic Cat riders a cutting edge sled with a powerful Suzuki twin and exceptional handling and ride. The original 1976 Arctic Cat Pantera truly earned its reputation as snowmobiling's first "Catillac."