Vintage Review – Arctic Cat El Tigre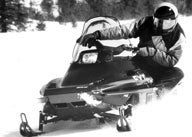 The born-again performance Cat clawed its way into Arctic Cat legend
The only thing really new about the 1984 Arctic Cat El Tigre was the make up of the company that produced it. If not for the tenacity of a very few, seriously undercapitalized Arctic Cat managers, the El Tigre could have been a minor footnote in snowmobile history. After all, its design was already nearly three years old when the dealers Arctic Cat cajoled into carrying on the brand spied it.
As any Arctic Cat enthusiast knows, the original maker of Arctic Cats, Arctic Enterprises, suffered bankruptcy and reorganization under the hands of a Minnesota businessman known more for liquidating companies than salvaging them. By the early 1980s, in addition to its position as a leader in snowmobile manufacture, Arctic Enterprises had acquired a number of small boat companies, making the acquisition viable for select buyers. In fact, Irwin Jacobs, the Minnesota businessman who would buy up remnants of the Minnesota-based snowmobile pioneer, parlayed Arctic's boat businesses into Genmar, one of the world's largest builders of recreational boats. Today Genmar counts among its holdings 13 famous brands with lines ranging from family runabouts to luxury yachts, and virtually everything in between. The interest for the Minnesota financier was boats, not snowmobiles, and the remains of Arctic Cat went up for auction.
Held in Thief River Falls, Minn., the auction brought players from Polaris' factory in nearby Roseau and some former Arctic Cat managers who knew better than most bidders exactly what they wanted — or, actually needed if they were to revive the Cat brand. With the help of Arctic Cat founder, Edgar Hetteen and former Arctic Cat engineering executive Bill Ness, the former and future Arctic Cat employees carefully eyed tools, dyes and other equipment they would need to bring a couple of key models to reality.
One of the planned models seen as essential to Arctic Cat's resurrection as a brand was the El Tigre, the high performance Arctic Cat that could deliver a modicum of interest with hardcore Arctic Cat owners. The new Arctic Cat crew knew there was interest in Arctic Cat snowmobiles if they could just bring a few to market.
Arctic Cat succeeded in part because of clever marketing that created a loyalty that can only be matched by Harley-Davidson. In fact, one snowmobile magazine of the period conducted a readership poll in which it discovered that many Arctic Cat owners would stop snowmobiling entirely rather than buy another brand. With that kind of brand loyalty, Arctic Cat had a shot at being the only snowmobile brand to ever successfully return to production. Other defunct brands, like Rupp and Scorpion, tried but failed.
Indeed, Arctic Cat loyalty was such that former dealers were willing to ante up letters of credit against future inventory to return to selling Arctic Cat snowmobiles. With a brief window in which to manufacture new snowmobiles, the new Cat executives resurrected a pair of leafsprung models that had been ready to launch as Arctic Enterprises folded. Among them was the El Tigre. The other was the Panther.
The El Tigre, even by 1984 standards, seemed a bit outdated. The reason the latest Arctic Cat speed sled seemed outdated was simple. It was. It was based on a 1982 model that never made production due to Cat's bankruptcy.
The Arctic Cat team, working under the Arctco entity, realized it was a gamble to produce what was essentially a 1982 model. They had little choice and less capital to reinvent the snowmobile.
With Polaris just beginning a decade-plus run of success with its trailing arm front suspensions, the leafsprung 500cc liquid-cooled El Tigre and 440cc fan-cooled Panther couldn't match that innovation. But Arctco banked on producing two key models that it hoped would entice Cat loyalists with the promise of future Arctic Cat branded models.
Arctco only manufactured about 3,000 Arctic Cat snowmobiles that first season. Although they had bought time to reintroduce the Cat brand, Cat executives knew they needed to do more to convince snowmobilers to buy future Arctic Cat models.
Both the Panther and El Tigre generated enthusiasm among Arctic Cat fans and some necessary cash flow. It would be the revised El Tigre with an all-new front suspension design that set Arctic Cat apart and reinvigorate the brand with snowmobilers.
With its all-new Arctic A-Frame front suspension, the next generation El Tigre was new and different. For mainstream snowmobilers being different only counted if it was better. In March 1984 at the World Series snocross, current Arctic Cat product manager Joey Hallstrom rode a prototype AFS-equipped El Tigre to victory. He beat riders on two of the most highly touted sleds of the day — Yamaha's V-Max and Polaris' Indy 600. This was what Arctco needed. The new El Tigre earned bragging rights that could be marketed.
That first AFS suspension came with seven inches of travel that was engineered by a small, yet close-knit team of former Team Arctic race engineers, who were free to try more innovative ideas and free to put those ideas into a new breed of Cats.
By 1985 Arctco introduced the AFS Cougar, a low buck version of what was essentially a fan-cooled version of the El Tigre. By 1986 Arctco was making money. The company stepped up production with new 1987 models including the addition of an El Tigre 5000 with a 436cc liquid-cooled Spirit by Suzuki engine.
The original El Tigres from the mid-1970s used Kawasaki twins with dual-plug heads. It was the power and handling of those low-slung Kawasaki-engined El Tigres that started the legend. That legend helped make the born-again El Tigres good enough to help Arctco rebuild the brand.
The early Arctco El Tigres — both early leafsprung and early AFS versions — showcase a period of Arctic Cat history where models went almost overnight from the 'old' Arctic Cat company as leaf sprung performance sleds to the newest AFS models. Collectors will notice that early AFS El Tigres retained the wedge-style of the leaf sprung models, but as Arctco gained momentum, the entire Cat line evolved into the 1990s with a rounded, soft edged look.
By 1987, Arctco's El Tigre sported a 530cc twin with oil injection and dual 34mm Mikuni carbs, and a dual exhaust. Powerful and quick the El Tigre starred in Arctic Cat advertising where it was stated: "El Tigre. It takes no prisoners." The El Tigre may not have taken prisoners, but it certainly helped save a prestigious and historic snowmobile brand name.