Inside Arctic Cat's 2017 M8000 Offerings: Part 1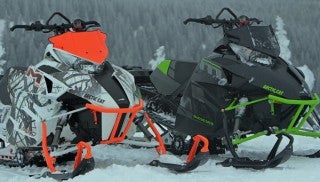 2017 M8000 Limited vs. M8000 Sno Pro vs. M8000 SE/ES
There's much to say about Arctic Cat's 2017 M8000 series – the M8000 Limited, M8000 Sno Pro and M8000 SE/ES. In fact, we've got so much to share that we'll do so in two articles. First, we'll provide a review of their similar but different riding missions. Indeed, though these three Cats are all based on the M8000 ProClimb chassis, they have different quirks that are designed for specific types of riders and riding. We will help you decipher what the M8000 triplets are about. We'll get to their individual on-snow attributes in our second part where we'll review our riding experiences.
Keeping in tune with Arctic Cat's M8000 models is a bit perplexing. Consider that what was last year's 2016 M8000 Limited, is now the 2017 M8000 Limited, but with a few minor calibration changes in shocks and clutching. Likewise, the 2017 M8000 Sno Pro and M8000 SE/ES, are basically the same as the previous year's 2016s, and like the Limited, have minor changes to dial in the wow.
We've already reported on Arctic Cat's Mountain Cat, part of the M8000 treasure trove, but set apart from to be unique.
If you count on one hand, you'll note four M8000s, the Mountain Cat, Limited, Sno Pro and SE/ES. The high end Limited from 2016 (which we rode all season-long) is second to the Mountain Cat; the 2016 Limited was highly-praised by our team of guest-test riders in our model year 2016 mountain snowmobile shootout.
Honestly, though, we have some trouble following the "why" of the two 'tweeners – Limited and Sno Pro – stuck between the Mountain Cat and SE/ES. Nor do we see the need for a Limited and Sno Pro. There has to be some reasoning, but we do not sit on Cat's dealer focus groups and from a journalist's view, we have no answers to give you readers. However, Cat does and we'll leave it at that.
Here's Cat's "official" reasoning. Given these three variants are in the M8000 family, each are powered by the Arctic Cat-designed and Suzuki-built 160 horsepower-class two stroke twin cylinder motor with batteryless electronic fuel injection. Actual displacement is 794cc with a bore and stroke of 85mm x 70mm respectively.
Additionally, the three triplets have:
Vertical Steering Post that keeps arms, wrists, torso and shoulders square to the snowmobile for peak leverage when sidehilling.
Arctic Mountain Suspension (AMS) with single-post 27-degree angled-back forged aluminum spindles, a two-degree caster angle which allows the inside ski to sit at an optimal position when sidehilling. The AMS comes with no swaybar. We haven't found the need for one on a M8000.
ProClimb-7 tapered ski, which is engineered to keep its tip up when moving through deep snow, and when setting up wrong foot forward downhill descents followed by a whip to an uphill ascent. The reason it is called a tapered ski is at the tip to behind the hoop, the ski is seven inches wide before narrowing to 6.5 inches wide. Also, the ski has a deep keel to improve turning in deep powder. Ski stance is a narrow 34.5 to 38.5 inches.
PowerClaw track that is 15 inches wide. This track is durable and efficient, regardless of lug height, and moving and M8000 forward and up. Its lugs are strong and seem not to fold in stiff snow conditions.
The Float-Action rear mountain suspension with tri-hub rear axle works well with the front suspension and track at keeping the M8000 – any of the three – flat on ascents and across a sidehill. It also controls power-on weight transfer with ease via a long rear-arm pull-rod and revised rail profile, which delivers consistent track tension when the skid moves through its stroke.
Arctic Drive System (ADS) with Team Rapid Response drive clutch and large diameter Team Rapid Response Boss driven clutch and a lightweight magnesium chaincase. These clutches run cool and are Team dependable.
A Borg Warner chain and sprocket assembly that resists stretching.
Lightweight mountain seat.
HCR-type lightweight cooling system.
Ice scratchers.
Electric reverse.
Hand and thumb warmer.
Center pull handlebar mountain strap.
Painted tunnel.
Runningboards with large snow dump holes.
Race-height windshield that is 5.5-inches high.
How do they differ? We'll start at the top with the Limited and work our way across to the Sno Pro and then to the SE/ES.
M8000 Limited
The 2017 M8000 Limited is both a Spring-buy and in-season M8000, where for model year 2016, it was Spring-buy only. The 2017 Limited comes in black with smartly placed green and gray accents; this color and graphics combination is our favorite. It also comes in a flat white with gray-camouflaged Aspen trees and orange accents. This is a love it or leave it scheme. This author is not fond of it, but wow, my Dodge Power Wagon hunting buddies are bonkers about it.
The Limited comes in two track lengths, 153 and 162. It can be purchased with factory-installed electric start, which would make the Limited a Limited ES. The standard track for the Limited is the 2.6-inch PowerClaw, which is different than the 2016, where the Limited came standard with the three-inch PowerClaw. Limited owners can swap out the 2.6-inch for the three-inch, provided the 2.6 never spun snow up on the mountain. The track trade-out program comes with some costs, which you and your dealer need to discuss. Cat's website states the Limited is three-inch PowerClaw equipped, but at Cat's model year 2017 introductions in January and February, Arctic Cat was clear the Limited came standard with the 2.6-inch PowerClaw with the option to swap out this track for a three incher.
The Arctic Mountain front suspension comes equipped with Fox Float 3 EVOL shocks; travel is seven inches. The Float-Action rear suspension comes with Fox Float 3 EVOL front track shock and an extra air-volume Fox Float 3 EVOL R as the rear rail shock. Rear travel is a lengthy 16.5 inches.
The M8000 Limited comes fully loaded with Cat's ProClimb front bumper, goggle holder and tunnel bag which is capable of carrying an avalanche rescue shovel.
M8000 Sno Pro
Think Limited minus the ProClimb front bumper, goggle holder and rear tunnel bag, and you have the Sno Pro. Basically, the Sno Pro did not spend as much time in the clothing store as the Limited.
By way of fun factor, there is one model in the Sno Pro line that is sassy, and very much like an XF High Country 8000 Sno Pro, the M8000 Sno Pro 141. We'll discuss this more in Part II riding evaluations.
Years ago, the Sno Pro was Arctic Cat's top name for its mountain muscle snowmobile. Given that, the Sno Pro remains loaded for mountain hunting. The Sno Pro has three track lengths, 141, 153 and 162. All three lengths can be ES equipped. Colors are white and green or white and orange. These are fast looking powder players.
The Arctic Mountain front suspension comes with Fox Float 3 air shocks, whereas the rear Float Action suspension comes with an IFP (internal floating piston) shock on the front rail and a Fox Float 3 air shock on the rear rail.
Track is the 2.6-inch PowerClaw. Again, track swap-out can occur, if the track is unused; dealer costs apply.
The standard Sno Pro bumper is mated to the nose and the Sno Pro comes with minimal storage, rear seat only.
M8000 SE/ES
In the automotive and off-road world, "SE" refers to two monikers: Special Edition or Standard Edition. SE in the M8000 world is Standard Edition. For the M8000 SE line, every SE comes equipped with electric start, hence, SE/ES. Want an SE without electric start? Then you'll have to undo all that was done at the factory. Have fun.
The SE/ES, you may want to say, is the beginner's M8000. But it is brawny nonetheless. Track length for the SE/ES is 153 and 162; only the Sno Pro has a third track length – 141.
Shocks at all points are Arctic Cat's own coil-over IFP shock, which, historically, has been a shock that gives a fairly plush ride.
Like the Sno Pro, it comes with the standard M8000 bumper and rear seat storage. One color scheme applies, black with green with white and gray accents. Besides the SE/ES not using Fox shocks, the SE/ES has one component that is unique to this model: vertical steering post with adjustable-height telescopic mountain handlebar (at Cat's 2017 introductions, the marketing department folk clearly reported the SE/ES had a fixed post, but on the SE/ES webpage, it declares the telescopic post is standard), and standard non-premium, digital/analog speedo and tachometer. Track lug height for the SE/ES is 2.25 and it too, like all the other M8000s, is a PowerClaw.
Tech Wrap
There you have it. The three Arctic Cat M8000s have purpose, but as we wrote at the beginning, we are a bit confused with the in-between sleds, which can be either the Limited or Sno Pro. Regardless, these M8000s are strong players with the limiting factor being track lug height.
For our real on-snow opinions as to how these units handle mountain powder, check out Part II to pull down our mountain attitude on this triplet set.
| | | | |
| --- | --- | --- | --- |
| | 2017 Arctic Cat M 8000 Limited ES (162) | 2017 Arctic Cat M 8000 Sno Pro (162) | 2017 Arctic Cat M 8000 SE/ES (162) |
| Engine | Suzuki 794cc, two-stroke, liquid-cooled, twin; electronic fuel injection; power valve exhaust with tuned pipe and sensor | Suzuki 794cc, two-stroke, liquid-cooled, twin; electronic fuel injection; power valve exhaust with tuned pipe and sensor | Suzuki 794cc, two-stroke, liquid-cooled, twin; electronic fuel injection; power valve exhaust with tuned pipe and sensor |
| Horsepower | 160 (claimed) | 160 (claimed) | 160 (claimed) |
| Drive | TEAM Rapid Response rpm-sensing drive with TEAM Rapid Reaction BOSS driven; push button electronic reverse | TEAM Rapid Response rpm-sensing drive with TEAM Rapid Reaction BOSS driven; push button electronic reverse | TEAM Rapid Response rpm-sensing drive with TEAM Rapid Reaction BOSS driven; push button electronic reverse |
| Front Suspension | Arctic Mountain Suspension (AMS) twin A-arm suspension; Fox Float 3 Evol shocks; 7.0 inches of travel; ProClimb 7-inch tapered mountain ski | Arctic Mountain Suspension (AMS) twin A-arm suspension; Fox Float 3 shocks; 7.0 inches of travel; ProClimb 7-inch tapered mountain ski | Arctic Mountain Suspension (AMS) twin A-arm suspension; Arctic Cat IFP 1.5 front shocks; 7.0 inches of travel; ProClimb 7-inch tapered mountain ski |
| Rear Suspension | Arctic Float-Action parallel rail slide; Fox Float 3 Evol shocks; up to 16.5 inches of travel | Arctic Float-Action parallel rail slide; Arctic Cat IFP 1.5 front with Fox Float 3 rear; up to 16.5 inches of travel | Arctic Float-Action parallel rail slide; Arctic Cat IFP 1.5 front shocks; up to 16.5 inches of travel |
| Length | 137.3 in | 137.3 in | 137.3 in |
| Width | 41.5 to 45.5 in | 41.5 to 45.5 in | 41.5 to 45.5 in |
| Ski Stance | Adjustable 34.5 to 38.5 | Adjustable 34.5 to 38.5 | Adjustable 34.5 to 38.5 |
| Track | 15 x 162 x 3.0 PowerClaw | 15 x 162 x 2.6 PowerClaw | 15 x 162 x 2.25 PowerClaw |
| Weight | NA | NA | NA |
| Brake | Race radial master cylinder hydraulic | Race radial master cylinder hydraulic | Race radial master cylinder hydraulic |
| Features | Standard: deluxe digital gauge with tach & speedometer; push button reverse; dual halogen headlight; 4.5-inch riser; front bumper Optional: key start (standard on ES); visor plug in; ice scratchers; storage bags; rack; tank pads; optional windshield sizes | Standard: deluxe digital gauge with tach & speedometer; push button reverse; dual halogen headlight; 4.5-inch riser; front bumper Optional: key start (standard on ES); visor plug in; ice scratchers; storage bags; rack; tank pads; optional windshield sizes | Standard: deluxe digital gauge with tach & speedometer; push button reverse; dual halogen headlight; 4.5-inch riser; front bumper Optional: key start (standard on ES); visor plug in; ice scratchers; storage bags; rack; tank pads; optional windshield sizes |
| Fuel Capacity | 11.7 US Gal (91 octane) | 11.7 US Gal (91 octane) | 11.7 US Gal (91 octane) |
| MSRP | US$14,799 | US$13,399 | US$13,199 |