1972 Coleman-Skiroule RT review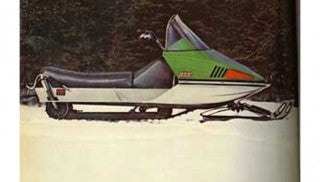 Canadian Tony MacKeen set new standards for snowmobile style
Even today, when you see a Skiroule RT, you know that its styling was ahead of its time. In the 1970s, the Skiroule RT stood out amongst its peers in the same manner as a 1930 French-designed Majestic 350 motorcycle stood apart from a Harley-Davidson V-twin. Both were swooping, sexy styled machines. Designer Tony MacKeen incorporated art into the Skiroule's mechanical function.
Travel for the slide rail rear suspension was controlled by two rear-mounted shock absorbers. But they were design functions as well as mechanical. They angled back outside of the tunnel to integrate with the chromed rear bumper and passenger handgrip. A distinct V-wedge brought your eye to the sled's side where the hood and bellypan met in contrasting Skiroule green and gray aluminum. The hood sloped forward forecasting the wedge look of Triumph's yet to be announced TR-7 sports car. Even the ski tips affected a design pose as they sported a unique hoop area for grabbing the sled if it got stuck in deep snow.
Free spirit designer
This design package for the Skiroule RT came from the drawing board of Canadian Tony MacKeen. In the early 1970s, he was approached by Coleman-Skiroule to create a unique snowmobile. Coleman, like many conglomerates of this period, had bought into snowmobiling, having taken over Quebec-based Skiroule. A bit of a free-spirit industrial designer, MacKeen had tried to work for Ski-Doo for a while but found it too structured and signed on by the hour working with Skiroule. It fit his lifestyle that centered on a carriage house studio he kept in Ottawa.
As a uniquely independent thinker in an oft times by-the-book profession, MacKeen worked differently than his peers. Instead of starting with an existing chassis and working in wood or clay, he preferred urethane foam, which he could pack around components, set a design line in pencil and then cut away to see the actual space left for other parts of his design or other components.
MacKeen preferred to go straight to a three-dimensional rendering by using a few thematic sketches and the foam. He was able to fabricate a design of a cowl and seat in just a few days, actually saving both money and time for budget-conscious managers. While a freelancer and a free spirit in design terms, he was a realist when it came to understanding the process. His studies at the California Art Center College and the Industrial Design Center taught him to respect the need to work with realities of design, where prohibitive costs for retooling a component might mean rethinking a design's shape. He worked his designs to respect the real costs of tooling, which could be heavy for a manufacturer.
Designing the RT
When faced with designing the RT series for Coleman-Skiroule, MacKeen accepted the challenge of engineers and designers before him. How to design a good-looking sled in the face of standard engineering thought? But fortunately for MacKeen and his design, Coleman-Skiroule engineers revamped standard thinking and revised the drivetrain placement for the RT series. With the engine and clutch located in a fairly standard position in the bellypan area—since practice and evolution had shown that the drivetrain functioned best in that location—MacKeen had to work around the Skiroule's underhood components. So, how did the RT manage to look low and sleek?
MacKeen refocused the snowmobiler's eye to view the sled. Even though the Skiroule RTs did have laydown engines and lowered jackshafts like we find in modern snowmobiles, they looked especially low and mean because design elements were sculpted to create that impression. Note that the RT windshield is low on the cowling, in effect obscuring the typical 'hood bump' over the engine in other sled designs of the day. The Skiroule RT's seat was long and low melding into the sloping dash area. That vee-shaped indentation at the side and the exposure of the rear-mounted shock absorbers all played into fooling the viewer's eye in to seeing the Skiroule RT as a sporty, sleek snowmobile.
Decades ahead in style
Given the opportunity to create a unique look in snowmobiles, MacKeen jumped decades ahead. While the idea of the RT lives on, the Coleman-Skiroule line soldiered on for just a few years more before the company decided to forego snowmobiles and refocus on lanterns and tents.
As a snowmobiler interested in vintage sleds, consider the Skiroule RT with its styling that manufacturers have only now begun to overtake.
Although somewhat new to snowmobiling after its 1969 entry into the snow business, The Coleman Company of camping gear fame reported that by 1972 Skiroule sales accounted for $19.4 million of its nearly $134 million in sales. The company had 750 dealers and a desire to expand market share. That was a key decision in Coleman's development of the Skiroule RT series.
Skiroule's RT of 1972 bore a deliberate resemblance to the previous year's Skiroule racers. There was a top-of-the-line RTX to emulate race sled styling with Skiroule green cowl and silver bellypan. Offered as a limited performance edition, the X series held a five horsepower advantage over the tamer RT model's 35 hp.
The RT model was expected to appeal to the larger group of trail riders while Coleman-Skiroule marketers anticipated the RTX would excite and draw people to dealerships.
Working with MacKeen as designer, Coleman-Skiroule used the RT to showcase new thinking in engine placement as a tip of the hood revealed a fan-cooled Kohler-built twin set low and forward. Using tricks learned from racing, engine placement came off the tunnel and moved forward just back of the ski spindles. With lowered components, this Skiroule had the cornering advantage of a racer. Combined with its style, the Skiroule RT created a new 'buzz' amongst snowmobilers.
Both the RT and RTX used Skiroule's 'Super Slide Bar' rail suspension, which showcased outboard-mounted, coil-spring over tube shocks, a decided departure and upgrade in snowmobiling. With this rear mounting position, the shocks allowed the slide rail to move up and down over the bumps. Bombardier's Ski-Doo and Moto-Ski MX models would feature a similar design years later. Up front, the RTX model mounted hydraulic shocks to the leaf spring to control ski flutter.
Kohler power
Like many snowmobile manufacturers at this time, Skiroule relied on Kohler two-strokes. The fan-cooled 436cc twin delivered 35 horsepower. But by 1974, Skiroule's Series III Laser 440 kicked out 50 hp from a 437cc Kohler equipped with a Walbro carb.
Skiroule was surprised to discover that it was the RTX version that captured consumers' buying interest rather than the base RT, which it had expected. So by 1974, the popular RTX offered engine displacements of 291cc, 338cc and 447cc. 440 models came with a dual slide rail suspension and a less expensive bogie suspension system was used on less powerful models to keep the base price down to about US$1100.
Skiroule started in Quebec where French Canadian entrepreneur, Rejean Houle, patterned his snowmobile after the early success of the Ski-Doo Olympiques. Introduced in Quebec in 1966, his early Skiroules could have passed as green Ski-Doos. What made Ski-Doo unique was its Rotax engine, so like many other early snowmobile manufacturers, Houle could build a sled that looked like a Ski-Doo, but he couldn't power it like a Ski-Doo. Those first Skiroules featured a variety of engines until Coleman went exclusively with Kohler. The Wankel-engined RTW was a rare non-Kohler powered Coleman era Skiroule. Its Sachs Wankel rotary engine measured 294cc and offered 23 hp delivered at 6000 rpm. Those would be rare and valuable collector models.
As for Coleman-Skiroule, the company, like many conglomerates that had bought up snowmobile companies in the 1960s, decided to opt out of snowmobiling as it headed into tough economic times in the mid and late 1970s.
Today vintage snowmobile collectors appreciate the Coleman-Skiroule RT as a snowmobile that left a strong legacy of style.
Related Reading: 1971 Grand Prix by Boatel Vintage Review: 1974 SnoJet