1983 John Deere Liquifire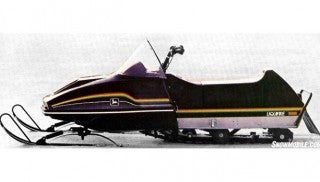 Light in weight, stingy with fuel, the Liquifire was an unusual high performance sled
By the time John Deere's Horicon Works in Wisconsin figured out how to really build a successful snowmobile it was too late. Those final early-1980s Deere performance sleds proved unique. The Liquifire 440 could competitively accelerate to the eighth-mile nearly as quickly as the top-of-line Ski-Doo Blizzard 9500 and Polaris Indy 600. It handled as well or better than comparable performance sleds of its time and it could squeeze up to 25 miles out of a gallon of gasoline. It wouldn't be enough.
John Deere, best known as a maker of agricultural equipment, entered the snowmobile business in the 1970s by virtually copying Ski-Doo's best selling Olympique. Ski-Doo was yellow; John Deere was black or green. Ski-Doo used its own proprietary Rotax engines and Deere bought 'customer' power from CCW and Kohler for its first years in the business. Like many other snowmobile manufacturers entering the market, John Deere outfitted its first models with Salsbury or Comet drives, Walbro carburetion and bogie wheel rear suspension.
By 1976 Deere borrowed less from others as it produced a new line of low slung sleds. The engine came off the tunnel and moved forward between the skis for a lower center of gravity and enhanced stability. The JD340/S was Deere's premium version designed for long distance terrain races. The company wanted to win the grueling, but prestigious Winnipeg-to-St. Paul cross-country race.
Wanting to win and actually winning are two quite different things. Polaris was king of cross-country racing and John Deere was the new kid. But through a corporate commitment to winning in cross-country, Deere snowmobiles evolved from Ski-Doo copycats to trail performance models with their own uniquely Deere signature.
Through their efforts in cross-country racing, Deere engineers proved adaptable, exploring other areas of overall snowmobile performance than simply sheer horsepower. They had to think outside the cylinder block because John Deere bought supplied engines. The company couldn't count on having the most horsepower. Even when Deere switched to its Kawasaki-supplied 'Fireburst' motors, Deere's engineers knew that the hottest engines would go to Kawasaki's own sled brand. This lack of having dedicated engines made Deere engineers work harder to develop performance criteria.
Where the other guys could order up more horsepower, Deere worked on getting the most performance from what power it had. That meant paying attention to weight to get the most pop per pound. Deere engineering paid attention to concepts like power-to-weight and getting power to the track. By 1977 Deere worked diligently with Comet to fine tune a Deere-specific clutch package of drive and driven that resulted in the Comet 102C.
Working with Comet, Deere was also first to bring a direct drive sled, the 1978 Spitfire 340, to market. The idea was to create a simplified, low cost and lightweight sled that was packed with value. The direct drive system eliminated the cross shaft and about 40 other pieces, thus cutting weight. This system would appear in what would be Deere's final all-new models, the 1983 Snowfire and Sprintfire.
But it was the last Liquifire models that showcased what Deere could do performance-wise. Using a 436cc Kawasaki 2-stroke twin that delivered less than 70 horsepower, the Liquifire faced a disadvantage when the other guys had engines of more than 150cc greater displacement and up to 30 more horsepower on tap. Still the Liquifire proved a player in the performance runs of the day. It was this Deere model that could run with the big Indys and Cats up to the eighth-mile. Of course, beyond that the Deere was so much chafe when it came to top speed and elapsed time to the quarter mile.
Handling-wise, the Liquifire starred. It was light and nimble. In a snowmobile magazine's annual shoot-out of the top 1982 performance sleds, the Liquifire bested all comers in the handling phase. The marginally updated 1983 Liquifire fell to second best at the next year's magazine shoot-out.
The Liquifire incorporated John Deere's philosophy of creating snowmobiles for the real world, not merely sleds that went fast. Deere's Liquifire engineering could be seen in the company's everyday models like the popular Trailfire. Although it featured Kawasaki fan-cooled engines instead of the Liquifire's twin-carbed liquid-cooled motor, the Trailfire sported the same handling balance derived from the forward engine, widened ski stance and low slung design. For real world comfort, those last Deere's featured a rear suspension engineered to handle a wide variety of terrain. Everyday snowmobiling comes down to more than sheer horsepower, quick acceleration and top speed. It comes down to on-trail rideability. Deere engineers used computer design to develop a rear suspension with swing arms that kept the sled flat over the bumpiest trails. What passed for 'groomed' trails in the 1980s were quite different than what we ride in the 21st century. Deere developed a suspension that became a signature selling point. Being light, nimble, fuel efficient and stylish worked for the Liquifire and other Deere sleds of the 1980s.
Unfortunately, even with new sleds readied to introduce, Deere corporate looked at the future and realized that profit and growth were not going to come from its revitalized snowmobile group. In 1971 snowmobile sales hit 495,000 units. By 1977 the market had fallen to annual sales of 195,000 units with an excess inventory of carry-over models sitting in dealer warehouses. Snowmobiling's potential was limited. The company saw greater potential in its lawn and garden, agricultural and other world markets.
John Deere snowmobiles born in the early 1970s, when market analysts thought annual sales of more than 500,000 units were achievable, died in the mid-1980s when sales slumped nearly 70 percent.
Although the John Deere Liquifire ceased production in the mid-1980s, you can still find them on the trails today. They have become a true classic and worthwhile collectible that can be ridden and enjoyed at vintage events throughout the snowbelt.
Related Reading: 1972 Ski-Doo T'NT 440 Everest 1972 Coleman-Skiroule RT