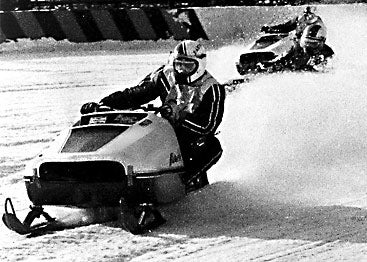 The legendary underdog that just kept winning.
There are legendary snowmobiles and then there is the Polaris TX-L, a legend in a class of its own making. Introduced in the mid-1970s, the TX-L came about because Polaris needed a cross-country racing machine to supersede its standard TX model and because the public was clamoring for liquid-cooled sleds. The TX-L delivered on both counts.
Winning reputation
By the mid-1970s, Polaris' racing group had earned a reputation for winning races whether they were speed events on ice ovals, required stamina and speed for 500-mile endurance tests or the durability and grit necessary to be first in real-world cross country races. Legendary names such as Bob Eastman, Jim Bernat, Burt Bassett, Leroy Lindblad and Eddie Monsrud among others won all kinds of events at legendary places like Eagle River, Wis., Winnipeg, Man. and The Soo in Michigan. But, while the team was winning, it was also helping to develop some of the best consumer trail sleds ever seen. The TX series of sports sleds came directly from the racetrack. It was light and nimble. It had to be, because in the early days of racing very few factories fielded sleds powered by engines they manufactured. Teams relied on powerplants from engine suppliers such as Kohler, Sachs, Hirth and JLO. Only Ski-Doo could count on engines from its own supplier/partner. Ski-Doo counted its Rotax engines as an in-house advantage.
Polaris counted on the TX series to serve as the main building block for success in racing. While consumers could buy trail sleds with the TX name, the racing team started with that model and went much further. The TX Starfires became the racing versions and were no nonsense machines built for racing with specialized suspension components and highly modified engines. Polaris used these models to compete in both ovals and cross-country events until it became obvious that one sled couldn't provide winning wining performance in two such different categories of races.
Oval racing required quick and nimble machines with short tracks and basic suspensions. Since the iced surface of the ovals mitigated the terrain, suspension travel of a couple inches worked best. Cross-country racing required a totally different approach.
Because its TX riders were among the best in snowmobile racing, Polaris won many long distance events. It was the company's desire to keep winning and their input that led to creation of the TX-L.
With lessons learned from various racing disciplines, Polaris knew that the TX-L needed to be different. Right away liquid-cooling became a given. Fan-cooled and free-air engines were lighter, but could never provide the consistent power of a liquid-cooled engine. Oval racers as well as some long distance riders experimented with liquid cooling. Where air-cooled engines would lose power as they heated up in longer lap events, the liquid-cooled motors basically delivered the same power from start to finish. Liquid cooling permitted engine designers the ability to use closer production tolerances, as they didn't have to allow for the heat expansion of an air-cooled design.
The production liquid-cooled twin evolved from the '76 Polaris TX 340 "liquid-cooled kit" available to TX racers. The kit consisted of water-jacket cylinders, heads, pistons, water pump and heat exchangers. By 1977, Polaris' experience with its 'kitted' 340s led to the production 340cc TX-L engine. Rather than use radiators for cooling the twin, the TX-L featured unique heat exchangers mounted under the running board.
Working with engine supplier Fuji Heavy Industries, Polaris received a classic design, the 333cc TX-L twin. This was the heart of Polaris TX-L success. Ironically, with the historic success of the TX-L, you would assume it had the most power. Rarely was that the case. But, the 333cc engine with its approximate 55 horsepower output was one of the most reliable engines of the time.
In fact, by the running of the 1977 Winnipeg-to-St. Paul (Minn.) classic, the TX-L might well have been considered the underdog. On paper, at least, the Bull Whip, manufactured by Crosby, Minn.-based Scorpion, had quite a bit more power and seemed like a lock to out run the TX-L. Even those who covered cross-country racing at the time felt that the Scorpion's fresh design and more potent engine couldn't be beaten.
Shoestring racing
Of course, this writer wasn't that smart. We secured a Polaris TX-L for the 1977 'Winnipeg' and ran it on a shoestring budget. Top speed for our privateer TX-L was in the upper 70s. During the race it became obvious that factory-supported racers came with factory advantages—speed being one of them. Running wide open on country roads, our privateer effort was frequently bested by factory racers. Some were a good 10 to 15 miles per hour faster. However, while factory Polaris and Arctic Cat riders made us eat snow dust, it was an infrequent Scorpion Bull Whip that showed us its snow flap. The highly touted engines couldn't take the stress and rarely lasted to see the finish line in that event.
As Scorpion's Bull Whip proved, cross-country running was more than horsepower. It required getting what power was available to the snow. It required handling. It required toughness and durability. Mile after mile of pounding takes its toll on any sled, even a Polaris TX-L. In cross-country terrain racing, riders pound along in the trough of the ditches that run alongside the highways. They hit hard-packed driveway crossings at full tilt, flying through the air and then landing in the hard-edged snows that snow plows have tossed into those ditches. The sleds have to run full speed across lakebeds where they twist over wind-driven drifts, some soft others ice-hard. The world of terrain racing is unforgiving on sleds. Only the best sleds and riders survive to reach the finish. In an event like the historic Winnipeg-to-St. Paul 500-miler, toughness was crucial.
The TX-L was tough. The 'L' designation may have been to recognize its liquid-cooled Fuji twin, but it could have stood for 'long.' The TX-L chassis was a stretched version of the TX design. Polaris racers found the base TX nearly perfectly balanced for short oval races, but too short for terrain events. Adding length to the tunnel and rear suspension made the TX-L much more stable in the ditches and across the lakes. It made a big difference when hitting driveway crossings as the long machine 'flew' better and tended to land the tail better as well.
If you doubt this makes a difference, try riding Arctic Cat's standard Firecat in roadside ditches and then swap it out for a similarly powered Crossfire, virtually a Firecat with a longer wheelbase. You'll get our drift—very quickly!
In addition, the TX-L dropped Polaris' standard cross-cleated banded track in favor of a full rubber track. Ski-Doo used this design exclusively for its trail sled and racers, but it was new to Polaris. Prior to the TX-L, Polaris sleds featured steel cleats that held the tracks three rubberized bands in place. These steel-cleated tracks could be a handful in icy conditions, as they would 'skate' in icy turns. But they did grip and churn in deep snow. The TX-L was one of the first Polaris trail sleds to convert to a rubber track.
Because Polaris used supplied engines, its racers and mechanics became adept at designing clutches that got more power to the snow than most others. This was another area where Polaris and the TX-L bettered the Scorpion Bull Whip. Though more powerful on a dyno run, the Scorpion couldn't get the same percentage of its power to the snow as the TX-L.
Polaris mastery
For years, the Polaris and its iterations gave Polaris mastery in cross-country events. Polaris riders won more Winnipeg-to-St. Paul events than all other snowmobile manufacturers—combined!
While the TX-L was a racing marvel, it proved to be an exceptional and exceptionally popular trail sled. The same ruggedness and durability that made it a favorite among racers made it a performance rider's first choice.
At about US$2,500 at the time, the TX-L provided ample value. There was its stone-dead reliable liquid-cooled engine with Mikuni carburetion. The suspension was proven reliable. Add in hydraulic brakes and a simple, yet efficient cockpit with quick reaction handlebars. While the first boxy shaped TX-Ls in white with midnight blue accents may be our favorites, the design evolved over the years as it went from leaf springs to being Polaris' first production model with independent front trailing arms. There's a lot of Polaris heritage wrapped up in the TX-L series, a truly winning design and a very collectible piece of classic snowmobiling history.