Vintage Review: 1976 Massey-Ferguson Chinook 300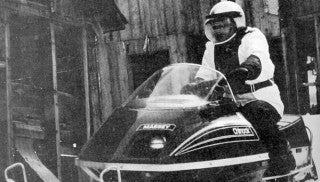 Chinook 300 offered first time buyers great value
There's always been a concern that snowmobiling might price itself out of the range of new or entry-level buyers. While today's snowmobile manufacturers look less at low-buck, stripped down entry-level  sleds and more at value models like the Indy, Lynx or MXZ Sport series, that was  not the case in the 1970s.
In the mid-1970s, Ski-Doo ruled the snowmobile market and its popular Elan owned the lightweight, low-cost segment. The Elan's biggest competition came from Polaris' Colt, but other brands had taken note of the Ski-Doo success and developed entry-level sleds of their own.
Headed into the 1976 snowmobile season, Scorpion followed up its total re-do of its sled line by adding the Lil' Whip, which stylistically emulated its popular bigger brother, the Scorpion Whip. While certainly no Whip in performance, it did share a family look that Scorpion hoped would appeal to first-time buyers and snowmobilers looking to add a second sled to their stable. To keep things simple, the Lil' Whip came with one engine choice, a 294cc fan-cooled twin, and durable bogie rear suspension.
At this time in snowmobile history, Scorpion entered into a deal with  a much larger corporate partner to build its line of snowmobiles. That partner was Massey-Ferguson, Canada's huge agricultural giant and manufacturer of essentially unsuccessful Ski-Whiz snowmobiles. Massey wanted Scorpion to build a series of private label Whips under the Massey-Ferguson nameplate that would be sold exclusively through Massey dealers.
Vintage Review: 1976 Arctic Cat Pantera
Replicating Scorpion Whips as Massey-Ferguson sleds wasn't difficult as the sleds were manufactured at Scorpion's Crosby, Minn. factory that produced the Whips and were virtually identical except for the Massey-Ferguson branding and new Massey-inspired names. So, while the Massey-Ferguson Chinook 300 was sold as as a Scorpion competitor, it was nearly identical to the Scorpion Lil' Whip except for color, graphics and minor details.
One of the minor details could be felt as soon as you sat on the sled and reached for the throttle. Where Scorpion favored its own buckhorn-style handlebar, Massey engineers specified a traditional straight handlebar, which we always felt provides better overall control when cornering. After the Massey/Scorpion partnership ended, the straight handlebar found its way on to future Scorpion Whips.
This partnership proved short as you find no mention of Massey-Ferguson snowmobiles in any snowmobile magazine buyer's guides by 1978. In its two-year run, the Massey Chinook received the same upgrades in 1977 as the Lil' Whip, which meant that the rear suspension went from bouncy bogie wheels to Scorpion's exclusive Pararail design.
John Deere Trailfire Vintage Review
The Massey-Ferguson Chinook 300, although short-lived, proved quite adept on the trail, especially once it gained the Pararail system. It had a strong family resemblance to the bigger Whip, or as Massey called it, the Massey Whirlwind. As the name implies, there was only one engine choice, a Cuyuna 294cc fan-cooled twin, which was produced by Scorpion in Crosby.
Cuyuna engines were manufactured in Crosby after Scorpion bought the Rockwell-JLO engine group and moved production to the local Cuyna iron range, which provided the engine's new name. Although the Cuyuna name was new, the powerplant was time-tested as JLO engines had powered many sleds during the sport's first decade. The Chinook 300's fan-cooled engine delivered 24 horsepower at 6750 rpm, which was very respectable for its time. Performance was actually very good as the Cuyuna twin powered a sled weighing less than 300 pounds.
Typical of the day, the Chinook featured components from various subcontractors. The engine's single diaphragm carb and silenced intake was supplied by Walbro, which competed with Tillotson and Mikuni. The exhaust featured a two-into-one header that dumped into a Donaldon canister.
The Cuyuna engine's power transferred to the Chinook's Gates polyurethane  track via a Scorpion Power Thrust drive system. The Scorpion brand featured reinforced Gates tracks, but even though they measured a full-sized 15 inches in width, the Chinook and Lil' Whip tracks were the shortest at 103 inches. Massey engineers compared the poly track to radial automotive tires for durability and strength. On more powerful sleds like the Whip or Whirlwind, the poly tracks could be a bit slippery in the corners, but they proved to be very good for summer drag racing.
Snowmobile magazine reports of the time called the Massey Chinook a capable handling sled that turned tight circles. The short wheelbase Chinook used full-size skis and matched them to French-made tapered leafsprings for improved ride and overall snow-ability. From personal experience, we recall the sleds as fun to ride, but due to their short stature a bit choppy over rough trails. Some of that went away with the addition of the Pararail.
Fortunately the Chinook was modestly powered, because the brakes were very modest in capability. The self-energizing drum brake mounted to the diecast aluminum chaincase offered very little in brake feel. Hard pulls on the brake lever slowed the sled. An initial light pull on the plastic brake lever started the  drum brake to grip the outer lip of the driven clutch's outside sheave. This design was engineered for simplicity and kept simple so it could be easily maintained by first-time snowmobilers.
Recorded performance lists a 1976 Massey Chinook 300 being capable of accelerating through the eighth mile in just over 14 seconds and covering the quarter mile at 23.6 seconds with a top speed of 48 miles per hour. Massey engineers calculated that the sled could reach upwards of 65 mph in absolutely ideal conditions.
The Chinook proved nimble, partially due to its power-to-weight of 24 hp moving 300 pounds. Getting that low weight required extensive use of aluminum for the tunnel and ABS molded plastic for the bellypan and hood. This also helped the Chinook achieve 20.7 miles per gallon during a magazine-conducted fuel economy run.
Since the Massey Chinook 300 was only manufactured for two model years – 1976 through 1977 – they may be difficult for vintage sled enthusiasts to find, but if you can get your hands on one, appreciate its history as an entry-level value snowmobile.
| | | |
| --- | --- | --- |
| | 1976 Massey-Ferguson Chinook 300 | 1976 Scorpion Lil' Whip |
| Engine | Forward-mounted Cuyana 294cc, air-cooled, 2-stroke twin; bore/stroke — 55.6mmx60mm; 12.0:1 compression ratio; single Walbro diaphragm carburetor; Donaldson two-into-one exhaust; Walbro cold air intake | Forward-mounted Cuyana 294cc, fan-cooled, 2-stroke twin; bore/stroke — 55.6mmx60mm; 12.0:1 compression ratio; single Walbro diaphragm carburetor; Donaldson two-into-one exhaust; Walbro cold air intake |
| Horsepower | 24 @ 6750 rpm | 24 |
| Drive | Scorpion Power Thrust drive and driven | Scorpion Power Thrust drive and driven |
| Front Suspension | Tapered leaf ski spring (Hydraulic assist shock optional) | Tapered leaf ski spring (Hydraulic assist shock optional) |
| Rear Suspension | Bogie and spring suspension — Note: ParaRail suspension offered for 1977 | Bogie and spring suspension — Note: ParaRail suspension offered for 1977 |
| Length | 92.5 in | 94.0 in |
| Width | 34.5 in | 35.25 in |
| Height | 36.0 in | 36.0 in |
| Ski Stance | 26.0 in Metal Skis | 26.0 in Metal Skis |
| Track | 15.12-in wide x 103.3-in long; Gates polyurethane with no cleats | 15×103 Gates Polyurethane |
| Weight | 297 (claimed) | 297 (claimed) |
| Brake | Mechanical drum disc mounted on chaincase | Self-energizing drum brake mounted on chaincase |
| Features | Standard: aluminum chassis; front-mounted engine; ABS plastic cowl; recoil start: underhood storage; straight handlebar | Standard: aluminum chassis; front-mounted engine; ABS plastic cowl; recoil start; underhood storage; Scorpion "buckhorn" handlebar Optional: tach & speedometer |
| Fuel Capacity | 5.0 US Gal (87 octane) | 5.0 US Gal (87 octane) |
| MSRP | $1,075 | $1,075 |