2008 Polaris 800 Dragon RMK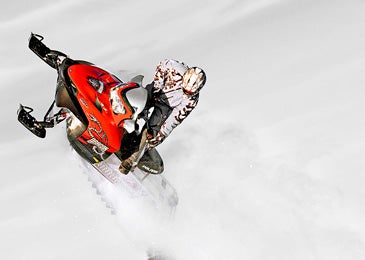 Power and Agility with this 'Mountain Eater'
"This thing just eats mountains. That's all there is to it."
That's how Polaris district sales manager Doug Decent described the 800 Dragon RMK to Snowmobile.com.
The sled comes equipped with an 800 liberty twin engine that pumps out 154 horses, a big improvement over the 140hp the 2007 version provided. The four-injector design helps create crisp acceleration and exceptional midrange power and calibrates automatically to changes in temperature and elevation.
To reduce weight, Polaris' deep snow machine comes with the RMK chassis. Its full-length cooling extrusions can eliminate up to 40 pounds of ice and snow buildup in the tunnel.
Riders can choose between 155 and 163-inch tracks on the 800 Dragon RMK, but the larger track provides maximum traction for steep-hill climbing and deep-snow riding. The new series 5.1 track comes with 2.4-inch lugs and an optimized lug pattern which Polaris says provides 19% more forward lug contact.
Polaris' redesigned RAW freestyle seat is narrower on the sides to make it easier to transition from sitting to standings and weighs in 2.3 pounds lighter than the 2007 seat.
Also new for 2008, hooked handlebars and an aluminum riser come standard.
Walker Evans Air provides Polaris with front shocks and front and rear track shocks, which is an upgrade over the RydeFx shocks used on the base RMK.
Polaris did a good job of combining additional power with weight savings as the 800 Dragon RMK tips the scales at an impressive 487 pounds.
The suggested retail price (with 163-inch track) is US$10,999 (C$14,199), but it does come with some options.
For added horsepower and reduced weight, the SLP exhaust silencer is available. It is ceramic-coated and does not require fuel mapping or re-jetting.
If you are interested in cargo room, the close-off shovel bag holds up to 7.5 pounds of gear, including a folding shovel. An optional fuel can attaches to the rear rack.
Specs
MSRP: US$10,999/C$14,199
Estimated Dry Weight (pounds/kg): 487 lbs/220.0 kg
Overall Length (in./cm.): 134/340.4
Overall Width (in./cm.): 46.5 / 118.1
Overall Height (in./cm.): 49.5 / 125.7
Ski Center Distance: 39 – 40- 41 / 99.1 – 101.6 – 104.1
Fuel Capacity (gallons/liters): 11.5 / 43.5
Engine Type/Cooling: Liberty/Liquid
Cylinders-Displacement (cc): 2, 795
Bore x Stroke (mm): 85 x 70
Horsepower: 154
Ignition: Digital CDI w/ TPS, WTS, DET
Exhaust: SC VES, Single
Carburetion: Cleanfire Injection – 4
Disc Brake Type: Phantom, Hydraulic
Drive/Driven Clutch: P-85 / LWT TEAM
Steering: Fixed post – 5.25″ Riser
Electric Start: Accessory
Reverse: PERC
Speedometer: Digital MFD
Tachometer: Digital MFD
Fuel Gauge: Mechanical
Temp/Low Oil Light: Digital MFD
12v-DC Outlet: Accessory
Handlebar Hooks: Standard
Hand & Thumb Warmers: Std. Adjustable
Mirrors: Accessory
Seat Type: Freestyle
Rear Rack / Tow Hitch: Accessory
Color / Graphics: Indy Red / Dragon
Special Features: Grab Bar, Chrome Windshield, Walker Air Shocks, Dragon Graphics
Front Suspension: IQ RMK Adjustable
Front Travel (in./cm.): 9 / 22.9
Front Shocks: Walker Air
Ski Type: Gripper
Rear Suspension: RMK
Rear Travel (in./cm.): 16.5 / 41.9
Front Track Shock: Walker Air
Rear Track Shock: Walker Air
Track Width/Length/Height (in.): 15 x 163 x 2.4 Series 5.1