2009 Polaris 800 RMK Shift 144 Review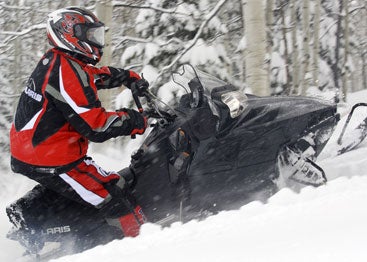 Powder riding on a budget or the skeleton for a do-it-yourself upgrade
When Polaris announced its 2009 line up, one thing that stood out was the expansion of the Shift model line. From a single sport model last year, the Shift moniker has spread to include an introductory priced fan-cooled sport sled all the way up to a powder model with full-blown, top of the food chain power.
Fast Facts
Engine Type:Horizontal In-line
Cylinders:2
Engine Stroke:2-Stroke
Valve Configuration:Reed Valve
Displacement:795 / 48.5
Starter:Pull
Turbocharged:No
View Full Spec
As the big gun in the Shift line, the 2009 Polaris 800 RMK Shift can be looked at in a couple of ways. It is either a low buck platform for new to powder snowmobilers or it's the backbone for a build-it-yourself rider. This is the fellow who wants a barebones powder machine because he fully intends to build his own powder special with aftermarket parts and accessories.
Taken Seriously
However you view the Polaris 800 RMK Shift, you recognize that it has to be taken seriously for no other reason than its 800cc powerplant, which Polaris characterizes as 'wickedly powerful'. Introduced last season, the Polaris designed and built 2-stroke is claimed to deliver 154 horsepower from a relatively compact twin cylinder package. Polaris says its Liberty 800 high output Cleanfire4 twin offers exceptional power per pound, making it a good choice for powder and sport rider.
Adding it to the Shift model line immediately adds credibility to Polaris' value line of snowmobiles. Combining the latest power master engine to an already recognized powder chassis gives the Polaris 800 RMK Shift even greater sled 'cred' among deep snow riders. This stripped down aluminum chassis stretches over a long travel RMK suspension that has evolved from years of Polaris' western powder dominance. This is, after all, the company whose RMK series earned its name — Rocky Mountain King — by winning most all major hill climb competitions over the years. Although the Shift concept may suggest low purchase pricing, don't be fooled into thinking it symbolizes cheap. The 800 RMK Shift comes with the same lightweight rail beans as the pricier Polaris powder sleds.
Accessorize
Where the Shift shaves a few dollars is in shocks. You won't find Walker Evans brand here, but you can buy them through the parts catalog. You will find RydeFX shocks front and rear, good but there are better options available to you. Heck, that's why the Shift may be a great value.
If you are a beginning powder pup, the RydeFX shocks will be fine. If you develop into a serious powder hound, you can easily upgrade the Shift's suspensions. The rear suspension will take premium shocks. The base IQ RMK adjustable front suspension could be retrofitted as well. It provides an ample nine-inches of travel controlled by standard RydeFX shocks. This front design controls Polaris Gripper skis just like the ones on the much pricier Dragon RMK.
Style-wise the 800 RMK Shift comes in basic black. You add your own decal package or get it spec'd out by a local paint shop. While many Polaris Shift buyers shop price and keep accessory purchases to a minimum, we have to imagine that 800 RMK Shift buyers may be the type of snowmobiler to truly want a standout sled.
This sled is ripe for customization. Walk you fingers across a keyboard, visit various aftermarket web sites and you'll discover a vast network of products readily adaptable to the Shift.
Base Pieces
As a powder player, you'll like the basic sled's pieces. There are lightweight ski spindles and a punched runningboard that grips your boots. You can add backcountry gear and packs to the open platform behind the narrow Freestyle seat. Yes, there is a standard 5.25-inch handlebar riser, but you could easily add an aftermarket piece that fits your riding style better.
Check out the 15-inch wide by 144-inch long track with its 2.0-inch lugs. Serious power hounds are never satisfied with the base track; they look at options before they load their sleds onto their trailers. There are many options here, but the base track will be more than good enough for the beginner.
Are you getting the idea behind Polaris' marketing? The Shift series of powder sleds makes sense. It is a good enough ride for beginners and a very good starting point for the rider who fully intends to build his own mountain climber. The beauty of this model is that it comes out of the box with an exceptional drive train. The fuel injected Cleanfire twin drives one of the most responsive clutch systems in the sport. The drive clutch is the famed Polaris P85, which combines with a Polaris TEAM secondary. The Phantom hydraulic disc brake is the same as you get on higher priced Polaris models, so there's no skimping on the go and whoa power.
If you look at the 800 RMK Shift's specifications, it compares well with the latest Polaris models. It weighs 10-pounds less than the new Polaris 800 Assault RMK and has a similarly sized track.
Sleeper Sled
When it comes to the 800 RMK Shift, we really think that Polaris may have created a real sleeper. It has Polaris' best power. It has a solid base of suspensions, chassis and features. If nothing else, you could use this sled as a training vehicle to learn the ins and outs of serious powder riding. Heck, that's just for mountain and powder riders. Flatlanders could look at the 800 RMK Shift as a serious boondocking machine. It has a track that measures up well with Yamaha's Nytro XTX and more power in a lighter chassis.
Yes, indeed, when you look at the 2009 800 RMK Shift it may be that Polaris underestimated just what they created. At US$9,499 this may be the steal of the year for serious off trail and deep snow riders.
2009 Polaris 800 RMK Shift 144 Specs
Engine
Polaris Liberty 795cc, 2-stroke, liquid-cooled, twin; Cleanfire-4 quad fuel injection
Horsepower
154 (Estimated)
Drive
Polaris P-85 with Polaris LWT/Team secondary
Front Suspension
IQ dual A-arm suspension; RydeFX shocks; 9.0-inches of travel
Rear Suspension
Polaris lightweight RMK parallel rail with RydeFX shocks; up to 14.5-inches of travel
Length
125.0 in
Width
46.5 in
Height
49.5 in
Ski Stance
39.0 to 40.05 to 41.0 (RMK adjustable)
Track
15 x 144 x 2.0 Series 4
Weight
477 lbs
Fuel Capacity
11.5 US Gal
MSRP
$9,499
Related Reading
2009 Polaris 800 Assault RMK 146 Review