2009 Polaris Trail Touring DLX Review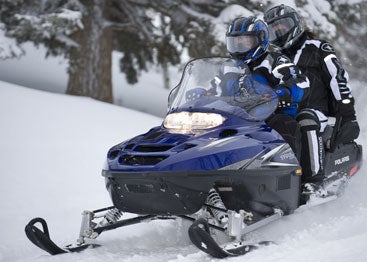 Polaris' greatest engineering at an affordable price
Who says you can't get a great deal in a 2009 model snowmobile? Surely not Polaris, which gives you a moderately priced touring sled with renowned quality, durability and bulletproof reliability. Of course, what passes for the 2009 Polaris Trail Touring DLX should be rock solid, because it is the end result of Polaris past with some Polaris present. This sled does not figure in Polaris future, but for the here and now and US$6,599, it is a darn good value.
Fast Facts
Engine Type:Horizontal In-line
Cylinders:2
Engine Stroke:2-Stroke
Valve Configuration:Reed Valve
Displacement:544 / 33.2
Starter:Electric
Turbocharged:No
View Full Spec
The 2009 Polaris Trail Touring DLX captures Polaris' history from ski tip to snow flap. It is one of the few remnants of the Indy legacy that drove Polaris sales leadership for more than a decade. If you want to move into the real present day Polaris line of IQ-chassis models, you'll have to ante up nearly three grand more. The base IQ trail tourer is the 4-stroke powered IQ Touring FS with another 20 horsepower, Polaris' version of rider-forward seating and a suggested base price of US$9,099.
We seriously doubt that Polaris sales executives view the fan-cooled Trail Touring DLX as a big seller at its dealerships. Unless, of course, those dealerships are also snowmobile rental operations. This 2009 Polaris model makes an excellent rental sled. If your ego and wallet can handle owning older technology, then the 2009 Trail Touring may be exactly what you want.
Proven Parts
The chassis, based on the latest Indy platform, is as proven as it gets. Its aluminum construction features reinforcement where it's needed and derives its rearward kick-up shape from past Indy stretch models like the SKS and RMK. After all, this is the best of the best Indys. The runningboards were originally designed to help the longer tracked versions plane over snow and the angled rear portion allows snow to flow freely at the back, not to get hung up.
The belly pan and nose area were designed long enough ago that we often forget how well the Indy handled powder and how Indys frequently broke trail for the pack. This may not be the latest in Polaris snowmobile design, but never underestimate just how good the Indy was. Polaris has not had an easy time getting consumers to totally leave the Indy era.
One thing that the IQ chassis offers that quickly reminds us why we opt off the Indy in favor of the new style is rider-forward seating. The Trail Touring brings you back to that old straight legged seating style. You grab the handlebar to pull yourself up to the gas tank to center yourself on the sled as you hope to miss the slap of stiff bumps. On IQ chassis models, you are already forward. Your knees are flexed and ready to ride the bumps.
EDGE Suspensions
On the older Indy chassis, you hope the suspension and seat absorb the impact heading to your lower back. That rear suspension gives you 13.9-inches of bump-absorbing travel, just shy of the newer IQ 136 Comfort suspension's 14-inches. The Trail Touring's EDGE 136 suspension design features a Nitrex shock on the front arm with a MPV Select shock to control the rear suspension arm.
Up front, there is Polaris' heritage suspension. The latest EDGE trailing arm suspension uses Nitrex Select shocks to control 10-inches of front travel of the composite skis. This design is more than durable and reliable. It is a design that Polaris relied on to help the Minnesota-based snowmobile maker win more major long distance terrain races than all other brands combined. There is no other front suspension with the proven track record of this one.
Fuji Power
The parts under the wedge-shaped Polaris Trail Touring hood are equally proven. Heck, the Trail Touring is just the latest evolution of popular Polaris fan-cooled trail sleds. The original Indy Trails went from 440 to 488 to 550 engines as consumers expected more performance for not many more dollars. The 550cc fan-cooled is the latest, perhaps the last, air-cooled snowmobile motor to come from longtime Polaris partner, Fuji Heavy Industries.
This latest Fuji is the most recent 2-stroke. It bridges Polaris history from JLO singles to its own Polaris-built Liberty engines. The Polaris/Fuji partnership has persevered from the mid-1960s to the present day. Fuji's 544cc fan-cooled twin delivers 60 horsepower and features a two-into-one tuned exhaust. A pair of 34mm Mikuni carbs feeds the twin's Nicasil cylinders.
In test rides, the Trail Touring offers ample low end for smooth takeoffs and considerable midrange, which is exactly what you want for two-up touring. Top end is mild, but we suspect the sled's gearing is oriented to low and midrange performance. The Fuji-built twin powers one of the most respected drivetrains in the sport. The primary drive is a Polaris P-85 with a trail-tuned P2 secondary. The system is smooth and extremely reliable, just what rental operators demand. The P2 secondary provides exceptional performance in a lighter weight package. The design is claimed to enhance backshift and provide a bit of overdrive for increased top speed. That may be the case, but it won't be easily perceived.
Modern Convenience
We especially like the modernized push-button Polaris Electric Reverse. It's simple and adds no weight penalty. Simply engage the system.
What makes the Trail Touring deluxe is standard electric start, an adjustable backrest and a nicely proportioned (and effective!) windshield.
When you consider what this model offers at its price, you can forgive it the 'heritage' technology. The sled is proven. It's not the latest in Polaris engineering, but it has the greatest of Polaris engineering — IFS front suspension, lightweight EDGE chassis, and reliable fan-cooled power. Whether you are on a budget or just tight with a dollar, the 2009 Polaris Trail Touring DLX is a solid value for this season and seasons to come.
2009 Polaris Trail Touring DLX Specs
Engine
Polaris/Fuji 544, 2-stroke, twin cylinder; air-cooled; 2xMikuni VM34 carbs
Horsepower
60
Drive
Polaris P-85 drive/P2 driven; Polaris PERC electronic reverse
Front Suspension
Polaris EDGE IFS — 10.0-in maximum travel; Nitrex Select shocks
Rear Suspension
Polaris EDGE 136 parallel slide rail; 13.9-in of maximum travel; Nitrex front arm shock with MPV Select rear arm shock
Length
128.0 in
Width
48.0 in
Ski Stance
42.5 in
Track
15 x 136 x 1.0 Hack Saw
Weight
537 (claimed)
Fuel Capacity
12.25 US Gal
MSRP
$6,599