2010 Polaris 550 IQ Shift Review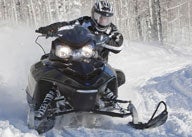 On-trail fun at a very reasonable price
We've long been after Polaris to rekindle its history in its sleds. For 2010 the company that pioneered independent front suspensions and now brings a new way type of rear suspensions to production snowmobiles gives us a graphic reminder of its proud past. Check out the latest Polaris 550 IQ Shift fitted with retro "TX" graphics.
Fast Facts
Engine Type:Horizontal In-line
Cylinders:2
Engine Stroke:2-Stroke
Valve Configuration:Reed Valve
Displacement:544 / 33.2
Starter:Pull
Turbocharged:No
View Full Spec
We readily admit a kinship with the TX design that incorporates one of the most successful air-cooled sport performance sleds to ever hit the trails — and race circuits in the 1970s. The "retro" graphic package even features an old-style "Polaris" logo with the North Star burst prominently detailed in the "P". Of course, this specific style costs extra on the base budget-level 550 IQ Shift. Actually, the 2010 Polaris 550 IQ Shift was intended to be the only surviving Shift entry for this season. As you may note, anything with the old technology 600cc liquid-cooled carbureted engine is gone from the 2010 line up, a victim of more stringent clean air standards.
The Polaris Liberty 550 twin makes the cut into 2010 not because it's the cleanest, but survives due to corporate fleet emissions. Polaris is not the only maker to offer a fleet of fan-cooled sleds for 2010. The Rotax fan-cooled engine powers a similar fleet of low-buck Ski-Doo models as well. We were quite surprised to see such an influx of these sleds for the current model year. We figure that air-cooled twins are about to become extinct in the near future thanks to the latest and pending future emission standards.
Guile Versus Power
For now, there is a reprieve and we will enjoy it as these fan-cooled sleds provide pleasant memories for us older riders who can recall when displacements of 550cc were actually considered huge. Now these engines power "beginner" sleds. We don't really consider the 2010 Polaris 550 IQ Shift as a strict beginner sled. In the right and capable hands of a good rider, the 550 IQ Shift can still show its snow flap to riders relying more on power and less on guile. In the tight and narrow, the 550 IQ Shift can test a snocrosser's mettle. You won't get a handful of torque to yank off the apex of a tight corner, but done properly, you can enter quickly, scrub off precious little speed, be on the throttle and out of the corner as well as any 800cc-mounted rider. You won't be fighting weight and you will be getting IQ style front-end bite from virtually the same double A-arm suspension as pricier 600cc sport models. Of course, to maintain affordability, the 550 gets modest, though good enough RydeFX MPV shocks — not the premium Walker Evans shocks of a Dragon. If you ride hard all day and push the 550 IQ Shift to its limits, you will feel the shocks fade and you will notice that the carbureted twin with its dual Mikuni VM 34s doesn't light up like a Cleanfire injected model.
While we could "pooh-pooh" the 544cc Polaris twin, we won't because it has been updated over the years to include a smooth NiCaSil cylinder lining for smooth, reliable and durable performance. The engine's 544cc displacement comes from a bore and stroke of 73mm by 65mm. This is one solidly reliable powerplant. We have spent quite a few fun miles pulled around by this engine. In the IQ sport chassis, you get a sporty looking sled with a very forgiving soul.
Clutch Update
The reality is that if you liked the 2009 550cc IQ Shift, chances are you'll like this one. There isn't much changed about it. You will find the latest 550 IQ Shift comes with Polaris' P2 driven clutch to give you greater durability as well as delivering an upgrade in overall performance. The main advantage will be an improvement in overall belt life since the design works to maintain lower belt temperatures. The famed P-85 drive clutch may reflect some fine-tuning to better match it to the new P2 driven. We enjoyed the power and performance of the fan-cooled powertrain, but you do need to keep in mind that this is a low power unit and certainly not the nifty 600cc liquid-cooled Liberty powertrain. You will have fun with this set up, but it is a fan-cooled twin after all.
We have adapted to the Freestyle seating and its lightweight design, which integrates forward to the narrowed 11-plus US gallon fuel tank. Overall, the narrow design and ride forward slant of the seat facilitates cornering and transitioning in the rough from a seating to a standing style. We find the handlebars to be okay, but the style makes us greatly appreciate the bars on a Yamaha or an Arctic Cat. When you opt to stand in rough conditions, you can pop up and the handlebar will be located well.
In typical Polaris fashion, the main controls for adjusting handwarmer temperatures are easy to reach. We do like the tactile feel of the sliding control. The electronic reverse switch is convenient as is the high/low switch for the headlight.
Overall comfortability is very good for a budget-oriented sled. The Rear suspension works well and the RydeFX MPV shocks cycle adequately through the 13.9 inches of total travel.
Traction Wants
We are a bit disappointed with the track as it would have been nice if Polaris gave this performance-oriented sport sled a more aggressive Hacksaw or Ripsaw track. The standard 550 IQ Shift track measures 15 inches in width with an overall length of 121 inches. That's all fairly standard practice, but the lug profile is less than an inch at .91-inches in height. Aimed at the same market as the 550 IQ Shift, the Ski-Doo TNT 550 comes with a more aggressive 1.25-inch profile. Frankly, we feel that the Polaris 550 engine actually runs stronger than the Rotax fan-cooled twin and deserves a more aggressive track. An upgrade would be worth considering. Oh, well, it would have been nice if Polaris had countered with an aggressive track design, but that's not the case. At least the budget pricing includes the stopping power of Polaris' Phantom hydraulic brake. That's a good thing.
Overall, we really enjoy this Polaris budget model. It keeps us tuned to our inner teenager — minus the hip-hop, rap, excess metal and such things. We especially like the 2010 Polaris 550 IQ Shift dressed up in the TX graphics. Of course, there are other options available through Pure Polaris accessories if you don't share our nostalgia. Even if you aren't into nostalgia, you can be into saving money and having a darn good trail sled for less than US$6,000.
2010 Polaris 550 IQ Shift Specs
Engine
Polaris 544cc fan-cooled two-stroke with electronic PERC reverse
Horsepower
55-plus (estimated)
Drive
Polaris P-85 drive; P2 driven
Front Suspension
Polaris IQ; 10.0 inches maximum travel; RydeFX MPV shocks
Rear Suspension
Polaris IQ Rear Suspension; 13.9-in of maximum travel; RydeFX MPV shocks on front and rear suspension arms
Length
115.0 in
Width
48.0 in
Height
48.5 in
Ski Stance
42.5
Track
15 x 121 x 0.91 Shockwave
Brake
Polaris Phantom disc hydraulic
Weight
470 lbs (claimed)
Fuel Capacity
11.5 US Gal
MSRP
US$5,999 (C$7,499)
Related Reading
2010 Polaris Rush Review
2010 Polaris Lineup Preview