2011 Polaris FS IQ Widetrak Review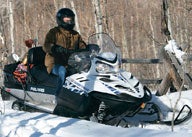 Adding a modern four-stroke to Polaris' work sled heritage
The 2011 Polaris FS IQ WideTrak continues a tradition that began in 1954 with the very first over-snow tracked vehicles produced in Roseau, Minn. by the Polaris triumvirate of founders. Today's FS IQ WideTrak is designed as a fully featured utility sled powered by a twin-cylinder four-stroke motor.
Fast Facts
Engine Type:Horizontal In-line
Cylinders:2
Engine Stroke:4-Stroke
Valve Configuration:OHV
Displacement:750 / 45.8
Starter:Electric
Turbocharged:No
View Full Spec
The first Polaris snowmobile was also a four-stroke powered sled and it too was intended to travel though virtually any snow based on flotation. Of course, that earliest model featured wooden side runners to assist the primitive design track and underpowered "off-the-shelf" commercial utility motor.
Today's modern WideTrak uses a much more efficient four-stroke engine, but it too began life as a multi-purpose engine useful for commercial and industrial applications as well as recreational or automotive usage. This engine, originally built in Europe as the Weber motor, has become a stalwart in Polaris' need to meet the Fed's ever more stringent emissions standards. While most of Polaris' four-stroke sleds get a turbocharger boost, the FS IQ WideTrak is normally aspirated via a computer controlled electronic fuel injection system. Frankly, the stout 750cc twin fits nicely into the WideTrak where it's paired with a geared tranny that offers both a high and low range plus reverse. We've found this set up works very well as the sled can hunker down and pull a sleigh load of firewood to the cabin or an icehouse on to the lake.
Polaris will probably supplant this 750cc four-stroker in due course, but despite its being underappreciated by both consumers and the manufacturer, this torque-laden twin would make a very pleasant addition to the new Polaris Rush as a kind of moderately powered, high mile, fuel efficient LX one-up touring model. As it is in the 2011 FS IQ WideTrak, this engine is engagingly quiet and very smooth operating.
The WideTrak continues the tradition of the dual-range gearbox, which we noted could be used for hauling or slogging through drifts. The rear suspension comes with an angled rail that has been prominently featured in past generations of Polaris utility models and allows the sled to traverse downed limbs and such obstacles while in reverse. This latest iteration is simply referred to as the Polaris Utility-Tipped Rear Suspension. It features a more basic gas shock with internal floating piston on the front and rear suspension arms. Overall suspension travel is 11-inches.
As the name implies, the FS IQ WideTrak uses the older IQ platform and front dual A-arm front suspension. You'll see Nitrex type shocks are used to control the 10-inches of IQ design front travel.
As you might expect, the four-stroke WideTrak takes utility seriously as Polaris engineers fit a 20-inch wide by 156-inch long track under it. The lug add 1.25-inches of grip height for increased traction. With all this track length the sled's inherent heft tips a claimed 730-pounds dry. Add in its 14-plus gallons of fuel capacity and you most certainly won't want to be getting stuck in the backcountry.
That fuel capacity should serve you well if all you want to do is get your ice fishing gear to remote spots on a long and remote lake. Heck, gear and cargo should be no problem for this sled as it comes with a rear storage area and rack. Plus, just lift up the seat and you have extremely generous and protected storage for things like ice fishing poles, ladle, tackle and such. With its standard electric start and dual-range gearing this sled is more useful than an ATV would be in snow conditions.
In the past, utility sleds often seemed to be afterthoughts as engineers basically widened out a touring sled, added a tow hitch and longish track. The 2011 FS IQ WideTrak seems to be well thought for its specific use as a utility-specific model. It also borrows some pieces from other Polaris models, like the flexible mountain strap on the handlebar and a tall touring-inspired windshield. The gauge is a useful and informative multi-function type that can give you fuel and oil status as well as the expected speed and engine revs.
As a user of utility sleds, you'll appreciate the addition of a 13-watt work light that's on the cargo rack. Plus, there's the unexpected nice-to-have benefit of a heated in-dash glove box that can hold and protect a GPS unit or your cell phone.
You expect and get rearview mirrors, heated handgrips and an adjustable backrest.
Compared to that earliest 1950s Polaris-designed snow vehicle, the modern equivalent 2011 FS IQ WideTrak may share the same basic attributes, but it does so much more. Of course, that's like comparing a biplane to a Boeing 777.
Related Reading
2011 Polaris 550 IQ LXT Review
2010 Polaris Widetrak IQ Options
2009 Polaris WideTrak LX Review
All Things Polaris on Snowmobile.com