2010 Polaris Widetrak IQ Options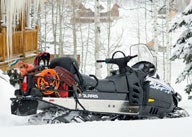 Polaris provides heavy-duty options for serious snowmobiling needs with a choice of 4-stroke or 2-stroke power.
When Polaris introduced its 4-stroke powered Widetrak IQ last season, you knew that a 2-stroke option had to follow. Even if the 4-stroke version handled all terrain and serious snowmobiling needs, there would always be those potential buyers looking for a tried and true 2-stroke option. They should be happen this year as Polaris expanded the Widetrak IQ series to include a new 2-stroke model, the 600 Widetrak IQ.
The two Widetrak IQ models not only look similar but share most of the same features. The biggest difference lies under the hood.
Engine Option
Introduced last year, the Widetrak IQ features a 750cc, 4-stroke twin that delivers 80 horsepower. Equipped with an intercooled turbocharger this same motor puts out another 60 horses and is the powerplant featured in 4-stroke Turbo Dragons and the Turbo LX luxury model. The Widetrak IQ 4-stroke delivers good low end and midrange as the lightweight, non-turbo modular design develops more than enough torque for most backcountry needs.
Still, the idea of a 4-stroke just won't fly with some snowmobilers who prefer the greater power per pound found in the 125-horsepower Polaris Liberty twin. This is the same Crossfire injection 2-stroke featured in other Polaris sports, deep snow and touring models. Now it finds a home powering the new-for-2010 600 Widetrak IQ. The 600cc Liberty twin should offer a better power to weight ratio as, obviously, it delivers more power while having 33 fewer pounds to pull around on the trail.
From a realistic standpoint, the 4-stroke Widetrak IQ should squeeze more miles out of its 14.3 US gallons of fuel capacity, but the newest Cleanfire 2-stroke offers improved mileage and cleaner emissions than its 2-stroke predecessors. So, we're talking degrees of efficiency here. There is the fact that the 4-stroke should be quieter and won't require oil refills at every other gas stop.
If we were choosing between the two, we'd look at our usage needs first and foremost. Do we need the extra power the Cleanfire 2-stroke offers? Will the better fuel mileage and convenience of once a season oil changes for the 4-stroke serve us better? And, then there is a US$700 lower price tag with the more powerful 2-stroke 600 Widetrak IQ. That could be a deal maker.
Reverse Standard
While both Widetrak IQ models feature electric start, only the 2-stroke offers the convenience of Polaris pushbutton electronic reverse. The 4-stroke Widetrak IQ offers standard reverse, but the pushbutton PERC adds virtually no weight penalty as the 2-stroke engine stops and restarts in reverse at the push of the PERC button.
Both models get a low "granny" gearing set up from the dual-speed forward with Neutral gearbox. You come to a stop, select the low range and haul away. Ski-Doo's similar work sled model offers a synchromesh low that allows you to shift in and out of low range while on the move.
This low gear gives you added grunt to haul a sleighful of firewood or a cutter filled with grandkids. The high range provides ample performance for all day cruising.
Both engines and the "hi-lo" range gearbox work through Polaris' proven P85 drive clutch and the latest P2 driven. Expect smooth engagement and reliable and durable service from these drive systems. To give you ample stopping power, each Widetrak IQ model uses a hydraulic brake.
Similarities
While there may be differences under the hood, the two Widetrak IQ snowmobiles draw their "IQ" nomenclature from a heavy-duty IQ suspension system. The double A-arm front end provides up to 10-inches of travel that is controlled by Nitrex tube shocks. Steering action may feel a bit heavy due to the use of wide "Gripper" skis that add extra flotation in powder snow.
You'll find extra attention paid to the rear suspension as well. The base IQ skid rail has been revised to give exceptional off-trail grip. The rear of the rails have been angled to let the track ride over obstacles and to work better when backing up in deep snow. A full 11-inches of travel assures a comfortable ride whether you cruise on groomed trails or break a path to a snowed-in backcountry cabin.
The Widetrak IQ rear suspension has been designed to maximize the utility of the extra long 156-inch track and its 20-inches of width. A full 1.25-inch lug profile adds grip for motoring through loose snow.
Basic Pieces
Polaris engineering put all the basic pieces are in place to help their Widetrak IQ models give exemplary service. There is a choice of power and torque from either a 2-stroke or a 4-stroke option. The multi-range gearbox offers cruising or grunt. And the big footprint of the 20×156 inch track adds traction and flotation.
To these basics, Polaris adds underseat storage. This is one sled that does not skimp on stowage options. You can place your tow ropes, come-alongs and extra gear under the seat and secure taller, bulkier gear or extra fuel in the rear rack area.
Don't be surprised to find these Widetrak IQ models comfortably suited for cruising. They each sport a wide and tall wind-deflecting windshield. Rearview mirrors let you keep an eye on your cargo when towing and the "mountain strap" gives you added stability when angling along ungroomed hillsides.
We readily admit that these sleds would not be fun to dislodge from a sinkhole, but they are surprisingly agile on the trail and can be maneuvered quite easily around the Back 40.
These two workhorse Polaris snowmobiles are equipped with the basic comfort features like hand and thumb warmers as well as a multi-function digital gauge to watch over engine speed and miles per hour. Polaris has spent more than 50 years building snowmobiles for the serious outdoor workman. You'll find that firsthand knowledge permeates the engineering built into each of these two Widetrak IQ models. You're only serious consideration will be – 2-stroke or 4-stroke?
| | | |
| --- | --- | --- |
| | 2010 Polaris 600 Widetrak IQ | 2010 Polaris Widetrak IQ |
| Engine | Polaris Liberty 599 twin cylinder 2-stroke; liquid-cooled; Cleanfire fuel injection; | Polaris 750 twin cylinder 4-stroke; liquid-cooled; fuel injection |
| Horsepower | 120+ | 80 |
| Drive | Polaris P-85 drive; P2 driven | Polaris P-85 drive; P2 driven |
| Front Suspension | Polaris IQ – 10-in maximum travel; Nitrex tube shocks | Polaris IQ – 10-in maximum travel; Nitrex tube shocks |
| Rear Suspension | Polaris Utility with tipped rails – 11-in of maximum travel; gas shock on front arm and rear arm | Polaris Utility with tipped rails – 11-in of maximum travel; gas shock on front arm and rear arm |
| Length | 136.75 in | 136.75 in |
| Height | 52.75 in | 52.75 in |
| Width | 48.0 in | 48.0 in |
| Ski Stance | 42.5 in | 42.5 in |
| Track | 20 x 156 x 1.25 | 20 x 156 x 1.25 |
| Brake | Polaris hydraulic | Polaris hydraulic |
| Weight | 697 (claimed) | 730 (claimed) |
| Fuel Capacity | 14.3 US Gal | 14.3 US Gal |
| Features | Electronic reverse (PERC); Hi-Lo Range gearbox | Hi-Lo with Reverse gearbox |
| MSRP | $10,299 | $10,999 |
Related Reading
2010 Polaris Rush and IQ Updates
Arctic Cat F570 vs. Polaris 550 Shift IQ vs. Ski-Doo MXZ TNT 550F
All Things Polaris on Snowmobile.com