2012 Polaris 600 IQ WideTrak Review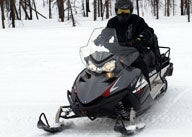 A well-defined work sled with many nice-to-have features
When it comes to Polaris' work sled models, it really boils down to personal preference in engines — two-stroke or four-stroke. The 2012 Polaris Widetrak utility models are essentially the same everywhere but the drive train. Even then the two units are remarkably similar. Each has a dual range transmission with a high and low range. If you need to haul a heavy load, select the low range. Otherwise, keep it in high range for the bulk of the time.
Fast Facts
Engine Type:Horizontal In-line
Cylinders:2
Engine Stroke:4-Stroke
Valve Configuration:OHV
Displacement:599 / 36.5
Starter:Electric
Turbocharged:No
View Full Spec
While the four-stroke 750cc twin gives you a bit better hauling capacity thanks to its better low-end torque, we'd figure the 600c two-stroke Liberty twin would be the better all-around choice for true north usage. Being a Cleanfire injected twin it will start right up and run crisply regardless of the temperature. However, the four-stroke may be better suited for work in "greenie" zones like ski areas where quietness and lack of a two-stroke perfume might count.
Regardless of the engine choice, the 2012 Polaris Widetrak models show positive signs of gradual evolution from previous generations. These are still serious work sleds, but you don't have to be commuting to a cave to enjoy the features they share. The sleds are engineered for serious service in the bush, but they give signs of refinement, too. Example, there is a glove box that sits behind the windshield on the console. Better yet, the glove box is heated, meaning you can safely store an electronic device there like a GP or battery-powered mobile phone. Or, you can stow extra gloves, goggles or even your sandwich. This is a nifty convenience feature that distinguishes the Widetrak from the competition for 2012.
Most utility sleds, including the Widetrak give work first priority. That's the duty of the ample underseat storage area, a place well suited for ropes, small handsaws and other necessities. Add in the rear cargo rack and storage area and this sled provides ample workspace.
If you need to take an assistant along to the job site, the Widetrak accommodates you both. The rear backrest is adjustable for a passenger's comfort or moves to give the driver back support. The driver area provides a good ergonomic riding position that places you upright to study the oncoming terrain and ample legroom, which you'll appreciate on a miles long journey.
The handlebars on the 600cc Widetrak arch back to the driver and provide good leverage to enable you to maneuver on or off-trail with relative ease. All critical accessories, like hand and thumb warmers are easy to manipulate and the safety brake can be accessed easily whether you are onboard or setting the brake for trailering.
While the sled has the look of a utility machine with simple, unassuming black seat construction and plastic shrouding around the engine compartment, the sled is surprisingly comfortable for such a long tracker. The seat width is slightly tapered and invites leg movement so you can get comfy on a long ride. It doesn't feel as though you are sitting over a 20-inch wide track like it does on the Ski-Doo super wide unit.
While the sled doesn't ooze power for speed running, it does hunker down nicely on the trail and run at comfortably safe speeds on groomed trails. The shift mechanism requires a stop before sifting. That is an advantage the Ski-Doo has with its synchromesh two-speed gearbox. But chances are if you were to haul a sleigh full of firewood out of the forest, you'd get to the work site in hi-range, stop to load and shift into low-range before driving off. So, it's not a real big deal. But the synchro is "trick."
Maybe not "trick," but definitely worthwhile and appreciated is the large Polaris windscreen. You can almost hide behind this thing, which means that when those January temperatures fall drastically below zero and you're looking for cover, it'll be right there in front of you! This has to be a "designed in Roseau, Minnesota" windshield. We've snowmobiled from the Roseau factory out to the local state forestlands and it can be many mean miles of brutal wind before you can tuck behind a row of evergreens to beat that wind. These guys engineered a workable solution for tundra running.
The Widetrak or any utility sled probably won't win any awards for best overall ride, but this Polaris provides a surprisingly good ride. That shouldn't be all that surprising, though. That extended length 156-inch track combined with its 20-inch width puts a major footprint on the trail. Add in the years of development that have gone into Polaris' long track suspension and you have a ride that can accommodate nearly a foot of travel. The Widetrak's parallel rail slide suspension features a tipped rear portion that allows you to back up without getting bogged in. A combination of gas shocks and leafsprings lets you load up the sled with gear and a passenger. The front suspension is the familiar IQ A-arm design with Nitrex shocks and coil over shock springing designed to allow up to 10-inches of travel.
As we noted, work sleds like the Polaris Widetrak have evolved over the decades from rather spartan-like to the current breed that combine civility with utility. The Widetrak is a competent snowmobile on the trail and an excellent workhorse off of it. It can be suited to simple pursuits like taking an ice fisherman to a remote lake or more complicated roles like managing a winter feedlot location or maintaining a section of power lines.
While this is a true work sled, the Widetrak doesn't broadcast its role, as it offers up stylishly rugged good looks that belie its true work character. The 2012 Polaris Widetrak is a well-constructed snowmobile extremely well suited to tackle many tasks in the most severe of seasons. If you need a serious work sled, the Polaris Widetrak provides power options to suit your needs.
Related Reading
2012 Polaris Snowmobile Lineup Unveiled
2011 Polaris WideTrak LX Review
2011 Polaris FS IQ Widetrak Review
2010 Polaris Widetrak IQ Options
2012 Polaris 600 IQ WideTrak Specs
Engine
Polaris Liberty 599cc twin cylinder 2-stroke; liquid-cooled; Cleanfire injection
Horsepower
NA
Drive
Polaris P-85 drive; P2 driven with Hi-Low & reverse
Front Suspension
Polaris IQ-style A-arm — 10.0-in maximum travel; Nitrex shocks
Rear Suspension
Polaris tipped parallel slide rail; 11-inches of travel; gas shocks
Length
137.0 in
Width
48.0 in
Height
52.75 in
Ski Stance
42.5 in
Track
20 x 156 x 1.25
Weight
671 (claimed)
Brake
Polaris hydraulic
Fuel Capacity
14.3 US Gal
Features
Digital multifunction speedo/odometer gauge; cargo rack; backrest; underseat storage; heated glove box
MSRP
US$11,099