2014 Polaris 550 Indy Adventure Review – Real World Test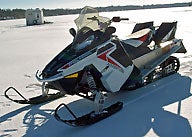 2014 Polaris 550 Indy Adventure Review – Real World Test
There's a difference of a mile in elevation between West Yellowstone, Montana and Hinckley, Minnesota, which helps explain the performance improvement of our flatland-based 2014 Polaris 550 Indy Adventure. In the 1031 feet of flatland elevation, we enjoyed a peppier ride experience versus the workman-like slogging from the 550 Adventure's 55 horsepower at 6,660 feet of western altitude.
Admittedly, in our West Yellowstone test ride of the pre-production Polaris fan-cooled two-up, we could see the sled as being loaded with value for rental operators and snowmobilers who like to get out on the trails once or twice a month during the season. The US price of $8,399 is fair and gives value-seeking snowmobilers a versatile sled that should last for many seasons.
That was how we looked at the 550 Indy Adventure, until we actually picked up a full production version just before Christmas. We almost immediately trailered it to a neutral site trailhead near Hinckley where we could feel it out. Our drop off point gave us access to miles of state-maintained corridor trails. Laid out in a virtual straight line headed north, the main trail allowed us to vary speeds for break in. But it's incredibly boring as a ride. Still, we had to acclimate ourselves to the sled and search out any goofy quirks it might have. If it had any that might create a breakdown, we wanted to be on a well-traveled pathway.
Of course, this was a bit of paranoia on our part and perhaps a memory flashback to days when virtually all snowmobiles were fan-cooled and not always reliable. Fortunately we've come a long, long way since then. Drive belts, of which you might need to carry two as spares, are incredibly durable these days; especially for lower horsepower trail sleds. While we look upon the 550 Indy Adventure as a throwback of sorts to earlier days in the sport, it just looks that way to wary veterans like us.
Fact is that the 2014 Polaris 550 Indy Adventure takes the best of the old and blends it masterfully with the new. Once we ventured off the corridor trail and on to locally maintained club trails, we got a better appreciation of this Indy. That 550cc Fuji/Polaris two-stroke twin works very well; especially at flatland altitudes where it can regain the power lost in the West Yellowstone high plains. Considering the sled was new and not fully broken in, we managed to see top end nearing 70 miles per hour over a monitored closed course. We'd estimate that will be about what you should expect. You might gain another five miles per hour on a different day with different snow surface, but it won't be much more.
The 550 Adventure is not a speed sled. It wasn't engineered that way. The fan-cooled twin with its dual Mikuni VM34 carburetors is an anachronism in this modern age of computerized electronic fuel injection. Its exhaust will be familiar to vintage sled enthusiasts as it mimics the cylindrical "tuners" of the 1970s. Peering under the side panels reveals a cooling system that was established in the mid-1970s when the snowmobile industry established ways to lower engine noise with baffled intakes and exhausts replacing velocity stacks ands such. In these ways the sled is a throwback. And that includes the clutch system, which also bears resemblance to designs dating back to the late 1970s like the original PowerBloc and Scorpion's proprietary Power Thrust II with their easy tunability and long lasting components.
Polaris engineers didn't get cute with the drive system. Simply stated, they looked at what worked, what would be reliable and built it in. Since the Indy series is a "value" line, engineers picked pieces that could be counted on to provide excellent consumer value, yet offer good, if not exceptional, performance characteristics. That's why the 550 Indy Adventure ended up with a very reliable air-cooled two-stroke twin working through an equally reliable and durable CVTech drive system, which derives its heritage from the original PowerBloc designs of the 1970s. It all works and it especially works well on flatland trails.
We found acceleration and top speed to be better than what a vintage rider will find on a 1976 era fan-cooled twin of similar displacement. The 550 Adventure will motor all day at 50 mph, but can be kicked up to a speed-violation notch. Slamming the throttle to the bar from a standstill will get the track to spin and the nose to lift – modestly, perhaps, but it can rise up. You'll be hitting 55-plus before you end a quarter-mile and probably will see that speed before the eighth. Hey, we're trying to be legal here!
If ridden as designed, this sled exceeds expectations. If flogged as though it were an 800 Rush, you'll whine. We found that at normal trail speeds where you expect to maintain a speed between 20 and 40 miles per hour depending on the trail, this sled handled better than we expected. Even though it spins a 144-inch long Cobra track, the sled's front end only wanted to push out when we went into full flog mode, trying to race through too tight corners at too high speeds. Back off and ride moderately is the key. The front end was developed from snocross experience and the coil-over shocks work well on the double A-arm Pro-Ride system.
The rear suspension works surprisingly well. It's nothing exceptional, borrowing its parallel rail slide design from previous generations of trail Indys and the current non-Rush suspension Polaris models. But, even with the modest RydeFX MPV shocks front and rear, we found the ride very pleasant on our first all-day tour where we logged miles on all kinds of "normal" trail terrain. There was the corridor section. We came across groomed but very rough sections, tight off camber trail sections and wind blown farm fields. In these typical conditions we'd give the sled an "A," if ridden as its designers intended.
Things that we really like – and dislike – include the detachable two-up seat. The best thing about the two-up seat is that you can remove and leave it at home. Since we ride solo more often than not, the two-up section does little for us other than impede mounting and dismounting the sled. The passenger "arm" holds work great if you have a passenger, but they sit high enough to make throwing a leg over the saddle a challenge. Then those arms also keep you from accessing the nifty plastic saddlebags – unless you swing them back out of the way, as they are designed to do!
The two-up seat is designed to snap into place quickly and with little effort. Meaning that it can be detached as easily. Without the rear seating in place, you gain an expanded end-of-the-seat storage area. Very handy. In fact, we preferred the 550 Adventure as a solo trail sled. The side bags give you convenient room for the gear you want to bring along – extra goggles, mitts, tools, can of oil, snacks, coffee thermos and such. This sled is extremely ride-friendly that way.
The 550 Adventure with its electric start, electronic push button reverse, tall windshield and side-mounted wind deflectors add to the many things we ended up liking. Bottom line is that this sled has virtually everything you'd want – and more – for a day's ride over virtually any trail system.
We could have found ourselves forgetting that the 550 Adventure is an air-cooled sport sled, except for the old-time noise that you get from any fan-cooled snowmobile. Liquid-cooled sleds have less noise feedback simply because the engines are insulated with water-cooled jackets and the air ducting can be soundproofed better.
With everything said about the 550 Indy Adventure, isn't it interesting that our main nit to pick is the noise? After all, everything else about this sled is a plus. Frankly, even the louder drive system can be a plus when you consider that the power source keeps the price low. Overall, the sled proved exceptionally good in our test ride at flatland altitudes. We really don't object to the engine feedback, it's only potentially objectionable if you always ride liquid-cooled sleds and have forgotten what the old days were like!
Overall, the 2014 Polaris 550 Indy Adventure is a steal of a deal in today's snowmobile marketplace. It has good flotation from its 15×144-inch Cobra track and adds on/off trail traction from the track's 1.35-inch lug profile. It enjoys the versatility of standard saddlebags, roomy rack and the detachable two-up seat. If you go off trail you'll appreciate the bonus of a strong bumper to protect the Indy's nose. The ride is comfortable thanks to the Indy Pro-Ride seat, which works well with the 14.1 inches of travel built into the rear suspension. So, yeah, it's a bit noisier than some other sleds, but what do you want for a sled that retails under US$8,500, carries two and is loaded with extras – including a bit of nostalgia from a fan-cooled vintage era?
2014 Polaris 550 Indy Adventure 144 Specs
Engine
Polaris/Fuji 544cc twin cylinder 2-stroke; fan-cooled; dual VM34 carbs
Horsepower
55+
Drive
CVTech Powerbloc 50 drive with CVTech Invance driven
Front Suspension
Polaris Pro-Ride; 7.1-in maximum travel; RydeFX MPV shocks
Rear Suspension
Polaris Indy slide rail; RydeFX MPV shocks; 14.1-inch maximum travel
Length
124.0 in
Width
48.0 in
Height
54.0 in
Ski Stance
42.5 in
Track
15 x 144 x 1.352 Cobra
Weight
498 (claimed)
Brake
Polaris hydraulic
Fuel Capacity
11.5 US Gal
Features
Standard: Pro-Steer skis; electronic reverse; one-piece handlebar; Lock & Ride storage
MSRP
US$8,399