2014 Polaris 600 Indy & 600 Indy SP Review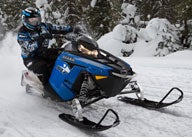 These models launches a new Indy era
When Polaris re-launched its Indy series for 2013, we never suspected that we'd witness such a proliferation of sleds for the 2014 model year. Heck, there are six 550 fan-cooled versions! There's one 800cc version, which wasn't that big of a surprise. And the original 600 Indy gained a model to up that grouping to three – the base 600 Indy, the 600 Indy SP and the new-for-2014 600 Indy Voyager with a 144-inch length track and a backwoods expertise. That's 10 Indys and quite a commitment from Polaris to its "value" lineup.
Fast Facts
Engine Type:Horizontal In-line
Cylinders:2
Engine Stroke:2-Stroke
Valve Configuration:Reed Valve
Displacement:599 / 36.6
Starter:Pull
Turbocharged:No
View Full Spec
What should we expect for model year 2015 when it comes to the Indy line? We're not going to guess, but we would think that Polaris might slow down a bit to gauge the line's impact on consumers. Is the Indy encouraging snowmobilers to switch from older sleds to a proven and reliable new version of the famed Indy? We can't answer that, but we feel confident that Polaris expects consumers to gather in the facts of the Indy as value leader.
What the Indy provides is a basic lightweight Pro-Ride chassis that is more than 300 percent stiffer than any previous Indy design. It incorporates a series of triangulated pieces to form the substructure and offer rider-forward positioning. All in all, the Indy chassis reflects some snocross breeding that enhances the every day trail rider's needs. What you get is a nimble, easy handling sport sled that's good on real world trails with all of their inconsistencies.
2014 Polaris 800 Indy SP Review – Video
The front suspension design, which attaches to the frontal structure, is a conventional double A-arm design with Polaris' own nuances to give the Indy series light steering feel and sharper turn-in. This base design can be simple or sporty, depending on the model. For example, the base 600 Indy uses RydeFX MPV front tube shocks with coil over spring on both the front and rear suspensions. These are quite good shocks and well suited to the base Indy. They feature an anodized aluminum body and a gas cell for damping. The 600 Indy SP uses somewhat similar aluminum bodied Fox shocks with an internal floating piston. But, they're not going to be the rebuildable type, as you'd get on a Rush Pro-R with the Walker Evans shocks. That's the downside to "value" and Polaris figures that your interest in cost-savings trumps your desire to pay more for expensive shocks. Either way you'll find that both 600 Indys work well, unless you push them hard for many miles of rough trails. But, if you were that guy you'd probably ride a Rush Pro-R or top line Switchback.
Those two sleds cost more than the Indys, but they give you more in the latest and most supple trail/off-trail suspensions. They feature versions of the Pro-Ride progressive rate rear suspension, which have the main shock element located outside the skid frame. The Indys are again more conventional and more like Ski-Doo's pre-rMotion SC-5 skid design. You will get upwards of 13.9-inches of travel motion from the Indy coupled design. It works very well, but we have to admit to being a bit spoiled as we get to ride (and enjoy) the top of the line suspensions. The base Indy ride is fine and, when looked at as part of this value package, it works well in virtually all conditions. That's the compromise. Get the suspension suitable for everyday riding with a maximum of tuning simplicity. Overall, we like the ride. It works to control the sled on both acceleration and deceleration. You can count on the front and rear to react as expected – no surprises such as the front end popping up out of control in a fast turn or the rear end coming unglued. It is very conventional and, if you are coming off a true trailing arm Indy model, the ride will seem familiar. The front end of the new Indys sticks and handles way better than the old Indy design.
Then, of course, there's that ride control you get from the Ski-Doo REV pioneered ride-forward element. That will truly impress an old Indy rider. The new Indy ride position versus the original Indy style of seating is night and day better. No comparison. You sit tall with knees flexed to act as part of your personal suspension system. You can take ruts and bumps better as you can instantly react by sitting up, standing and moving from side to side. The Indy steering is lighter. The chassis is stiffer. The skis, even the base Indy ones, engage the trail positively, way belter than the original Indy set up. When you move up to the 600 Indy SP and its US$1000 higher retail price, you gain Pro-Steer skis, the latest and – yes – the greatest plastic ski Polaris offers. These differ from the base Indy as they feature a different keel and shorter skag for easier steering and reduced on-trail darting. The SP version gives you more sport with its single-piece handlebar that incorporates a new curvature and full-length grips with heating elements extending to the bar ends.
2013 Polaris Indy 600 vs. 2013 Ski-Doo MXZ Sport 600
Both Indys let you plant your booty on the Indy Pro-Ride seat. That gives you a wider profile for your seat but a narrow and tapered frontal approach to anticipate corners. Because of the overall rider-forward design, this seat encourages you to easily transition from a cruising position to a full attack mode where you might want or need to stand over rough terrain.
Whether you opt for the base or the 600 Indy SP model, the power and performance should be the same. Both come with the 599cc Polaris-deigned and built semi-direct injected Cleanfire two-stroke Twin. It's a proven powerplant that transfers energy to the snow via a proven Polaris P85/P2 drive system. Because we are lazy and like the idea of quick starts, we'd specify the optional electric start. It's just so much more convenient. That push button Polaris electronic reverse also makes life easier and it comes standard.
Between the two 600 Indy models, we'd cough up another grand for the benefits of better skis, better handlebar set, and the upgraded shock package that comes on the 600 Indy SP. The two sleds will also differ slightly in the track department. The base model uses a Shockwave track with a 0.91-inch lug profile. The SP gets the Hacksaw and a one-inch lug on its 15 x 121-inch rubber track. We can't get too excited about either as we think the SP, at least, should come with a 1.25-inch lug height Ripsaw track. At least make it a pre-season option!
2012 600 Trail Sports Class Roundup
But, overall, we get the Polaris "value" thing. The new Indys are truly fun to ride and in keeping with the original Indy heritage. Different they are. But better in about any way you can imagine. What's next in the Indy line?
2014 Polaris 600 Indy SP
2014 Polaris 600 Indy
Engine
Polaris Liberty Cleanfire 599cc twin cylinder 2-stroke; liquid-cooled; Cleanfire semi-direct fuel injection
Polaris Liberty Cleanfire 599cc twin cylinder 2-stroke; liquid-cooled; Cleanfire semi-direct fuel injection
Horsepower
125+
125+
Drive
Polaris P-85 drive, P2 driven
Polaris P-85 drive, P2 driven
Front Suspension
Polaris Pro-Ride; 9-in maximum travel; Fox IFP shocks; Pro-Steer skis
Polaris Pro-Ride; 9-in maximum travel; Ryde FX MPV shocks; Indy skis
Rear Suspension
Polaris Indy slide rail; Fox IFP shocks; 13.9-inch maximum travel
Polaris Indy slide rail; Ryde FX MPV shocks; 13.9-inch maximum travel
Length
114.0 in
114.0 in
Width
48.0 in
48.0 in
Height
48.0 in
48.0 in
Ski Stance
42.5 in
42.5 in
Track
15 x 121 x 1.0 Hacksaw
15 x 121 x 0.91 Shockwave
Weight
449 lbs (claimed)
447 lbs (claimed)
Brake
Polaris Phantom hydraulic
Polaris Phantom hydraulic
Features
Standard: Pro-Steer skis; Indy Pro-Ride seat; fixed 3.5-in riser; electronic reverse; one-piece handlebar; multi-function display
Options: electric start; 12v outlet; rear rack; windshield options
Standard: Indy skis; 3.5-in riser; electronic reverse; Indy Pro-Ride seat; multi-function display
Options: electric start; 12v outlet; rear rack; windshield options
Fuel Capacity
11.5 US Gal
11.5 US Gal
MSRP
$8,999
$7,999