2015 Polaris 600 Indy Voyageur 144 Review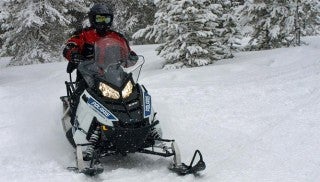 This multi-purpose Polaris is extremely adept on or off trail
Credit modern snowmobile manufacturers with knowing how to maximize product. They do this while still offering excellent value, utility, and recreation and creating new product niches from familiar and existing parts. Historically two of the most capable companies have been Ski-Doo and Polaris, which has created an entire sub-product line out of its born-again Indy series.
Fast Facts
Engine Type:Horizontal In-line
Cylinders:2
Engine Stroke:2-Stroke
Valve Configuration:Reed Valve
Displacement:599 / 36.6
Starter:Electric
Turbocharged:No
View Full Spec
The Indy line has been a total reinvention of what was once the number one selling brand in all of snowmobiling for more than a decade. Credit Polaris for cleverly working engineering, manufacturing and marketing into a cohesive force to provide snowmobilers with the modern face of "value" snowmobiling. In the early days of snowmobiling, consigning a sled with the "value" label effectively killed its popularity. Now the Indy models embrace the value concept and provide knowledgeable snowmobilers with an excellent dollar-to-feature ratio.
The 2015 600 Indy Voyageur 144 stands out for its value. Check out the Pro-Ride aluminum construction of its chassis. It's strong. Up to 300 percent stiffer than previous designs, which means it offers more precise handling when rolling into turns or challenging off-trail moguls. While you may think of the Voyageur as utilitarian in nature, understand that this basic chassis was borrowed from Polaris' go-anywhere RMK deep powder model. That helps explain the three-stance front end, which can be set from to 39 inches, 40 inches or 41 inches. Its mountain goat versatility makes the 2015 Voyageur quite the fun-invoking sport utility model.
COMPARISON: Read our review of the 2015 Polaris 600 Indy Series
For off-trail running, you get the benefit of a stiff chassis and RMK-style dual A-arm front end with up to nine inches of available travel. Proven RydeFX shocks with coil spring assistance control bump action. The rear parallel rail suspension is also borrowed from the base RMK series and also utilizes RydeFX shocks for control of up to 13 inches of travel.
Grip and grab for on- or off-trail running comes from a set of "Gripper" skis. This ski model was chosen to maximize the versatile nature of the Voyageur. The Gripper was developed specifically for the Pro-Ride chassis and features a deep upper and lower keel for best overall performance in loose or hard-packed snow conditions. Its forward-biased rocker design helps reduce steering effort and its nearly seven inches of width assure very good on-snow flotation.
COMPARISON: Read our review of the 2015 Ski-Doo MXZ Sport ACE 600
The Series 4 track fitted to the 2015 600 Indy Voyageur 144 provides both durability and versatility. It features a stiff lug base to assure hard-pack grip and long-term wear-ability. While stiff for on-trail grip, the track's flexible lug tips will give you excellent deep snow performance as well.
With a track suited to either on- or off-trail riding, relax in knowing that its drivetrain is among the best Polaris offers. The liquid-cooled 599cc Liberty Twin is a proven engine. This two-stroke Cleanfire semi-direct injected motor delivers 120-plus horsepower to the track via Polaris' own P85 drive and P2 driven clutching pair. The fuel injected and computer controlled Polaris-built motor provides competent top end, but it's the excellent drive away and strong mid-range that gets your attention. It will be the sled's strength off trail that you'll appreciate as you bank into a turn in a fresh field of new snow or climb a snow-blown ridge in the high plains. That is where the 600 Voyageur 144 is meant to be.
You can enjoy flatland trails, but off-trail trekking is where this sled shines. Stand off the Indy Pro-Ride saddle, grab a handful of that mountain strap and lean the sled into a side hill. That's when you benefit from the adjustable ski stance, the deep keel skis and flex-action of the Series 4 lug tips.
You don't have to be an off-trail expert to enjoy this sled. Its versatility makes it a good choice for breaking snow to a backwoods pond for some quiet ice fishing. The standard rear rack can easily hold a pail of fishing gear. And that Pro-Ride seat is way more comfortable than sitting on a turned over five-gallon bucket.
COMPARISON: Read our review of the 2014 Arctic Cat ZR 6000 El Tigre ES + Video
The manufacturer's suggested retail pricing on the 2015 600 Indy Voyageur 144 includes an easy-to-read mechanical fuel gauge to tell you how much of the sled's 11.5 US gallons of fuel you have left. The base models include electric start, even though the Liberty 600 has proven to be very easy to pull start. The mountain strap gives you added leverage, even though the standard one-piece handlebar sits atop a 3.5-inch riser. The Voyageur's handlebar is Polaris' latest "comfort" design that brings a curved shape with integrated hook ends. This new bar design is far superior to the older straight bar with added on J-hooks.
If you want to bring gear along, the Voyageur features a rear rack with black painted rails. But optional storage bags are available at Polaris dealers.
Designed as a multi-purpose snowmobile that is equally at home on or off trail, the Voyageur is fitted with a very tall windshield and side panel wind deflectors. Adding to the rugged persona of this sled is an aggressively styled, lightweight aluminum front bumper, which gives it a lean, mean look.
If the 600 Indy Voyageur 144 is too much, either in price or power, there is a 550cc fan-cooled model with fewer features and a $3,000 cost savings. While it fills a niche, it won't fill the niche like the 600-engined Voyageur 144, which is just one of three 600cc Liberty-powered Indys in the entire 13-model 2015 Indy lineup.
2015 Polaris 600 Indy Voyageur 144 Specs
Engine
Polaris Liberty 599cc, 2-stroke twin; Cleanfire semi-direct injection; oil injection; CD ignition; 2-into-1 exhaust
Horsepower
120
Drive
Polaris P85 drive with P2 driven
Front Suspension
Polaris Pro-Ride RMK adjustable; double A-arm with coil-over RydeFX MPV shocks; up to 9.0-inches of travel; Gripper skis
Rear Suspension
RMK parallel slide rail with RydeFX MPV shocks; up to 13-inches of travel
Length
129.0 in
Width
46.5 in
Height
51.0 in
Ski Stance
Adjustable: 39 – 40- 41 in
Track
15 x 144 x 2.0 Series 4
Features
Standard: Pro-Ride aluminum chassis; electric start; push button electronic reverse; analog speedometer; curved one-piece handlebar; Indy Pro-Ride seat; rear rack Options: Varied height and/or colored windshields; storage bags
Weight
498 (claimed)
Fuel Capacity
11.5 US Gal
MSRP
$10,499