2015 Ski-Doo MXZ Sport ACE 600 Review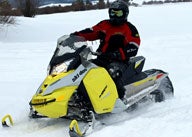 The fan-cooled 550 is gone. Long live the 600 ACE!
If you are simply cruising the forests and not racing through them at top speed, you have time to reflect. For me that reflection came aboard my personal 2006 Ski-Doo MXZ 550 X, a special edition model with the full "Blair Morgan" snocross graphics package. Back then the sled priced out at US$6,100. And, of course, having days earlier returned from a ride session of the key 2015 Ski-Doo sleds, it started to sink in that today's sport performance trail models have evolved a good deal in a matter of eight seasons.
Since Ski-Doo has dropped its fan-cooled engines for 2015 in all but its low-end Tundra utility model, a version of my 2006 MXZ 550 X no longer exists. Its replacement is the 2015 MXZ Sport 600 ACE, a nice sled but US$2,500 more expensive.
Straight out, let me state that I really like my 550. In 2006 it was offered with an "X" package and was aimed at "boy" racers, who were always much younger than I in years, if not mentality. The 550 X came with high-pressure gas shocks, dual runner skis, the "race" seat and raised handlebar. Then there was that Blair Morgan "bumble bee" thing that set his Team Ski-Doo snocross racers apart from the pack. It's the kind of sled that keeps you young at heart and with push-button reverse and its nominal 430 pounds of weight, it's an easy-on-off the trailer and fun to toss into a turn.
But, upon reflection, we had to face the fact that today's Ski-Doo MXZ Sport 600 ACE actually has some things going for it. We like the 550 for its simplicity. Yet, the Sport 600 ACE, which adds the complexity of electronic fuel injection, actually runs more consistently – making it simpler to operate. These Rotax engineers got that down in this double-overhead cam Twin. It starts up quickly and without fuss. Fan-cooled two-strokes, with their flipper chokes and slide carbs, can be finicky. The 600 ACE fires up and runs with consistent power thanks to its liquid-cooling. The fan-cooled can run hot, bog a bit on warm days and never offers total performance you can count on. Regardless of the day's temperatures, the ACE 600 four-stroke outperforms that 550 fan-cooled engine.
COMPARISON: Read our review of the 2014 Arctic Cat ZR 6000 El Tigre ES + Video
Two-stroke to four-stroke, the Rotax engines deliver about the same power. The 550 fan gives you about 55 horsepower., while the 600 ACE tops out at 60-ish. The fan-cooled Twin seems to rev up and pull out of the turns better, but we suspect some of that is purely imaginary, as it tends to thrash so much louder than the water-jacketed 600 ACE. This advanced four-stroke design runs stealthily quiet compared to the older fan-cooled sled and, perhaps, we don't give it as much credit for performance because of that. When you think of it, it's like comparing the acceleration of an electric-powered Tesla Roadster to a 460 hp Dodge Charger SRT8. Motor Trend magazine found that a 2010 Tesla needed 3.7 seconds to reach 60 miles per hour, which was quicker than a 2012 hemi-inspired Dodge. But the Charger made a better spectacle during its 4.3 seconds getting to that speed.
The fan-cooled TNT "feels" as though it pulls quicker and better than the Sport 600 ACE, but we don't know that. We do know that the 600 ACE is impressive as a trail cruiser. Ski-Doo engineering mated the four-stroke with its eDrive system very well. The package not only provides very smooth drive-off but pulls nicely to top end. Of course, the ACE engines come standard with multi-mode electronic programming that can give you a linear, progressive feel in its base (standard) setting or a more aggressive Sport mode. For full-on economy riding, there's an Eco setting that you'll probably never use in real everyday riding, as it tends to "dumb down" the drive system for the sake of fuel mileage.
COMPARISON: Read our review of the 2014 Polaris 600 Indy & 600 Indy SP
Beyond the powertrain, the 2015 MXZ Sport 600 ACE features the latest REV-XS chassis, which is both lighter and more comfortable than the original REV setup on the 2006 MXZ 550 X. This became apparent during my reflecting time. The 2015 models have a vastly improved rider position, which sits you a bit higher for more overall leg comfort. Indeed, the entire legroom issue gives you more comfort in the hip angles and your feet and knees no longer collide with the cowling. The pull on the throttle-by-wire system on the ACE is incredibly light and responsive. Yanking the slides of two Mikuni carburetors can be tiring for beginners and veterans alike. If your throttle thumb gets tired while riding the Sport 600 ACE, simply rotating the throttle assembly gives you a finger throttle.
Where the 2006 MXZ had top line suspensions for its time, those days are gone. The MXZ Sport 600 ACE features Ski-Doo's SC-5 rear suspension, that was derived directly form the snocross world and is a generation newer than the fan-cooled's SC-4 design. Up front the Sport 600 ACE utilizes an evolved version of the RAS design. Its dual A-arm action is controlled with Motion Control shocks. In this case the 2006 MXZ may edge out the newer model as it came standard with a similar RAS design, but featured high-pressure gas shocks as part of the "X" package. But the 2015 Sport gains an on-trail edge thanks its newer lightweight handlebars, complete with J-hook, a distinct advantage for aggressive cornering. Don't underestimate the value of the Sport's Ripsaw track with its 1.25 lug height. That added edge makes the 2015 Sport 600 ACE much more secure through the turns. Plus, the evolved Pilot skis add grip and reduce darting as compared to the older fan-cooled MXZ.
COMPARISON: Read our review of the 2014 Yamaha Phazer RTX
As mentioned, the Sport's REV-XP seat places you taller on the sled for better overall control. That difference is very noticeable when you reflect on sled-to-sled comfort.
Even upon on reflection and mentally comparing the 2006 MXZ 550 X to the more modern and enlightened 2015 MXZ Sport 600 ACE, we aren't trading up. There's that US$2,500 thing and too much sentimentality, heck in another dozen years or so, the MXZ 550 X may be a vintage classic. Plus, my fan-cooled 550 remains lighter by 29 pounds. But, then again, the liquid-cooled modern Ski-Doo Sport 600 ACE does sit better, has better gauges, a lighter throttle pull, more bite from the track, gets better mileage, and, we do like the idea of the electric start and EFI. Did we mention that our 550cc fan-cooled can be finicky?
2015 Ski-Doo MXZ Sport 600 ACE
2006 Ski-Doo MXZ 550 X
Engine
Rotax 600cc, four-stroke twin; double overhead cam; liquid-cooled; EFI with 42mm throttle body; 3 engine modes (Sport, Standard, ECO); "learning" key; tuned exhaust
Rotax 553.4cc, two-stroke twin; fan-cooled; cylinder reed porting; 2xMikuni VM34 slide carburetors; two-into-one tuned exhaust
Horsepower
60
55
Drive
Ski-Doo/Rotax eDrive 2 with QRS driven; mechanical reverse
Ski-Doo/Bombardier Lite driven; electronic reverse
Front Suspension
Ski-Doo dual A-arms with spring over Motion Control shock; up to 9-in travel
Ski-Doo RAS dual A-arms with spring over HPG gas shock; up to 9-in travel
Rear Suspension
Ski-Doo SC-5 parallel slide rail with Motion Control shocks center & rear; up to 15-in travel
Ski-Doo SC-4 parallel slide rail with HPG shocks center & rear; up to 15-in travel
Length
114.0 in
113.6 in
Width
47.9 in
47.9 in
Height
47.6 in
43.5 in
Ski Stance
42.4 in
47.0 in
Track
15x120x1.25 RipSaw
15x121x1.0
Weight
459 (claimed)
430 (claimed)
Brake
Brembo hydraulic disc with stainless steel braided brake line
Brembo hydraulic disc
Features
Standard: REV-XS chassis; aluminum handlebar with J-hooks; analog gauge with display; REV-XP seat with rear storage; 4.5 riser block; reverse; electric start; 15-inch windshield
Optional: rearview mirrors; storage bags
Standard: REV chassis; aluminum handlebar with riser block; mechanical fuel gauge; REV "racing" seat; low windshield with Acerbis hand guards
Optional: electric start; rearview mirrors; storage bags
Fuel Capacity
10.6 US Gal (87 octane)
10.6 US Gal (87 octane)
MSRP
$8,549
2006 Pricing – $6,099