2015 Polaris 800 Rush Pro-S Review + Video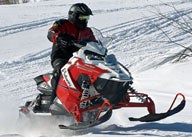 If you want a short track Polaris, this is the one!
We've drunk the Polaris Kool-Aid for 2015. Well, not all of it, but certainly what the snowmobile pioneer is serving up in its re-do of the smooth-riding 2015 800 Rush. Even though the 2015 version looks too much like the previous ones, this is a totally new Rush, as a machine and as a feeling you'll get on the trail.
Let's step back for a moment and revisit the original 2010 Rush. The big differentiator was its outside the skid frame Pro-Ride rear suspension and its serious commitment to Ski-Doo MXZ-like rider forward seating.
We had a Rush as a "demo" that first season. There were things we liked, especially that MXZ "feel" and the ease of adjusting the big external rear suspension shock and the Walker Evans front shocks. We found the ride compliant and overall quite satisfactory for long hauling over groomed trails. But, there was always something just the slightest bit off with the previous generation Rush. The external shock was easy to adjust, but we couldn't fathom how to deal with the out-of-way, rarely mentioned front arm shock. That shock's control felt mediocre and we thought that its overall action detracted from the otherwise brilliance of the Pro-Ride's progressive action.
In the following seasons, Polaris engineering tinkered with the Pro-Ride design, flattening the angle of the external shock and revising the action of the front shock. To their credit, the ride did improve. But the Pro-Ride excelled on the longer tracked Switchback models and not so much on the Rush. Based on our casual observations, the Switchback outsold the Rush, which last season was cut back to only one model, the high end Pro-R version with a choice of a 600 or 800 engine.
We thought the Rush might be discontinued. Polaris knew otherwise and comes back with a totally rethought 2015 model based on serious engineering and careful consideration of how snowmobilers attack the trails.
COMPARISON: Read our review of the 2015 Polaris 800 Rush Pro-X + Video
Polaris, which puts a lot of effort into racing and the hugely popular "X" Games, looked at the big picture of snowmobile performance. It deduced that there are two almost completely different categories of performance trail rider. One is the all-go, all-the-time rider who measures big air in feet and views mogul minefields as his playground. But, the actual audience tends to be small compared to the hardcore trail rider that puts on hundreds of daily miles, looks for fast-action sweepers and takes end of the day stutter bumps at speed. Drawing on its 60 years of snowmobile heritage, the Minnesota-based pioneer drew up a common chassis, added some commonality in performance pieces, but gave each rider group its very own Rush. The Pro-X model is a true big banger for riders who stand more than they sit. The Pro-S model satisfies the rest of us. Interestingly, the Rush Pro-S tends to be much more versatile than its Pro-X counterpart.
Rather than make compromises with a stiffer shocked, hard-riding ditch-banger version of the new Pro-S, Polaris skipped that process and created both a Pro-X model and the Pro-S. There is a big difference in the end ride and handling.
Polaris' 2015 Rush represents a true next generation. The chassis, or platform, if you prefer, breaks away from MXZ-dominated thinking of the past. It's not simply ride-forward, but truly center-centric. Thinking in terms of a playground seesaw, sitting in the middle gives you neutral balance. Moving back amplifies the seesaw balance. This Polaris seesaw is the basis of its AXYS chassis. Move up on the ride area and you transfer weight to the front. Slip back to affect rearward balance and transfer. Sit in the center and you have neutral balance. You affect the handling. It's totally intended as Polaris engineers deliberately constructed a riding position that puts your hands 4.5 inches closer to the handlebar, your knees 4.5 inches more forward on a seat that's moved 4.5 inches ahead and that enables your feet to move two-inches to the front. While you've been moved ahead, you are in what Polaris terms as Rider Balanced Control. Okay, we agree, but what it really does is give you much improved ride position and overall comfort.
This current crop of Polaris snowmobile engineers reminds us of those originals we knew from the early Indy successes of the 1970s. Where we always felt that the transitional group of engineers that had to bring Polaris from the Indy to more modern times were less snowmobilers than CAD/CAM parts designers, this new crew enjoys riding, knows how to ride and has a pretty good idea of what we need now and into the future. They may have to drag us kicking and screaming to the new, but of late they have been right more often than not. For example, this is the crew that decided that an uncoupled external progressive-action rear suspension shock was the right setup for on-trail smoothness. They also took rider-forward and balanced it out to become more reactive with the rider. In the new Rush the AXYS design chassis and the corresponding next generation external rear shock suspension work very well. They also recognized that just one big thing wouldn't be the "big" answer to creating a better sled. They worked at bettering many components in creating what we think is the best riding and handling trail sled for 2015. And we haven't even begun to mention the all-new for 2015 800cc Cleanfire two-stroke twin!
Consider that to get a neutral or rider-centric balance, Polaris designers borrowed from its own successful Pro-RMK mountain sled. This is the company that brought a carbon fiber overstructure to the trail segment. Loosely borrowed from the RMK series, this element and the use of automotive-based adhesion allowed the designers to work with an all-new aluminum tunnel to create the Rush riding position. Of course, part of this redesign includes putting the Cleanfire Twin (800 or 600 twin) in a very low and centered mounting. Indeed, the unclean part of the design is the rider, but that aside, the Rush AXYS design makes you a quick response interactive piece of the action.
We found the 2015 Rush cornered flatter and allowed us to ride harder into corners and over messy trail sections better than any such Rush we've ridden to date. This thing works.
In keeping with next generation thinking, the term Pro-Ride has been replaced with PRO-XC rear suspension terminology, which is quite appropriate as this design uses a new lightweight, forged aluminum rear crank, which reflects a totally revised crank and pivot. The forward torque arm remains uncoupled but was moved back to better control pitch and allow more travel action. These changes help with flatter cornering and less "jouncing" around in rutted out corners.
You'll find exclusive to Polaris Walker Evans remote reservoir "clicker" shocks up front on the AXYS double A-arm front suspension, which works with Polaris-engineered Pro-Steer skis. You get up to 9.3 inches of travel.
COMPARISON: Read our review of the 2014 Arctic Cat ZR 6000 El Tigre ES + Video
The Pro-XC rear suspension, with its external progressive action Walker Evans piggyback shock, works through 13.6 inches of maximum travel as it keeps the 120-inch Ripsaw II track planted on the snow.
You'll find that the front shock stroke will be about 1.5 inches shorter than that of a Pro-X model and that the Pro-S sits lower by about 2.5 inches, too. The Pro-S track also is less aggressive with its 1.25-inch lug profile. But when compared sled-to-sled, the vast majority of trail riders will be much, much happier with the Rush Pro-S. It corners better. It hits the inside of rutted turns with more control. It will handle big bumps okay, but it won't eat them up like the stiffer Pro-X will. That's the trade-off. Do you want a sled than can handle virtually all every day conditions or do you want a sled that will straight line and bang the deepest ruts and nastiest ditches at above legal speeds?
After having spent saddle time with both the Pro-X and Pro-S, we want the Pro-S. It's no lesser of a Rush, simply different than the Pro-X in purpose.
As for performance, all 800 Rush models feature major improvements thanks to Polaris' newly minted 800cc Cleanfire-injected two-stroke twin. The 2015 Polaris-built engine was designed to fit into the new chassis with integrated mounting points, meaning that only AXYS chassis models can carry this upgraded engine. Look for more performance from this new 800 as engineers totally redid the intake's air flow pattern and added new exhaust valve technology for improvements in all areas – low end, mid range and top end. In addition the new throttle bodies are lighter in weight and offer an easier throttle action. But as important is the new and lighter crankshaft, which allows the engine to spin up more quickly for increased acceleration and improved wide open throttle hole shots.
COMPARISON: Read our review of the 2013 Ski-Doo Renegade X 800
Of course, the Rush for 2015 offers more rider incentives. There is standard electronic reverse, an option for electric start, revised left hand controls with new rocker-style hand and thumb warmer switches and even added storage spaces. The seat is new with wide rear section for touring comfort and narrowed front area that invites active cornering action. Plus, the new styling features integrated wind deflection for improved ride comfort.
Overall, the 2015 Polaris Rush Pro-S should be the first choice for serious trail riders as it combines a serious uptick in performance with vastly improved ride and handling. Onboard comfort is excellent with superior seating and revised hand controls. The only question you'll have to ask yourself is just how much performance do you need? The new 800 twin is quite a step up with its 160-plus horsepower. If it's too much performance, the option of a Rush Pro-S with the 600cc Cleanfire twin may just be the better choice for flatland riding. Either way, the redone Rush for 2015 is a nice tribute to Polaris' 60 years of snowmobile manufacturing expertise.
2015 Polaris 800 Rush Pro-S Specs
Engine
NEW for 2015 — Polaris Liberty 795cc twin cylinder 2-stroke; liquid-cooled; Polaris Cleanfire electronic fuel injection; two-into-one exhaust with 3-stage variable exhaust valve; CD ignition
Horsepower
160+ (estimate)
Drive
Polaris P85 drive with Team LWT driven clutch
Front Suspension
AXYS dual A-arm with Walker Evans adjustable piggyback competition-type shocks; 9.3-inches of travel; Pro Steer skis
Rear Suspension
Pro-XC parallel rail slide suspension with external Walker Evans adjustable piggyback competition-type shock on rear, front suspension control arm with Walker Evans adjustable piggyback competition-type shock; 13.6-inches of travel
Length
114.0 in
Width
47.0 in
Height
46.0 in
Ski Stance
42.5
Track
15 x 120 x 1.25 Ripsaw II
Weight
431 (claimed)
Brake
Polaris AXYS radial disc system
Features
STANDARD: Pro-Steer skis; electronic reverse; AXYS performance seat; multifunction gauge/display
OPTION: electric start, Lock & Ride storage; security system;
Fuel Capacity
12.0 US Gal
MSRP
US$12,299 – C$13,699