2013 Ski-Doo Renegade X 800 Review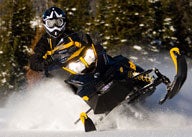 It's the new flatland hot rod - with benefits!
With snow actually on the ground and folks riding around, one thing becomes clear. The definition of the basic trail sled has changed. True hot rod riders no longer seek out the powerful short trackers. That style hasn't gone away, but the new "must have" trail sled combines the short tracker's style and power with a stretch track and new handling and ergonomic attributes. That's where the 2013 Ski-Doo Renegade X 800 comes in – full throttle!
Fast Facts
Engine Type:Horizontal In-line
Cylinders:2
Engine Stroke:2-Stroke
Valve Configuration:Reed Valve
Displacement:799.5 / 48.8
Starter:Electric
Turbocharged:No
View Full Spec
Ski-Doo promotional materials tell a story that today's Ski-Dooers already know. The Renegade stretch tracker gives you the on-trail benefits of a basic MXZ with the off-trail attributes of a long track quasi-powder sled. Obviously there have to be some compromises. The short track MXZ should get around corners a titch quicker and deliver a bit better handling for the serious groomed trail ace. Still, the Renegade X with its 137-inch track makes this sled a trail sled with benefits.
What makes this new breed of trail sled popular is simple. It can handle groomed trail excursions as adeptly as the MXZ, but with its stretched out length in track and wheelbase, it actually gives sport riders the benefit of "bridging" those nattering bumps that arise after a day's worth of sledders have traveled the trails. And the turn in for attacking corners is just about as effective as with the shorter tracked assault sleds. We like the simple fact that the added grip length on the snow helps to keep the track from slipping out if we apply too much power too early in the turns. Young rapid reflex guys won't notice this, but aging veterans can use the fractional added grip to keep the sled heading where they want it.
In reality the "X" package Renegade may not be available now as it was an early order sled. But, if you can find one, this is the one you want. It gets the same "XS" style that comes with the MXZ "X." That means you get the hot new aggressive body style that sets the 2013 apart from the previous generation. And, much more importantly, the Renegade X gets the latest version of the rMotion rear suspension package introduced last season but not available for the 2012 Renegade series – a marketing mistake Ski-Doo has now rectified. Of course, maybe BRP didn't know it would be popular with the stretch track set, but it is a hit on both MXZ and Renegade models. Ski-Doo calls it the "the most rising-rate/progressive shock motion ratio in the industry." We aren't going to debate that other than to say it works and the rMotion with external runningboard adjusters help set this sled apart as being something a bit special. Do the external adjusters work better than the rMotion package without them? No. It makes adjustments quicker and easier with them. Plus they make a statement to your buddies – especially the ones riding a Polaris Rush or new Switchback. You should hold your own with those trail buddies as the rMotion and the Polaris outside the skid frame suspension design effectively do about the same thing – just in a different manner. And, we'd be willing to bet that the rMotion will prove easier to adjust in transit. Without tools!
We admit that we like both of these suspension systems – the new Polaris and the Ski-Doo rMotion. The X-package rMotion suspension is incredibly rider-friendly and lends itself to easy trailside tinkering. This design invites you to make adjustments. The concept harkens back a few decades to the simplicity of the earliest Ski-Doo Torque Reaction skid frame that featured a multi-level adjuster block that changed settings on a torsion spring. The rMotion is more sophisticated, but about as easy to change. Quick changes to the springs, shocks and coupling block can all be made sans tools and it will let you tune for supple action on trail stutters or make changes to handle the ride in big butt bruiser moguls. The rMotion is an added benefit to this sled's basic versatile character.
The Renegade personifies the "new" flatland hot rod where riders want serious performance in speed, exemplary handling in the corners and great ride over all terrain. Plus, the sled gives aggressive riders very good off-trail performance with a 16-inch wide by 137-inch long single-ply track. Compare that to the 120-inch MXZ track that measures an inch narrower and 17 inches shorter. The Renegade heads off trail with built-in benefits for added flotation and traction.
For the true hot rod rider, the only proper choice of power is the Rotax-built direct-injection 800cc E-TEC two-stroke twin. Say what you want, but this is a masterful design of engineering. Working with Evinrude, a sister company in the BRP portfolio, the Rotax and Ski-Doo engineering crew adapted techniques pioneered by the BRP outboard engine side to create a snowmobile that can get upwards of a claimed 19 miles per gallon while pumping out more than 163 horsepower! Side benefits that we've witnessed are good oil consumption, very easy throttle pull and four-stroke like power delivery without scads of trailing blue smoke or oil "stink." Four-stroke or two-stroke? The Rotax E-TEC gives you an excellent and powerful alternative if you were thinking four-stroke.
The 2013 Renegade X provides a few other benefits that include a heated glove box. This concept of placing a storage box of some size near the windshield isn't new, as both Polaris and Arctic Cat have done it, too. But is affords a nice usage of underhood engine heat for keeping extra goggles or gloves dry and warm. The Ski-Doo box offers one gallon of storage space.
The benefit of XS styling means adding a windshield with side deflectors as well as dual air intakes by the headlight and improved wind/snow protection. There's an updated multi-function gauge that reads out speed and revs as well as temperature. The snow flap was redesigned with a hinge in the middle to facilitate reversing. We can assure you that it works as advertised and you will appreciate it almost as much as the push button electronic reverse itself.
While we aren't ecstatic about the straight aluminum handlebars with j-hooks, they are effective. But we'd really like to see a redesigned integrated handlebar along the lines of the Arctic Cat and Yamaha designs, which are more comfortable. Still, when powering off-trail we can see the effectiveness of the current design.
The 2013 Renegade X 800 E-TEC has to be a prelude to what we feel will be the new breed of trail sled and the hottest category in on-trail sleds. The overall design facilitates good on-trail sport riding with a stable platform for charging over big bumps with that upright position readily adaptable for aggressive off-trail banging. The Renegade X is an excellent example of a trail sled with benefits that include on- and off-trail versatility. Now with rMotion and continuing with a powerful and efficient Rotax twin, the Renegade X is an excellent choice for serious riders. If you can't find an "X" package, seriously consider the generally available Renegade Adrenaline package with rMotion and an 800 twin. It won't be built on the XS architecture, nor will it have the premium HPG Plus R shock package. But it is a worthy alternative, unless you want to wait and order a 2014 "X" version.
2013 Ski-Doo Renegade X 800 E-TEC Specs
Engine
Rotax E-TEC 800 — 799.5cc, 2-stroke, liquid-cooled, twin; electronic direct fuel injection
Horsepower
160+
Drive
Ski-Doo TRA VII primary drive with QRS secondary
Brake
Brembo racing hydraulic
Front Suspension
Ski-Doo double A-arm suspension; HPG Plus R High Pressure Gas shocks; 9.0-in maximum travel
Rear Suspension
Ski-Doo rMotion parallel rail slide with HPG Plus High Pressure Gas shock on front arm and KYB Pro 36 Easy-adjust shock on rear suspension arm; 16-in maximum travel
Length
122.4 in
Width
47.9 in
Height
47.6 in
Ski Stance
42.4 in
Track
16 x 137.0x 1.25 RipSaw
Weight
472 lbs (claimed)
Fuel Capacity
10.6 US Gal (Premium Fuel)
Features
Standard: electric start; handguards; reverse; J-hooks; analog/digital display; Brembo disc brake.
Optional: rearview mirrors; tunnel bag
MSRP
US$12,999
Related Reading
2013 Ski-Doo Renegade X 1200 Review – Video
2011 Ski-Doo Renegade Backcountry X 800 Review
2013 Ski-Doo GSX Series Review
2013 Ski-Doo MXZ TNT 800 E-TEC Review – Video