2016 Polaris 550 Indy Voyageur 144 Review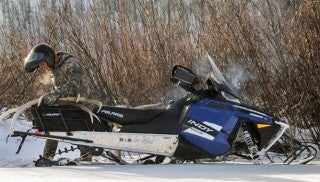 Bullet-proof value for a long track snowmobiling lifestyle
We admire Polaris for its ability to expand on legacy virtues by re-inventing the wheel, or in this case, the Indy. If you look at the current Indy line of snowmobiles you see incongruous pieces that Polaris turns into clever packages of user-specific value sleds. Say what?
Check out the 2016 line of Indys. More specifically check out the line of 550 Indys. There are at least eight different Indy packages, with some of them differing in graphics only. Hone in on the 550 Indy performance and the recreational-utility lines. Here you'll find an interesting pairing that differs quite a bit upon closer inspection.
The 2016 Polaris 550 Indy Voyageur 144 listed under Polaris' recreational-utility banner seemingly mimics the performance 550 Indy 144. What you discover leads you to an understanding of the niche within a niche marketing in which Polaris excels. At first blush the Voyageur is simply a base 550 Indy 440 with a rack as standard equipment. Not so fast!
The Voyageur represents pieces sourced from the base RMK (older models, not new AXYS ones!). The front suspension offers ski stance options thanks to its Gripper skis. Depending on how you mount the Gripper skis to the spindle allows either a 39-inch or 41-inch center-to-center stance. The base 550 Indy 144 Pro-Steer skis only fit one way and that provides the sportier 42.5-inch stance. The Pro-Steer skis are designed to grip and bite hardpack in the corners, while the Grippers are more adept in loose or unbroken snow situations. Bringing in the ski stance to its narrow position of 39 inches lets you rock the sled from side to side, making it easier to work off trail.
There's a US$400 price difference between the two as well. The Voyageur justifies its higher price by including electric start as standard equipment. There's the standard rack, of course, and the adjustable RMK-style front suspension.
With its length of 131.8 inches and 54-inch height, the Voyageur 144 stands taller and longer on the snow than the sport-oriented 550 Indy 144 because its chassis is shared with the longer-tracked 550 Voyageur 155. The end result will be a slight edge in on-trail performance for the performance 550 Indy 144.
COMPARISON: Read our review of the 2015 Polaris 600 Indy Voyageur 144
The differences between sleds may be slight, but they epitomize the way Polaris pieces together the Indy models to create specific features for specific rider needs. Overall the 550 Indy models are anachronistic at best with their throwback fan-cooled two-stroke engine and effective but simple drive.
We may be in the minority as we like the Fuji-sourced 544cc fan-cooled twin that Polaris uses for power. This same basic staple powered original Indys like the Indy Trail and various two-up touring and utility versions. Over the years this fan-cooled twin represented one of snowmobiling's longest partnerships. Fuji, yes the same Fuji parent that manufactures Subaru automobiles, provided both fan and liquid-cooled snowmobile engines to Polaris for decades. The 340cc liquid-cooled Fuji helped Polaris establish its reputation in cross country racing. The 244cc single cylinder Fuji engine provided the "motor-vation" for the first ever Polaris Trail Boss four-wheelers. The current 544 may be nearing the end of its life cycle in snowmobiling, but its legacy of long-term durability continues in the 550 Indy series.
Where Polaris once used its own P85 drive clutch to get the 544's power to the track, the current breed of 550 Indys rely on a PowerBloc clutch, maybe more anachronistic than the engine itself. But, to us, the choice of the PowerBloc 50 along with the Invance driven is near genius. That made-in-Canada drive system is perfectly suited to the 550 Indy's modest 50-ish horsepower. Plus, with decades of proven reliability, the PowerBloc drivetrain ensures dependability and extreme simplicity for repair when, if ever, it's necessary.
The 550 Indy line translates simplicity as value. The Pro-Ride "straight," or non-AXYS chassis, comes from a previous generation of standard tunnel models like the Shift. The rear suspension draws from that lineage and works RydeFX MPV shocks to control up to 14.1 inches of travel. A matched set of RydeFX MPV shocks on the Pro-Ride RMK Adjustable front suspension handles 7.1 inches of travel.
COMPARISON: Read our review of the 2015 Ski-Doo MXZ Sport ACE 600
The RydeFX MPV shock package may not offer the panache of the Walker Evans brand, but it works well at a value-point. Keep in mind that the RydeFX brand is part of the same group that has been manufacturing Gabriel brand shocks for the past 100 years. RydeFX MPV shocks feature an anodized aluminum body, a gas cell for consistent performance, as well as a low fade design for seamless transitions from low speed to high speed handling. The shock's ice scraper helps keep moisture from entering the shock innards. These shocks provide the Indy Voyageur with a well-rounded on or off trail performance package.
The Voyageur 144 should be a consideration for riders who may like to notch back their riding. Or who are seeking a multi-purpose sled that can be fired up for work or play. That's the recreational/utility nature of this beast. If you have grown past your need to view trail sides as flashes of trees, then maybe a 550 Indy fits this more relaxed riding. That's not to say that these 550 Indys won't ever put a speeding ticket in jeopardy, but trail speed reality will be easy to maintain. That drive away up to 45 miles per hour will be stout enough for you to bring along gear for a full day of ice fishing.
The Voyageur comes with a metal rack at the rear to hold gear, plus you can opt for an optional tow hitch to pull a portable ice fishing shelter. The Pro-Ride seat narrows at the front but provides an ample width for relaxed riding. The standard electric start will prove nice to have, as will the standard heated grips and the Voyageur 144's tall windshield.
If you are in the market for genuine good value in a multi-purpose snowmobile, the 550 Indy Voyageur 144 earns a look-see. The drivetrain may be historic, but it will serve you well with its earnest ability to churn out miles on or off trail. Driving a big 144-inch long footprint, the Voyageur's Cobra track grips with 1.35-inch lugs and the Gripper skis present a wide paw to enable added flotation in fresh snow.
Polaris pieces its various 550 Indy models to suit various niches, but fits them all with a proven fan-cooled engine, reliable drive system and fundamental suspension to provide long term service. When it comes to value in snowmobiling Polaris believes in offering proven pieces in sleds that are designed to provide both long term reliability and well-proven performance for the long haul.
| | | |
| --- | --- | --- |
| | 2016 Polaris 550 Indy Voyageur 144 | 2016 Polaris 550 Indy 144 |
| Engine | Polaris/Fuji 544cc twin cylinder 2-stroke; fan-cooled; two Mikuni VM34 carburetors; digital CD ignition; canister exhaust | Polaris/Fuji 544cc twin cylinder 2-stroke; fan-cooled; two Mikuni VM34 carburetors; digital CD ignition; canister exhaust |
| Horsepower | 50+ | 50+ |
| Drive | CVTech PowerBloc 50 drive, Invance driven | CVTech PowerBloc 50 drive, Invance driven |
| Front Suspension | Polaris Pro-Ride RMK Adjustable; 7.1-in maximum travel; RydeFX coil-over shocks; Gripper skis | Polaris Pro-Ride; 7.1-in maximum travel; RydeFX coil-over shocks; Polaris Pro-Steer skis |
| Rear Suspension | Polaris Indy slide rail; RydeFX MPV shocks; 14.1-inch maximum travel | Polaris Indy slide rail; RydeFX MPV shocks; 14.1-inch maximum travel |
| Length | 131.8 in | 124.0 in |
| Width | 46.5 in | 48.0 in |
| Height | 54.0 in | 48.0 in |
| Ski Stance | 39 to 41 in | 42.5 in |
| Track | 15 x 144 x 1.35 Cobra | 15 x 144 x 1.35 Cobra |
| Weight | 465 lbs (claimed) | 429 lbs (claimed) |
| Brake | Polaris RMK hydraulic | Polaris RMK hydraulic |
| Features | Standard: Gripper skis; Indy Pro-Ride seat; electric start; fixed 3.5-in riser; analog speedometer; electronic reverse; tach/digital multi-function display; rear rack Options: 12v outlet; windshield options | Standard: Pro-Steer skis; Indy Pro-Ride seat; fixed 3.5-in riser; electronic reverse; one-piece handlebar; multi-function display; analog speedometer Options: electric start; 12v outlet; rear rack; windshield options |
| Fuel Capacity | 11.5 US Gal | 11.5 US Gal |
| MSRP | $7,499 | $7,099 |