2016 Ski-Doo MXZ Blizzard 800 Review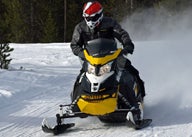 The next stage of MXZ evolution
Quebec-based snowmobiling pioneer Ski-Doo sells more snowmobiles than any other sled maker and isn't about to surrender market share, especially where it holds an advantage. Not content to enjoy its leadership and strong sales in the trail segment with its current selection of MXZ models, Ski-Doo ups the ante and points to the future by bringing back a familiar name – Blizzard.
While technically part of the MXZ family of trail sports sleds, the Blizzard should represent the future for Ski-Doo trail performance snowmobiles. Key to the Blizzard is its shared 129-inch track length with the race replica MXZ XRS and MXZ X performance models, both designed for the big bump thumpers. Its raison d'etre is to take the MXZ model line to the next step of on-trail performance.
Some of this thinking has to be quite simple. Both Arctic Cat and Yamaha offer trail sleds with 129-inch tracks on their ZR and Viper trail sports. Polaris remains loyal to the 120-inch track length, which is standard on the latest AXYS Rush. Ski-Doo's base MXZ TNTs and Sport sleds retain the 120-inch length as well, but the message is clear. The 129-inch track length will be standard issue soon.
With upwards of 180 horsepower shredding the trail through a 15-inch wide by 120-inch overall length track, traction can be an issue. The average trail sport rider settles in with either a 600cc or 800cc two-stroke with power to the drive clutch between 125 and 160 horses. Having a longer track to grip for acceleration and braking is a good thing.
COMPARISON: Read our review of the 2014 Ski-Doo MXZ X-RS
Of course, there are those who profess to liking the quicker turn-in of a 120-inch track length, but we suspect that those folks already own a sled with a 120-inch length or sell them (hint: Polaris). The fact is professional snowmobile racers already have switched to the added length. Ski-Doo's snocrosser sported a 128-inch track. And, yes, Polaris, which currently only offers trail sport sleds with the 120 track, outfitted its 2015 IQ race sled with a 128-inch rear suspension.
The 2016 MXZ Blizzard gives trail sports fans a step up from the basic MXZ TNT. Interestingly, the Blizzard nomenclature succeeded the TNT name in Ski-Doo product and racing history in the 1970s as well. What you get with the modern Blizzard is a better overall TNT, even though it offers many of the same features.
Like the TNT, the Blizzard offers a variety of engine options, including two four-strokes and two direct injected two-strokes. The Blizzard with 800 E-TEC is the most potent and benefits the most from the 129-inch chassis revision in smoothing out trail jiggles, adding track grip and braking control. Although the rear suspension is new, it borrows from the race sleds as well as evolutionary knowledge in the rMotion design.
While our MXZ Blizzard 800R E-TEC test sled may have been down on overall power due to the 6000 feet of West Yellowstone area elevation, we concluded that the Blizzard attributes are everything that Ski-Doo marketers claim. The combination of the rMotion with RAS2 front suspension provides excellent stability for quick running on virtually any trail system. The suspensions with nine inches of front travel and 15.5 inches at the rear let you handle those unexpected nasties as well as taking the jolt out of end-of-the-weekend trail ruts. The Blizzard is designed to ride hard for a long distance.
Seemingly loosely based on the more expensive MXZ XRS, the Blizzard will be a better choice for more riders as it's more attuned for TNT-like long distance sport riding where comfort takes precedence over off-trail big bump launches. The aluminum-bodied, rebuildable high-pressure gas shocks will work just fine for the majority of Blizzard buyers. If you do feel the need to upgrade, your dealer can help you with that option. If you are that type of rider, move up to the X or XRS with greater adjustability from premium performance shock packages.
COMPARISON: Read our review of the 2015 Yamaha SR Viper R-TX DX
Adjustability comes to the fore with Ski-Doo's innovative Pilot TS ski, which features a unique ski runner. Similar to the centerboard on a sailboat, the TS ski's runner sits in a casing and can be moved a half-inch up or down by turning a ski-mounted knob. There are 20 clicks of adjustment. You can go full aggressive by extending the runner all the way or cruiser light by raising it up. This is a Ski-Doo exclusive that worked noticeably well in our test riding. We especially liked it at our Yellowstone test site where morning conditions tended to be icy with warmer, softer conditions in late afternoon. For all their appearance as a gimmick, this feature worked as promised.
Above the sled's belt line, the Blizzard carries TNT familiarity. Controls and ergonomics are the same, including the push button action of the Rotax Electronic Reverse, the ubiquitous choice for lightweight reverse on two-stroke sleds. Seating on this rider-forward platform places you in a ready-for-action position, meaning that you are comfortable for a day's cruise, can slip into ride-forward attack mode for aggressive cornering, or quickly stand up to power through a rough section of moguls. We've always liked the MXZ seating position and it has only gotten better over the seasons due to the REV-XP X racer-style seat and the ability to fine tune the aluminum hooked-end handlebar that's mounted on a 4.5-inch riser block. In the past we have disagreed with Ski-Doo's idea of "stickiness" to its seat coverings, but the 2016 Blizzard's grip was a nice blend of slip and grip.
Modern sport performance trail sleds like the MXZ offer more stowage than ever. The Blizzard seat affords upwards of 1.3 gallons of worthwhile space. There's even storage behind the windshield that vents engine heat to keep goggles or gloves dry and warm.
COMPARISON: Read our review of the 2015 Polaris 800 Rush Pro-S + Video
Along with the 800 E-TEC, our test Blizzard also featured the 129-inch Ice Ripper XT track, which may or not be legal on trails that ban studded tracks. You'd best check that detail. These tracks are derived from the basic Camoplast RipSaw 1.25-inch lug height track, but have mini-carbide studs embedded into the construction. We certainly appreciated the added traction and safety of the Ice Ripper track on those icy morning rides, especially when we needed that Brembo hydraulic brake's action.
Ski-Doo's Blizzard isn't a sentimental recalling of 1970s history but a serious debut of what we suspect is the next stage of MXZ evolution for trail sport riders. If you like the MXZ TNT, you need to check out the 2016 Blizzard because if the MXZ TNT is a good thing, the MXZ Blizzard is even more of a good thing.
2016 Ski-Doo MXZ Blizzard 800 Specs
Engine
Rotax 799.5cc, liquid-cooled two-cylinder 2-stroke; Rotax electronic direct injection
Horsepower
150+
Drive
Ski-Doo/Rotax TRA III with QRS; engagement @ 3400 rpm; maximum engine rpm @ 8100
Brake
Brembo hydraulic brake system with braided stainless steel line
Front Suspension
RAS2 double A-arm with HPG Plus aluminum bodied rebuildable gas shocks; up to 9.0 inches of travel; Pilot TS adjustable ski
Rear Suspension
rMotion parallel slide rail with aluminum body HPG Plus shocks; up to 15.5-inches of travel
Length
118.5 in
Width
47.9 in
Height
47.6 in
Ski Stance
42.4 in
Track
15 x 129 x 1.25 Ice Ripper XT
Weight
487
Fuel Capacity
10.6 US Gal (91 Octane premium fuel)
Features
Multifunction gauge with LCD screen; REV-XP X narrowed seat with rear storage capacity; push button mechanical reverse; electric start; 4.5-inch riser block; aluminum handlebar with J-hooks
MSRP
US$13,199.00