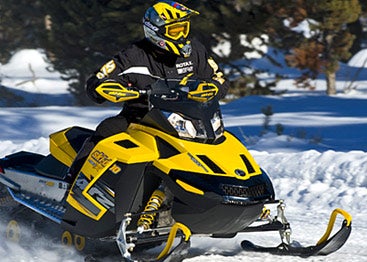 Machines with two new engines and three versions of REV-X platform available for consumer demo
As we traveled to the 2009 Ski-Doo Ride & Reveal event in Huntsville, Ont. late last week, we looked forward to test riding the recently unveiled 600 E-TEC-equipped MXZ. We wanted to see for ourselves if this all-new to snowmobiling concept was truly an alternative to 4stroke engined sleds—primarily from Yamaha. And we were curious as to how much development Ski-Doo engineers and designers put into the new-for-last year REV-XP platform.
Later, when we left Huntsville and Ski-Doo's event, we knew that the BRP/Ski-Doo group is not sitting back for the upcoming model year—nor, are they sitting back for quite a few years beyond that. Because consumers will be able to 'demo ride' some of the new 2009 Ski-Doo models, we are allowed to let you know about the MXZ 1200 X, GTX SE 1200 and a new sport utility model, the Expedition TUV 600 HO SDI.
What you will experience firsthand at a demo ride is not all that is new for 2009, but what Ski-Doo feels is a good sampling to whet your appetite. We tried the same sleds you'll try, but for more extended rides than you'll probably be allowed to enjoy. We expect your impressions may vary from ours, but that's what makes us snowmobilers. Be that as it may, here's what we thought.
As you will discover, there is an expansion of the REV-XP chassis. We were taken aback with just how expanded it will be in model year 2009. There are three—yes, three—variations of the new platform.
There is the XP version to house the series of Rotax 800 Power-Tek and new 600 E-TEC two-stroke motors. This version of what is now simply called the REV-X platform is for the rider who likes his sled's to be both light in weight and nimble in handling. Last year's REV-XP chassis led to an average weight reduction of 50 pounds for those models using it. Plus, Ski-Doo made the new chassis 37% stronger than the previous rider-forward REV platform. That's pretty much the same in 2009.
One change is what Ski-Doo calls its XR chassis variation of the REV-X platform. It carries Ski-Doo's MXZ into a whole new game of high-powered, slick handling, 4stroke powered sports snowmobiling via the MXZ 1200 X. The XR platform is specifically designed to accommodate an all-new, snowmobile-specific, three-cylinder motor designated as the Rotax 1203.
Power wise, the new engine hits Yamaha head-on. Measuring 1170.7cc, the Rotax triple comes in around 130-horsepower at 7800 RPM with a power curve that is smoother and more refined than the similarly powered Genesis 130 used to power Yamaha's Nytro series. The direct comparison is no accident. The original benchmark for the Rotax triple was the 120-hp Vector triple. That direction changed when the Nytro was introduced. A bit more 'oomph' was added to the Rotax 1203 series motor to make it a better competition for Ski-Doo.
This 4stroke unveiling was surprising since it was obvious that BRP invested a triple play of serious resources in the development of its E-TEC two-stroke. Ski-Doo invested in establishing a lightweight platform in the REV-XP to welcome the new technology 2stroke. Rotax and Evinrude engineers worked simultaneously in fitting a unique technology that not only lowers 2stroke emissions but also actually increases fuel efficiency. Interestingly, although the base Evinrude E-Technology worked well on outboards, it didn't suit Rotax snowmobile engines with their smaller displacement, need for higher injection pressure and unique winter-usage profile. Working together the Evinrude and Rotax designers came up with a system that works great in snowmobiles and ended up creating an improved and more efficient system for Evinrude outboard engines. With this much engineering effort going on, it seemed that an all-new, snowmobile specific 4stroke should have been a few years further down the trail. Or, at least that's what we would have thought.
Series 1203
Claims BRP president José Boisjoli: "The new Rotax 4-TEC 1200 engine breaks new ground as it is BRP's first performance 4stroke engine designed specifically for Ski-Doo snowmobiles." He adds, "We drew from past experiences on other products and developed a new engine that brings Formula 1 racing and automobile technologies to the snowmobile world. You can hear it in the distinctive and refined performance sound, modeled after European sports cars; a sound that is unique to this snowmobile."
Rotax is no stranger to 4strokes, having developed engines for Aprilia, BMW and even Harley-Davidson-owned Buell motorcycles. To develop the right characteristics for a snowmobile motor, Rotax engineers worked with Formula One engine specialists to develop fuel flow and applied finger-followers in the cam area like those found in BMW's 804 series engine. While BRP spokesmen avoided specifically which Formula One team with whom they worked, we believe it was BMW-Sauber.
This new Rotax 1203 series 4stroke would make Yamaha proud. Like Yamaha's latest Genesis 120 and 130 series 4strokes, the Rotax triple is all snowmobile oriented. It has outstanding low end with amazing grunt that you can appreciate as soon as you push the throttle flipper in. You'll really notice the smoothness of the 4stroker when you take the all-new 2009 Ski-Doo GTX Special Edition for a ride. The powertrain is calibrated a little differently on the touring model versus the sports-orientation of the MXZ 1200. Since most riders will be hammering the throttle on the MXZ 1200, the clutching is set to reflect stronger midrange and top end performance.
The new 1203 series is a screamer. With double overhead cams, 4 valves per cylinder and ample mouthed 52mm throttle body fuel injection, this engine makes the MXZ 'X' version and its quite light 509 pounds simply fly.
If we had one concern, it would be that the new engine feels too tame, at least in the MXZ skin. The touring GTX showcases all that is good about the new Rotax—and there's a lot to like with the powerplant. It seems exceedingly well suited for the touring model. It's smooth and quiet. Those are attributes a touring rider likes and should come through in a demo ride.
A sports rider wants a different experience. While we truly appreciate Ski-Doo's European sensitivities and the desire to make the MXZ 1200 sound like a high-performance sport bike, we think revisiting owner demographics might be in order.
What you get with the MXZ 1200 version is an excellent handling 4stroke powered snowmobile. The engine response is truly stellar and exceedingly smooth. That's the point. It seems to be more high-pitched screaming Porsche coming off the high bank at the Daytona 24 hours than rock-and-rumble NASCAR V8 pounding into turn one at Talladega. The latter is what we think serious MXZ sport riders will want.
We had this very discussion with a high-up Ski-Doo executive at the Ride & Reveal. To his credit, he didn't smack us in the mouth, but seemed to be actually interested in our point of view. Our point isn't that the engine doesn't have power—it has power everywhere along its powerband. Our point is that a sports sled rider and a touring sled rider are two very different people with very distinct wants.
The touring rider wants ample torque at low end, strong midrange to pull up hills and across deep snow covered lakes, and a preference for all-day reliability to complete a 300-mile day of two-up touring.
The sports rider wants the hint of low-end growl at idle that will build into a surge of rock-and-rumble torque to hammer full throttle off a berm or out of a wide, smooth sweeper. Subtle works in touring. Subtle sucks in sports riding. Sports riders are people who would use a three-pound sledge hammer to counter sink a finishing nail; they order their porter house steak rare; they prefer Maxwell House to Starbucks; and they wouldn't order Shiraz when they can have ice cold MGD. They may want 4strokes for lack of stinky smoke and to feel 'enviro-friendly,' but they still demand a hit of power and want an audible sound of performance. Rock and rumble, baby. Rock and rumble.
Set apart
The new 1203 series Rotax will set itself apart from the Yamaha 4stroke set, especially the Nytro. While a demo ride might not showcase it, the MXZ 1200 flat-out handles noticeably better than the Nytro. As the rider, you feel in total control. The skis grip and the front end stays flat. There is virtually no push in the corners. The center of gravity is balanced to allow you to move around if you want with a minimum of body roll.
At sport sled speeds on the trail, the Ski-Doo MXZ 1200 tracks straight without the nervous pitch and roll you get on this year's Nytro. You can roll on the power as you like coming off a turn. And, while Ski-Doo claims there is anti-engine braking, in reality there is some. We liked it as we backed off the throttle and used it to control entry speeds into the turns and simply eased the power back in to exit. If you like to brake hard, relax, the sled features a hydraulic Brembo brake. Steering effort is no greater—or actually lighter—than most competitive 800cc and larger displacement 2stroke sport sleds. If you want real light handling with a touch less power (albeit similar power to weight), opt for the 600 E-TEC with its 120-ish horsepower output.
The E-TEC reveal
The E-TEC system makes Ski-Doo 2strokes the cleanest in the snowmobile business. They are virtually without the infamous smoke or smell of other 2stroke sled engines. According to Ski-Doo, the 600 HO E-TEC emits half the smoke and smell of its own 600 SDI; half the smoke and smell of Polaris' Cleanfire 600; and a third the smoke and smell of Arctic Cat's 600 EFI.
If the new E-TEC sleds are being demo ridden with the competition, pay attention to where the smoke and smell comes from. It won't be from the Ski-Doo E-TEC.
The E-TEC sleds we rode were amazing to start. When was the last time your sled's engine was fired and running in less than a single pull of the recoil rope? These E-TECs fire right away. Part of that is in the design of the coil which generates more than enough electrical firepower to engage the batteryless direct injection fuel system, including a sophisticated new electronic control module. You think your laptop generates heat to calculate? This mini-computer module is fuel-cooled to allow it to perform than 8,000 calculations per second.
More with U
As for the proliferation of the REV-X platform and its variants, we left out the XU, which combines sport with utility. Depending on the power package, the XU platform of the Expedition TUV 600 HO SDI is upwards of 84 pounds lighter than Ski-Doo's Yeti II utility sled. The new tunnel design on the XU reflects the need for greater versatility in remote snow areas of the planet. The runningboards are wider as is the tunnel. But the tunnel is beveled to allow a narrower seat. The XU variation is specifically designed to satisfy the growing number of international customers in Russia, northern Canada, Scandinavia and Finland.
If you want to gain more firsthand knowledge about the 600 E-TEC, 1200 4-TEC and the three platform variations of the REV-X, check with your Ski-Doo dealer as Ski-Doo will be conducting a number of customer ride demonstrations starting now and lasting into March. Your dealer can also get you information on specific pricing and any early season purchase offers as well as information about new parts, garments or accessories.
Final thoughts
As we left Huntsville and reflected on what we had just ridden, we couldn't help but think that Ski-Doo isn't just Number One right now, but the company intends to celebrate its 50th anniversary season by extending its lead on the competition. Want a 2stroke that's virtually as clean as a 4stroke but is lighter pound-per-horsepower? Are you one of the growing number of snowmobilers looking for a sporty handling 4stroke-powered sled? Or, do you want a long distance touring machine with the storage capacity of an SUV? Check in with your Ski-Doo dealer. He has just become your on-stop snowmobile shop. He has everything you're looking for. Ski-Doo just served notice that BRP/Ski-Doo is dead serious about snowmobiling and innovating its future.
We are glad we only write about snowmobiling and can sit back and watch Ski-Doo and what this company is up to and not have to face them down in the marketplace. If this year's new product is any indication, look for lots more to follow in the seasons ahead.
Related Reading:
2009 Ski-Doo E-TEC
2009 Snowmobile Preview Part I
2008 Ski-Doo GSX Limited Touring
2008 Ski-Doo TNT