2010 Ski-Doo MX Z X-RS Review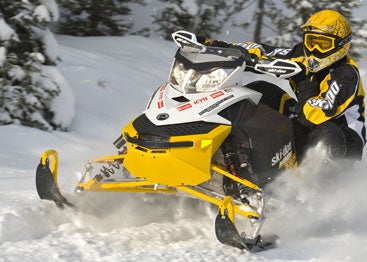 Ski-Doo's snocross-bred trail racer aims at serious performance riders
You can admire the handsome graphics, the pure white engine cowling, raw aluminum chassis with cheese grater runningboards and Ski-Doo yellow A-arms, but get over yourself if you think the 2010 Ski-Doo MXZ X-RS is for every rider. Unless you are buying this latest race-bred MXZ as a collector or are a serious and accomplished ditch-banger, save your money, your body and your ego and opt for a similarly spiffy but more every day rideable MXZ X.
The snocross-oriented MXZ X-RS is a very serious snowmobile for very serious performance riders. It will quickly separate the faux experts from the real ones in your riding group. Unlike the much more rideable Arctic Cat Sno Pro 500 or even Polaris' 600 RR of a couple seasons back, the Ski-Doo is a marginally tamed snocross race sled. It is purposely built that way. There is a market for this model and Ski-Doo will target it with a limited build, 'Spring Only' availability.
We know personally that we are years beyond the target group for this sled, but we can still appreciate what Ski-Doo engineers and marketers are offering. Aside from its very pleasant styling, the Ski-Doo X-RS is not all racer. But it's close.
Serious Race DNA
The sled is designed for the serious wannabe who wraps his ego into his sled. This is to snowmobiles as the Suzuki Hayabusa is to motorcycles. It is all about performance. Making it a maximum performance sled is the option of a 151-horsepower 800cc PowerTEK twin to seal the deal, but the updated 600cc E-TEC will do for starters. It is the same displacement used in stock snocross machines. The E-TEC's direct injection system provides instant-on throttle response for building speed in the ditch, getting off the berm and launching a true double. The power is ample. More than ample is the PowerTEK option also offered in the X-RS package.
What you get under the Rotax twin should satisfy most Ski-Doo performance enthusiasts, or any serious "extreme" ditch pounder looking for the next best thing to a full-blown race sled. There's a race-proven REV-XP RS chassis. It is the same platform used on the MX Zx racing version. That means it comes standard with the wide footboards that have been braced with the extruded edge. You'll quickly discover that this sled is meant for standing and that the perforated runningboards will readily accommodate wide boots and multiple fore and aft steps to get you in position to tackle irregular shaped moguls.
The handlebar and steering post positioning is purposefully set forward to make upright running natural as you enter a bump-pitted ditch run. This feature is shared with Ski-Doo's Summit powder models, where Ski-Doo separates itself from Arctic Cat and Polaris deep snow enthusiasts. The Quebec-based snowmobile engineers feel having the steering post forward better serves a stand-up riding position. The competition feels mounting the steering back is better. Expert powder riders tell us that both work, but that the forward post makes holding a sled into the hillside for side hilling is not as easy as having the steering back a little further. But, they say the forward post makes for more maneuverability on various mountain trails. For powder riding, there are trade-offs, for ditch pounding the ability to stand and read rough terrain works and is what you want.
Pro Caliber Shocks
With up to 151-hp at your thumb's control, you'll want the best shocks you can get in a serious rough trail sled. Ski-Doo's limited edition X-RS has them. The KYB Pro 40R piggyback racing shocks debuted on the racetrack this season and are standard. They feature external high and low speed compression adjustments that let you personalize the front suspension's 9-inches of travel. There's also rebound adjustment. Note that the X-RS front A-arms are of a lightweight design with the lower arm of chromoly construction. The wishbone front end also borrows race-tested calibrations to keep the front end more stable when diving into a turn or under serious braking from the hydraulic Brembo disc system, which even uses a competition-style steel-braided brake line.
The SC-5 rear suspension owes its design to years of snocross competition and includes the use of four rear idler wheels and reinforcement of the rails. There are KYB Pro 40 shocks on both suspension arms to control 16-inches of maximum travel. The SC-5 allows free spinning of a 120-inch RipSaw track. The lightweight track measures 15-inches in width and features a 1.25-inch height profile.
Racer Ergonomics
Fitting the sled to big bump riding is a race-style Rev-XP X narrow seat design. While light in weight, the seat actually measures 1.25-inches taller than the previous design and is narrowed to permit freer lateral movements when transitioning from seated to standing.
While this model is all about high-speed performance, it does have amenities. You'll find off-loading simple as you punch the Ski-Doo pioneered electronic reverse button. The sled's multi-function combination analog and digital gauge includes a 10-minute record mode so you can evaluate sled and rider performance.
Why would you opt for the X-RS versus the more everyday trail-friend 'X' package? Well, ego, of course. You are, after all, a serious performance rider. You want the best shock package and the KYB Pro 40 is only standard on the X-RS. You want the toughened up REV-XP race sled chassis. And you know you can handle the ditches better and faster.
Power Choice
Why would you choose one engine over the other? You power-lovers have only one real option, the 151-hp 800cc PowerTEK. It'll come with the newer TRA VII drive clutch while the E-TEC uses the TRA III design. Both power packages include the latest QRS secondary.
We prefer the 600 E-TEC and its direct injection technology. Yes, we would give up 20-plus ponies for the latest Rotax engineering. While we like to think this technology is new, a mechanically controlled version of the concept developed by Mercedes-Benz literally fueled German war birds prior to World War II. Expense, complexity and a slow evolution to computerization eventually brought us to the modern design where precision electronics flow, squeeze and fire fuel directly into the engine. These Rotax E-TEC motors are marvelous power factories with incredible response well suited to big bump sleds like the X-RS where throttle control can be as important as suspension set-up. When you need to clear a berm or max out a mogul, you want no-lag power. We think the E-TEC better satisfies that call, even if it doesn't have the PowerTEK's pop and sizzle on the straightaway. In our estimation, the Ski-Doo MX Z X-RS is more about getting down and dirty in the ditches, working hard in rutted out corners and letting us get on and off the power exactly when we need and want it than riding fast across a lake bed.
For 2010 Ski-Doo lets you extreme trail experts choose just how much punch you want in your race-bred ditch-banger. But, if you feel that you want a little less all-out race-ride, there is the MXZ X-package and it can be had in three engine choices, including the smooth-running Rotax 4-stroke triple. Still, there is something very appealing about this Ski-Doo X-RS race-bred trail banger, even if it's really not for everyone.
2010 Ski-Doo MX Z X-RS Specs
Engine
Rotax 800R PowerTEK (795.5cc, 151-hp, twin with TM40 carbs) or 600 HO E-TEC (594.4cc, 120-hp twin, direct injection)
Horsepower
800—151hp; 600—120hp
Drive
Ski-Doo TRA drive system with QRS secondary
Front Suspension
Ski-Doo double A-arm suspension; Kayaba Pro 40R shocks; 9-inches of travel
Rear Suspension
Ski-Doo SC-5 parallel rail slide with Kayaba Pro 40 shocks on front and rear arms; up to 16-inches of travel
Brake
Brembo hydraulic racing brake with steel-braided line
Ski Stance
42.4 in
Track
16 x 120 x 1.25 Lightweight Rip Saw
Chassis
REV-XP RS race sled platform
Weight
448 lb (claimed)
Fuel Capacity
10.6 US Gal
Special Features
Electronic reverse; Multi-function analog/digital gauge; 5.1-in riser block; REV-XP X narrow seat; Optional electric start
MSRP
TBA
Related Reading
2010 Ski-Doo Lineup Preview