2011 Ski-Doo MXZ TNT 800R E-TEC Review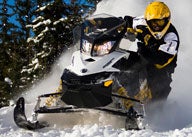 The everyday, every trail Ski-Doo with big power
In case you missed it, for 2011 Ski-Doo combined its middle of the price pack "Adrenaline" model with its lightweight TNT series to simplify the sporty trail line. The move gives us the best real-world choice for this season, the TNT with the new E-TEC 800 twin. While there may be hotter versions, like the "pre-season" MXZ X-RS racer-based sled, we feel that the MXZ TNT E-TEC 800R makes the most sense for serious everyday riders. It comes with the best day-to-day features and enjoys a shot of power like none ever dropped into a Ski-Doo trail sled.
Fast Facts
Engine Type:Horizontal In-line
Cylinders:2
Engine Stroke:2-Stroke
Valve Configuration:Reed Valve
Displacement:799.5 / 48.8
Starter:Electric / Pull
Turbocharged:No
View Full Spec
You'll find that the 2011 Ski-Doo MXZ TNT E-TEC 800R will be familiar everywhere but in the engine bay. The sled itself reflects the latest REV-XP thinking, which is to say that it's a technology everyone else wanted to copy by one degree or another. The base TNT is the "light" model, drawing upon an historic designation from the 1970s when Ski-Doo was Number One in sled sales. Oh, hey, Ski-Doo is Number One today, too!
Give the Ski-Doo engineering and marketing groups credit, they know how to create a sharp-looking sled and fit it with features that are popular with consumers. There are popular technologies from the second-generation REV ride-forward saddle position, which gives the rider great control in the rough, on long straights, and through wide open throttle sweepers. The TNT is a very versatile snowmobile.
Add in nice-to-have standard features like the J-hook handlebar ends and protective midheight windshield that gives the rider everyday comfort. Of course, let's not forget the everyday benefit of Rotax Electronic Reverse, which Ski-Doo pioneered and a version of which is now featured on virtually every two-stroke sled in the business. Of course the big twin comes with standard electric start for added convenience, a plus for us. For you weight conscious riders, the overall poundage on this 2011 model comes in at a claimed 431-pounds, which is a mere six pounds more than the E-TEC 600 versions without standard key start.
The suspensions may be evolved to reflect new spring or shock settings, but the E-TEC 800 TNT follows current practice of HPG (high pressure gas) shocks on the dual A-arm front end and similar damping control for the SC-5 rear suspension. These suspensions have evolved from snocross racing and been refined for the best overall trail set up. The base line MXZ TNT E-TEC 800R favors sporty trail riding. If you wanted a hard banging suspension, you should have ordered the racer-like X-RS version last Spring. Most everyday riders will find the TNT ride proficient.
What comes as the big surprise in the 2011 Ski-Doo MXZ TNT E-TEC 800R is just how good the new direct-injected big twin is. Measuring 799.5cc from a bore and stroke of 82mm by 75.7mm, this engine is a technological marvel and joy to throttle up. We find it incredible that this engine shares so much with the carbureted 799.5cc PowerTEK twin. The feedback you get when pulling on those twin 40mm carburetors on the PowerTEK is totally different than what you get with the direct-injected E-TEC. The new motor responds so much differently, too. The PowerTEK comes on hard. The E-TEC is smooth and deceptively powerful.
But that's not all. According to Ski-Doo, the E-TEC uses 50 percent less oil, leaving virtually no telltale blue oil smog or odor. Based on technologies developed for sister company Evinrude, the 800cc E-TEC Rotax twin is said to deliver mileage approaching 20 miles per gallon, assuming you aren't a total wide-open throttle freak.
Up to this point, we've favored the 120-horsepower type 600cc engined sleds. They tended to be more trailable, smoother and easier to drive in tight corners. Since Artic Cat showed us that an 800cc twin could come with broad-based torque that would spool from drive off to top end, we've begun to see the snow world in a new light. We weren't fans of those spiking torque curves that used to define the big bore engines. They were either on the power or off it. That is no longer the case. Arctic Cat, Polaris and Ski-Doo have developed very drivable 800s that make these big bore sleds well suited for everyday riding. When you understand that this new E-TEC 800R twin combines extremely well balanced power with clean burning, fuel-efficient performance, you want to be part of the new trend. Ski-Doo and Rotax blended an amazing new engine with an excellent, lightweight chassis to create one of the best all-around snowmobiles on the market.
How can you not like a sled that features an automatic "summerization" function, an automatic break-in function that should lead to long, trouble-free engine life, and lower emissions than any other 800cc engine in the industry? We were impressed out in West Yellowstone when we test rode the early release models. Since that time, the production versions available at your local Ski-Doo dealership have gotten updated fuel mapping for extra precise performance. What you get should be smoother running and more potent than the test units we played with last March. What we had to ride was impressive. Your production model won't disappoint as we think the 2011 Ski-Doo MXZ TNT E-TEC 800R may be the best everyday Ski-Doo ever.
2011 Ski-Doo MX Z TNT 800R Specs
Engine
Rotax E-TEC 800R, 799.5cc, 2-stroke, liquid-cooled, twin; electronic direct injection
Horsepower
155 (estimated)
Drive
Ski-Doo TRA VII primary drive with QRS secondary
Brake
Brembo hydraulic
Front Suspension
Ski-Doo double A-arm suspension; High Pressure Gas shocks; 9.0-in maximum travel
Rear Suspension
Ski-Doo SC-5 parallel rail slide with HPG shock on front arm and HPG on rear arm; 15-in maximum travel
Length
114.4 in
Width
47.9 in
Height
47.6 in
Ski Stance
42.4 in
Track
15 x 120 x 1.0
Weight
431 lbs (claimed)
Fuel Capacity
10.6 US Gal
Features
Standard electric start; electronic reverse; J-hooks
MSRP
US$11,749
Related Reading
2011 Ski-Doo MXZ TNT 600 ACE Review
2011 Ski-Doo Renegade Backcountry X 800 Review
2010 Ski-Doo MXZ Adrenaline 800R PowerT.E.K. Review
2011 Ski-Doo Lineup Preview