2011 Ski-Doo Renegade Backcountry X 800 Review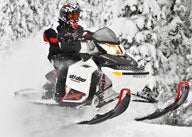 Equal parts trail racer and boondocker
It was happenstance at the new model ride and photo shoot (Feb. 2009) in Grand Lake, Colo., the mountain team received a day of testing Ski-Doo's model-year 2010 Renegade Backcountry X. We didn't know what was up Ski-Doo's sleeve when we booked that crossover sled for a day of testing, but the end result was an immediate addiction.
Fast Facts
Engine Type:Horizontal In-line
Cylinders:2
Engine Stroke:2-Stroke
Valve Configuration:Reed Valve
Displacement:799.5 / 48.8
Starter:Pull
Turbocharged:No
View Full Spec
As time moved on, 365 days worth to be exact, the Snowmobile.com mountain team became the testers/evaluators for the crossover segment, including the latest generation and model-year 2011 Renegade Backcountry X.
The 2011 Renegade is built around Ski-Doo's crossover REV-XP platform that is specifically designed to cover two riding styles, fast trail and open meadows with gentle rollers and knee-deep powder. The Backcountry X we evaluated was powered by Ski-Doo's new E-TEC electronic direct fuel injected 800 Twin. It has an actual displacement of 799.5 cc, which comes from a bore and stroke of 82mm by 75.7mm. The BRP Ski-Doo/Rotax 800 E-TEC's technology comes from the 2010 600 E-TEC motor by way of BRP's Evinrude outboard motor technology but designed specifically for the larger bore Twin cylinder snowmobile two-stroke engine
The 2010 Renegade Backcountry X we throttled in Grand Lake used the PowerT.E.K 800 R motor, which is now replaced by the newer more fuel- and oil-efficient 800 E-TEC 800R motor, which also manages to throw down some fat horsepower, a claimed 155 — but reported by various dyno-testing to be 160-plus!
Fuel & Oil Efficient
The new E-TEC 800R motor uses 15 percent less fuel and 50 percent less oil than the 800R PowerT.E.K motor. With reduced oil and fuel consumption comes reduced exhaust emissions.
The new techno-mill uses voice-coil injectors, which control fuel delivery via wire-fed (coil) electric current that acts as an electromagnet to pressurize and release fuel at precise calculated rates. The exhaust valves are 3-D mapped through the computerized control module that allows the Twin mill to efficiently perform (build and hold horsepower) at low-, mid, and high-RPM levels. Because the engine's control module generates excess heat as it pours through 8,000 calculations or more per second to control engine throttle inputs, Ski-Doo's engineers built in a liquid-cooled loop to keep the control module cool.
The drive clutch is BRP's own TRA VII and equally too, the driven is BRP's QRS. These both have a wide range of adjustments, which you'll want when taking the Backcountry away from flatland country to the Rockies, which many owners do.
Powder Chassis
To get maximum float in deep powder, the Backcountry X is built on a 137-inch platform that spins a 16-inch wide PowderMax track. That's just like the Summit 800, but with shorter lugs, 1.75-inches. In comparison, Polaris' Switchback Assault is 144-inches with a 15-inch wide track, and Cat's Crossfire 8 is a 141 that is also 15-inches wide. Yet, when calculating the wider track — 16-inches versus 15-inches — to length, the Backcountry X matches the other crosses in footprint to the snow. The rear skid frame is Ski-Doo's reliable and comfortable SC-5. To dampen out the chitchat through the chatter bumps, a KYB Pro 36 aluminum piggyback rear shock with dual-speed compression adjusters is standard.
By way of additional side-by-side comparo info, the sister to the Backcountry X, the Renegade X, uses a Ripsaw track with lugs that only reach 1.25-inches. Other than the shorter lugged track on the Renegade X, it and Backcountry X are identical. Now, the Backcountry X and Renegade X will satisfy your off trail, deep powder hunger as you snorkel through the boonies, but the Backcountry X is the sled you'll want if you plan on hauling your buggy and Western appetite to Togwotee Pass and its slopes outside Jackson Hole, Wyo. for example. The Backcountry X is a close cousin to the Summit Freeride. The Backcountry X's gearing is tall when compared to the Summit's ratio, which is meant to clamor up steep ascents like a tractor.
At the nose, the Backcountry X relies on a lightweight A-arm front suspension with HPG Plus R aluminum front shocks and Pilot 6.9 skis to keep the it aligned with its driver and his mission. Ski stance is adjustable.
Amenities
Like all BRP products, the Backcountry X comes standard with electronic reverse — a much-appreciated amenity that adds virtually no weight to the already light XP chassis. As this is a premium sled, it is equipped with a multi-function digital gauge that reports engine speed, MPH/KPH, all engine vitals and altitude.
For the rider, a REV-XP X-style seat and hand/wind deflectors give protection, comfort, back support and "Wow." We think this sled is sweet looking with color and sculpturing that are Baby Boomer, Gen-X and Gen-Y pleasing.
On the trails — groomed, clunky, chattery, or icy — the Renegade Backcountry X was nailed down like a bullet train. Its SC-5 rear skid with KYB Pro 36 aluminum piggyback rear shocks and HPG Plus R aluminum front shocks knocked down the spooks when monster hunting the moguls. The Backcountry X allows for smooth and free leaning into a narrow right or left turn. Its runningboards give the rider space to move his foot forward and back with little hindrance. The hand/wind deflectors are nice and wanted for those cold days when miles are long between destinations. As for me, when riding in a standup position and reefing on the bars through the ravines and junkets, the deflectors limit my hand movements. But, other hardcore backcountry purists do not bang their hand on the deflectors like me, so this is a personal point.
The 800 E-TEC motor was clean, free of smoky two-stroke odors, and fiercely competitive down the trail when launched hard. Through the powerband, the E-TEC big mill kept its revs when full throttle was applied in deep snow. Let's be fair and admit that this is not a Summit X or Summit Freeride, but we rode it like it was and learned it has good deep-powder capabilities. It performs well for its intended and designed use. But what ultimately wooed us were its superb high-speed trail manners. It is a confident and a much in-control snowmobile.
Now, two final thoughts. First, we implore BRP to give this sled some storage, such as adding a rear seat storage bag as standard equipment. We're long trekkers — the true backcountry explorer — and like to carry stuff. And second, offer an optional riser block for the handlebars. Tall built riders may desire handlebars that are closer to their core (when standing) so when they cut divots in deep powder meadows, leverage and comfort are optimized. The handlebar riser for Renegade is 115mm versus the Summit's 160mm; we'd like something in between the two.
Ride Impressions: Kevin Allred, Test Rider
My experience with the 2011 Renegade Backcountry X was one that took me by surprise. Maybe I had preconceived Ideas about the sled, but by the end of our session on the Renegade Backcountry X, I was left with a very favorable impression. And what impressed me the most is how it handled on the trail. The harder I pushed it into the corners the more confident I became — it handled everything the trail could dish out.
From the mountain and off-trail perspective, this sled ranks as a pretty serious mountain machine with all the necessary mountain amenities. However, its wide ski stance, which contributes to its great trail handling, affects its side hilling as it is not as crisp to pull off as a Summit, especially on hard snow, but this would be the case for any wide front end machine. From my seat time, this is a great crossover segment machine, which leaves very little in the area of "compromise," it does it all, very well.
More Ride Impressions: Jake Allred, Photographer & Test Rider
The Renegade Backcountry X is a pretty good all around sled. Being it has a longer track than the MXZ, it is smoother down a bumpy trail, and also, its front end stays planted to the trail as it takes on tight corners. It has plenty of power with its new E-Tec engine, and with that, the E-Tec delivers a nice-and-easy throttle pull, noticeably easier over the Power TEK 800 R from last season.
In the steep country, it is harder to sidehill than the Summit, and that is expected as Ski-Doo's engineers designed this more for on- and off-trail riding, and non-extreme boondocking — for the trail rider who might want to try out some boondocking. Yet the full-time mountain rider will enjoy this snowmobile's mountain-like characteristics for trail riding. As long as you keep its compromises in mind you will be perfectly happy.
2011 Ski-Doo Renegade Backcountry X 800 Specs
Engine
Rotax E-TEC 800R, 799.5cc liquid-cooled two-stroke twin; Digital CD; Electronic direct injection
Horsepower
155+ (claimed — but with dyno reports at 163+HP)
Drive
BRP/Ski-Doo TRA VII with QRS secondary
Brake
Brembo hydraulic racing brake with braided stainless steel bake line
Front Suspension
Ski-Doo A-arm with chromoly lowers; HPG Plus R shocks; 9-in maximum travel
Rear Suspension
Ski-Doo SC-5 parallel slide rail with HPG Plus shock on front and KYB Pro 36 on rear suspension arms; 16-in maximum travel
Length
122.4 in
Width
45.6 in to 47.1 in
Height
44.5 in
Ski Stance
38.4 in to 40.1 in
Track
16 x 137 x 1.75 PowderMax
Weight
459 lbs (claimed)
Fuel Capacity
10.6 US Gal (Premium Fuel)
MSRP
US$12,499 (Limited Edition/Spring Only)
Related Reading
2010 Ski-Doo Renegade Backcountry X Review
2011 Ski-Doo 800 Summit Review
2011 Ski-Doo Lineup Preview