2011 Ski-Doo 800 Summit Review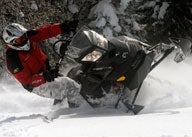 We rate the newest Summits as "Most Improved"
For 2011, the most improved mountain sleds for this upcoming season are the Summit X and Summit Everest with 800R E-TEC power.
There's your one-liner. Read on.
This upcoming season will be a truthful season for Ski-Doo as it tries to prove its 2011 800 Summit X and 800 Summit Everest are narrow tree runners and sidehilling leaders.
When Ski-Doo launched its XP Summit in 2008, it outsmarted the other OEMs with dominating power-to-weight with its 450-pound mountain snowmobiles. The XP Summit lured riders from other brands and pulled first-timers into the sport. Ski-Doo was aggressive with its marketing and developed a finance program that made it possible for many riders to own the lightest factory-built mountain snowmobile on the planet.
Slowly though, the lightest OEM-built snowmobile on Earth began gaining a reputation as being the heaviest snowmobile to handle in the trees and on nasty steeps. Tree running and ravine busting was difficult and fatiguing. Sidehilling was sub par.
For the other two-stroke builders, Arctic Cat paid attention to Ski-Doo's remarkable weight loss achievement and knew it had to shed pounds off its M series; the M8 continued to refine. Polaris, with its Raw IQ chassis was taking in the sun knowing it finally washed out the 900 RMK stain with its IQ RMK 800 and RMK Dragon 800; Polaris was happy to have a nimble product on the snow, and nimble it was, though it was the heaviest of the two-stroke mountain snowmobiles at the time, it was a sweetheart to sidehill.
Ski-Doo, bruised by mountain-specific journalists, and by the nimble M8 (which by 2010 nearly matched the Summit in weight, but trumped it in boondocking), and the tree savvy and easy sidehilling RMK Dragon, regrouped for 2011 to make its Summit a leader, not a follower. 2011 will test these warriors.
BRP's engineers set out to make its 800-powered Summit X and Summit Everest agile for 2011. With that, BRP for 2011 also launched a radical backcountry freestyle snowmobile, the Freeride that uses the best hardware from BRP's Summit and MX Zx line. According to Ski-Doo, "It's a cross between the flickable handling and toughness of the MX Zx 600RS race sled and deep snow ability of the Summit X." Its chassis is known as the Rev XP RS.
Up Front and Personal
In February and March 2011, Ski-Doo showed the press corps at West Yellowstone, Mont. its new Summit X and Summit Everest with narrow ski stance. Here from Ski-Doo's technical papers is how the front end is described; "Major strides were made for 2011 to make sidehilling and boondocking easier thanks to modifications to the rear suspension and a sway bar change. A narrower ski stance (37.4 in./93.2 cm or 35.7 in./89 cm) for 2011 delivers a new level of telepathic stand-up handling to the Summit [X and Summit] Everest.
"Together, these features – named the S-36 handling package – make leaning the sled on its side in all off-trail conditions effortless for riders of all abilities. Yet there's no compromise of stability on the trails to the powder play areas thanks to the REV-XP platform's low center of gravity. And expert riders on BRP's mountain technical committee have remarked that Summits with the S-36 feel 20-50 pounds (9-23 kg) lighter."
Though briefly mentioned, the 2010 Summit rear suspension changes encompassed a longer center shock, which required reshaped rails and revised rocker arm, easily transferred weight from the front of the sled to the track. A softer sway bar reduces the front suspension's resistance to rolling. What was developed for the rear skid on the 2010 Summit carries over to the 2011 Summit.
These changes make the Summit X and Summit Everest boondocker-friendly. Additionally, new skis are mated to the new S-36 front end that, according to Ski-Doo, enhances tree-running capabilities.
To quote Ski-Doo, here is what the company states in its literature, "By design, the REV-XP platform's center of gravity is extremely low in the chassis. While ideal for stability and flat cornering with trail sleds, this actually works against riders pulling a sled on its side in deep snow boondocking or sidehilling. The S-36 package features work together to make turning a Summit sled dramatically easier."
That is true. Since its debut, the XP Summit, until 2011, was a mountain sled that wanted to roll away from a hill – when stuffed into it – and to place its skis on the ground; diving downhill was common.
However, the new 2011 S-36 Handling Package cures most of this. Simply stated, the S-36 Handling Package works. This makes the 2011 Summit X and Summit Everest the most improved mountain snowmobile for 2011. On the trails, the Summit handles and corners remarkably well.
How did BRP land on the 36-inch ski stance? According to Ski-Doo media manager, Steve Cowing, "Computer and intuitive solutions to ease the roll of the sled while balancing with trail stability, then trying different widths to arrive where our Mountain testers thought it felt best."
Gone on the Summit X is the Pilot 6.9 ski, and in its place is the Pilot DS ski. Cowing says this of the ski, "This is a completely new ski with no place to mount an outside carbide; new keel shape, new traction on top, new handle and a slightly different footprint. The edge of the ski is thinner compared to the Pilot 6.9 so it slices into snow (instead of pushing snow); easier for side hilling and turning in western snow conditions. There is less ski length trailing the spindle so it's easier to maintain a turned ski – longer behind the spindle would want to straighten out. A shorter ski behind the spindle will fight less on a rider trying to keep the bars turned into the snow."
We learned though, the ski did turn sharp and did roll into a hill with ease, but with less ski trailing the spindle, we found the front end wanting to dive on slow maneuvers and descents. We need some time on this ski.
For the Summit Everest though, the Pilot 6.9 ski is standard. This is a good ski.
To The Snow
In 2010, the rear skid too was altered, as mentioned earlier, and now with the S-36 package, the rear skid's salient features are amplified. Also out back, the 16-inch tread lost its ports; Ski-Doo being a proponent of ported tracks learned the holes actually reduce floatation and introduce unwanted resistance. Cowing states, "The ported tracks are lighter, but because of all the various snow conditions from British Columbia to Utah there are different needs for track flotation – and the non-ported track would out climb the ported track (by up to 150 feet), more often depending on conditions."
True. In our own independent tests, M8s and Dragons, more often than not, out climbed the XP of late, though the XP's footprint was greater – 16-inches wide versus 15-inches wide on the Polaris and Cat. By closing up the center window, a square foot of floatation was added back into the track. The track wraps around Ski-Doo's hearty SC-5M rear skid, which provides a smartly controlled ride. It is strong, plush, comfortable, and a good bump soaker. It is truly a dual-purpose, mogul masher and powder player.
New Heart, New Lungs
Ski-Doo's engine builder, Rotax, believes in two-stroke function. The company does not subscribe to the adage that clean power can only come from four-stroke motors. Ski-Doo introduced to the snowmobiling public its E-TEC 600 last season that is compliant to upcoming EPA standards.
The new E-TEC 800R motor, according to BRP uses 15% less fuel and 50% less oil than its 800R PowerT.E.K motor; it exhausts little two-stroke smoke and smell. The air intake area increased by 63% and was moved to both sides of the tank console area for easier breathing, and less chance of restriction in deep snow.
The direct injected 799.5cc Twin uses voice-coil injectors, which control fuel delivery using an electrical current through a wire coil that acts as an electromagnet to pressurize and release fuel at controlled rates. The exhaust valves rely on 3-D mapping in the computerized control module to effectively let the new twin react one way at low revs and perform at a higher level in mid and high rev ranges. Because the engine's control module generates excess heat as it makes upwards of 8,000 calculations per second to control engine functions, Ski-Doo engineers devised a special liquid-cooling loop to keep the device from overheating.
This motor is torque-happy, quiet and does not emit much foul smoke and smell, as BRP declares. It is a 150+ horsepower motor and propels the Summit X, Summit Everest and Freeride with unquestioned authority. We are highly pleased with the E-TEC's effortless throttle pull as the Power T.E.K. 800 knocked the wind out of our right arm in a hurry.
The Rider's Perspective
Ergonomically, the Summit is a fine ride, its runningboards clean well, toe holds are ample-sized and properly positioned, its seat is awesome, probably the best in the industry, and its looks are killer. The lowest windshield is of little value. But, the mid-height and taller windshields direct powder away from the rider. One nit though, the Summit needs storage space.
The Models
Summit Everest: Track lengths are 146, 154 and 163, all are 16-inches wide. Track is non-ported PowderMax that is 16-inches wide with 2.25-inch paddles. Skis are Pilot 6.9. Front suspension and rear suspension shocks are HPGs. Engine choices are 800R E-TEC or 800R Power T.E.K.
Summit SP: Track length 154 only, 16-inches wide, and is also non-ported. Engine choice, 800R Power T.E.K. only. Skis are Pilot DS. Unique to the SP Summit is that it utilizes many Summit X features — seat, windshield, and instrument gauge. Read more in the Summit X section below.
Summit X: An early season buy only. Skis are Pilot DS. Instrument gauge is multi-function digital/analog with elevation, and storage capable for fun-times. Aluminum-bodied and rebuildable HPG Plus shocks are standard. The X-package includes a race-inspired narrow seat and mid-height windshield. Brake system is Brembo caliper with steel-braided brake line and racing-style brake pads. Track is the non-ported PowderMax that measures 16-inches wide with 2.25-inch tall paddles. Track lengths are 146, 154 and 163.
Freeride: Big drop, backcountry killer that is designed for the extreme alternative-sport mountain rider whose mindset is to take the sled high into the air, with 10-foot or greater gaps between snowmobile and mother Earth; to drop it off cornices or arch a perfect rainbow over a roller. The Freeride competes against Cat's HCR and Polaris' RMK Assault.
The Freeride's chassis is dubbed, REV-XP RS chassis. It is the same chassis used on the MX Zx, however, running boards have less taper than Summit X for added foot space.
The rear skid is its own design known as SC-5MR, which is an SC-5M cranked up for freeriding. Track length comes in 154 only.
To satisfy the alternative Freeride rider, the mountain hustler comes in an array of preferential graphic kits, several are available to choose, if ordered.
We spent ample time on the Freeride, it is meant to knock out the jumps and drops. If you have ever ridden with Rob Hoff, one of Ski-Doo's big air artists, you understand why Ski-Doo built the Freeride. But, if you believe you can chase a Summit X or Summit Everest in the trees aboard a Freeride, then a challenge awaits you. In tightly spaced trees where boondocking, sidehilling and gully pounding are on the dinner table, the Freeride is out of its element. It is a defined sled for a single purpose, Just as the Summit X and Summit Everest are built for the serious technical rider.
One last note about the Freeride, this is not a 2010 XRS Summit with new graphics; it is all new with its own rear skid, tunnel and running boards. The XRS was only built for one year, that being 2010.
In Summary
As mentioned, the Snowmobile.com Mountain Team purports the 2011 800R E-TEC-powered Summit X and Summit Everest to be the most improved mountain snowmobiles for 2011. The Summit does indeed fulfill what Ski-Doo communicates in its literature: easy to sidehill and light in the trees. At the 2011 test evaluations, we completed maneuvers on the 2011 XP Summit that we could not complete on three-previous year's XP Summits – wrong-foot forward downhill sidehilling with a 180-degree turn to ascend back up the hill.
The new 800 E-TEC is easy to start and is steady throughout its powerband.
I have heard it said that the narrow ski-stance on the Summit looks Elan-ish (if you are old enough to remember Ski-Doo's Elan). Well, OK, but to you critics, be careful, the 2011 Summit is bent to make its argument that it is drivable, flickable and fluid in the trees. We're pleased with Ski-Doo's changes and we think you will be pleased as well.
Observations: Kevin Allred, Sr. Test Rider
Last January in a phone conversation with Chris Ruske, project manager for the Summit, he mentioned we would really like the 2011 Summit, "Just a teaser to think about," he said. My curiosity grew with his comment, because our only real concern or complaint with the XP summit was its inability to maintain a side hill position We also knew BRP was working on this by completing a two year project; the first step occurred in 2010 by making changes to the rear skid, step two, MY2011, to focus on the front end including a narrower ski stance, new ski, and new steering geometry. Yes Mr. Chris Ruske, you were right…I really like the 2011 Summit.
I wasted no time testing the 2011 in the staging area parking lot at our West Yellowstone test area — my first time on the 2011. I made a counter steer, brought it up on one ski edge, and easily maintained the ski-edge run for as far as I wanted to go. That's what I was looking for — problem solved, enough said.
While boondocking through the trees on the 2011 Summit, I noticed how little effort went into steering this mountain-specific snowmobile, this is a real plus and will contribute to less rider fatigue by the end of the day.
The E-TEC 800 motor is no doubt a different animal as its sound and its exhaust are different from two-stroke motors, as we know it. Bottom line, the 800 E-TEC runs great, pulls hard, and in fact, impressively hard. This motor and technology will keep us on two strokes longer.
Note to our readers, if you are one of those XP Summit riders who are totally satisfied with the handling of your earlier XPs, you may want to look at the Summit Freeride. This chassis will maintain the riding stability you are used to.
More Observations: Jake Allred, Photographer, Test Rider
The 2011 Ski-Doo Summit X, and Summit Everest are the best sidehilling XP Summits since its introduction. We believe that mountain sleds live and die on their side-hilling capabilities.
The suspension is as smooth as ever, the new ski works great. The new E-TEC 800 is promising, but only time will tell its true potential.
The new Freeride will be a hit for people who drop cliffs and throw whips, but it is not going to be a true backcountry sled because of its limited sidehilling capabilities.
Related Reading
2011 Ski-Doo Lineup Preview
2010 Ski-Doo Summit 600 Review
2010 Ski-Doo 800 Summit and Everest Review
All Things Ski-Doo on Snowmobile.com