2011 Ski-Doo Skandic Tundra Xtreme Review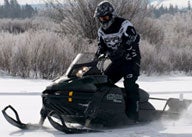 The ultimate utilitarian bush country sportster
When Ski-Doo took the wraps off the 2011 Tundra Xtreme at a premiere showing in Minneapolis last winter, we had to stifle a chuckle and a major yawn. C'mon! We weren't certain if this "new" model was for real or if we were being punk'd.
Fast Facts
Engine Type:Horizontal In-line
Cylinders:2
Engine Stroke:2-Stroke
Valve Configuration:Reed Valve
Displacement:594.4 / 36.3
Starter:Electric / Pull
Turbocharged:No
View Full Spec
After realizing that Ski-Doo marketers were dead serious about the sled and then spending some time with the sled in West Yellowstone a few months later, we realized that the joke was, indeed, on us, but in a very good way. Oxymoron or not, the Tundra Xtreme is assuredly unique in our experience.
Tundra by its nature has never been more than a utilitarian sled, designed to accommodate trappers, ice fishermen and bush riders in snowy work environments. This is the sled that working outdoorsmen use to get around where trails are minimal, if existent at all. Adding in the sporting context of "Xtreme" throws us off completely. A serious work sled with a serious sport element? How's that work?
Actually it works quite well. We've known right along that Ski-Doo celebrates "la difference." That's the French way. As a partial French-Canadian by birthright, we never question but merely acquiesce since all too often there is little that is rational for our Irish/English heritage to really comprehend. So, if Ski-Doo creates a Tundra with an Xtreme component — c'est la vie! We accept it.
When we analyzed the all-new 2011 Ski-Doo Tundra Xtreme, we found a sled of unique properties. It does all the things you expect of a pure utility model. But it is actually a hoot to ride as Ski-Doo engineering blended in features that give the Tundra Xtreme a very unique personality.
To get around in unbroken snow pack, Ski-Doo based this sport utility sled on the latest REV-X chassis design created expressly for the heavier duty needs of wilderness snowmobilers. The Rev-XU frame is wider than the base Rev-X platform, but it incorporates rider-forward ergonomics and a centered engine compartment that makes the Tundra nimble and balanced in far north snowfields or for working a trap line in a heavy forest. Adding to that nimble action is the addition of the slim and upright Rev-XP X "racer-style" seat. When riding the Xtreme you can hop from runningboard to runningboard to bank into a berm or stand upright to see over a rise. Keeping with the theme of Xtreme, you'll reach to a handlebar set with a nicely fitted curvature and a high riser like one you might find on a deep powder sport sled.
The Tundra Xtreme's power comes from the proven Rotax E-TEC 600cc two-stroke Twin. You get the weight savings of one of Ski-Doo's most successful liquid-cooled Twins combined with its ample 120-ish horsepower. This particular E-TEC design is claimed to offer upwards of 21-miles per gallon, which would give you a maximum range of more than 220 miles from the standard 10.6 US gallon fuel tank!
You'll know this is a utility-bred sled when you check out the front suspension. The Tundra Xtreme is one of the few sleds produced today with a telescopic front suspension and a very wide and flat belly pan, both of which excel in heavy snow areas. Once upon a time telescopic strut suspensions were the "in" item. Yamaha based its number one selling line of sleds off a telescopic design. Before John Deere left the sled business in the 1980s, it was ready to introduce its next generation model with its own strut suspension. When Polaris bought out Deere's inventory, there were thoughts of converting Deere's strut design to fit future Polaris models. In the mid-1980s Ski-Doo produced a family of strut-equipped trail sleds that would disappear in a very short time. Now, the Tundra and Ski-Doo's serious work models retain the very functional setup.
Why Ski-Doo keeps the strut design alive in its utility sleds is the sheer simplicity of the design and the fact that it has few pieces to get hung up on downed limbs and debris when traveling through the bush. Of course, the front end has a bit more sway in it than Ski-Doo's normal A-arm setup. The rather narrow 32-inch center-to-center ski stance makes the sled easy to maneuver in tight situations. And suspension travel is nominal at six inches max!
The rear suspension is a widened and articulated version of Ski-Doo's SC-5 parallel rail. You can lock out the SC-5U suspension's articulated action for towing, but you'll want it when backing up. The reverse setup is the Ski-Doo pioneered push button electronic design. It's perfect for deep woods work, as it's simple and extremely efficient.
The rear suspension works with a non-ported 16-inch wide by 154-inch long Powdermax track to maximize off-trail flotation and traction. Add in the 2.25-inch lug profile and you have a sled that can grip and grab better than a politician at a parade.
The rear suspension features high pressure gas shocks and coil springs, while the strut setup comes standard with hydraulic shocks.
Styled in a base black the Tundra Xtreme looks the part of being something other than your normal work sled. Keeping with the theme, Ski-Doo fitted the Xtreme with its attractive and very functional analog gauge with digital information screen.
The Tundra Xtreme will never satisfy the big bump rider and probably wouldn't score major points with a high mileage touring guy either. It will grab the attention of the rider who works the snowy backcountry where trails are an afterthought. Heck, we figure that the northernmost areas of Minnesota, Michigan and Maine would be ideal for this sled. Then, it goes without saying that this sled will be at home in northern Quebec or Ontario. The western ranch lands with their high plains would also be good use areas for this limited production Ski-Doo sport ute.
The idea of a "performance" work sled seems like the perfect oxymoron, but amazingly Ski-Doo successfully pulls it off with its 2011 Tundra Xtreme. It is a full-fledged worker with a serious "Xtreme" list of goodies. What will the marketing wizards at Ski-Doo lay out for us next season?
2011 Ski-Doo Skandic Tundra Xtreme
Engine
Rotax E-TEC 600cc, two-stroke, liquid-cooled, twin; electronic fuel injection; electronic reverse
Horsepower
115+
Drive
Ski-Doo TRA III primary drive with QRS secondary
Brake
Hydraulic
Front Suspension
Ski-Doo LTS Strut suspension; Motion Control shocks; 6.0-inches of travel
Rear Suspension
Ski-Doo SC-5U articulated parallel rail slide with HPG shocks on front arm and rear arm; up to 13.4-inches of travel
Length
131.6 in
Width
39.4
Height
51.0 in
Ski Stance
32.0
Track
16 x 154 x 2.25 Powdermax non-ported
Weight
495 lbs (claimed)
Fuel Capacity
10.6 US Gal (Premium Fuel)
MSRP
US$10,699
Related Reading
2009 Ski-Doo Skandic SUV 550F Review
2011 Ski-Doo Grand Touring Sport 600 ACE Review
2011 Ski-Doo Summit Everest 600 H.O. E-TEC Review
All Things Ski-Doo on Snowmobile.com